Verizon Communications Inc. Earnings: Wireless Impresses but FiOS Growth Slows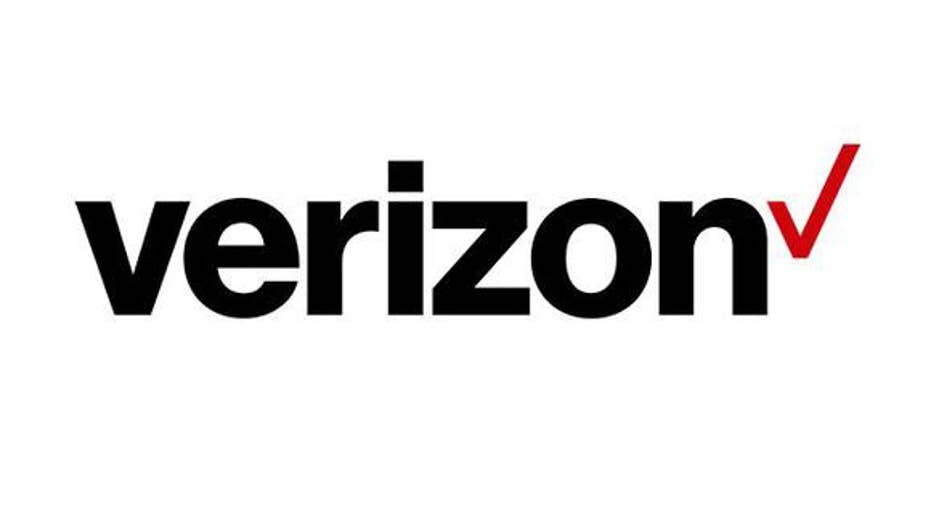 Image source: Verizon.
Verizon Communications reported first-quarter results on April 21. The largest U.S. cell phone carrier was able to eke out some sales and profit growth despite fierce competition.
The raw numbers
| | Q1 2016 | Q1 2015 | Growth (YOY) |
| --- | --- | --- | --- |
| Revenue | $32.171 billion | $31.984 billion | 0.6% |
| Net income | $4.430 billion | $4.338 billion | 2.1% |
| Earnings per share | $1.06 | $1.02 | 3.9% |
Data source: Verizon Communications Q1 2016 earnings press release.
Wireless resultsVerizon added 640,000 new postpaid wireless subscribers in the first quarter, including more than 500,000 new tablet subscriptions. The company also continued to show signs of strong customer loyalty, with its retail postpaid churn rate improving 7 basis points from the year-ago quarter to 0.96%.
That's particularly noteworthy because it comes at a time when Verizon is facing stiff competition from rival telecoms such as AT&T , T-Mobile US , and Sprint . AT&T is bundling its recent acquisition, DirecTV, in discounted packages that include Internet, wireless, and home phone services. T-Mobile and Sprint are also offering aggressive promotions, with T-Mobile providing free music and video streaming options, and Sprint heavily advertising its half-off discounts.
Yet despite these aggressive moves by Verizon's competitors, the telecom king's total retail connections still rose 3.7% year over year to 112.6 million at the end of the first quarter.
Wireless revenue, however, fell 1.5% to $22 billion as more customers chose unsubsidized device payment plans. These plans tend to be more profitable for Verizon, something that can be seen in the wireless segment's operating income margin, which improved to 35.8% in the first quarter, up from 35% in the year-ago quarter. Segment EBITDA (earnings before interest, taxes, depreciation, and amortization) margin also increased to 46.2% from 44.8%.
Wireline results In Verizon's wireline division, FiOS -- long a bright spot -- is seeing its growth slow considerably. Verizon added 98,000 net new FiOS Internet connections and 36,000 net new FiOS video connections in the first quarter. However, that's down from the 133,000 Internet and 90,000 video connectionsVerizon added in Q1 2015. With the growing popularity of video-streaming services such as Netflix, it's possible Verizon could soon begin to shed FiOS video customers in the quarters ahead.
Still, while wireline revenue fell 1.9%, profitability did improve as costs declined, with segment operating and EBITDA margins rising to 6.3% and 23.4%, respectively, up from 4.3% and 22.7% in the prior-year period.
Consolidated results On a companywide basis, Verizon's first-quarter total operating revenue rose less than 1% to $32.2 billion. Excluding sales from AOL, which Verizon acquired in June 2015, revenue fell 1.5%.
Operating income and EBITDA were basically flat year over year at $7.9 billion and $12 billion, respectively. Net income rose 2.1% to $4.4 billion, while earnings per share, which were boosted by share buybacks conducted in recent quarters,increased 3.9% to $1.06.
More importantly, Verizon's cash flow remained strong, although down slightly from last year's first quarter. Operating cash flow and free cash flow came in at $7.4 billion and $4 billion, respectively, compared to adjusted operating and free cash flow -- which exclude the impact of one-time tower asset sales -- of $7.8 billion and $4.2 billion in the first quarter of 2015.
Looking forwardVerizon reiterated its forecast that full-year 2016 adjusted earnings would be comparable to 2015's results, which totaled $3.99 in adjusted EPS.Management warned, though, that the company's ongoing labor contract dispute with 39,000 of its wireline employees who are currently on strike could negatively impact results in the quarters ahead.
"We are off to a strong start in 2016 as we executed on the fundamentals of the business: growing high value customers, delivering strong financial and operating results, and generating free cash flows," said CFO Fran Shammo during Verizon's conference call. "However, given the status of our labor contract negotiations, there will be pressure on earnings in the second quarter due to the timing of cost reductions. Depending on the progress of the negotiations, we may need to update the full-year guidance at a later time."
The article Verizon Communications Inc. Earnings: Wireless Impresses but FiOS Growth Slows originally appeared on Fool.com.
Joe Tenebruso has no position in any stocks mentioned. The Motley Fool owns shares of and recommends Netflix and Verizon Communications. Try any of our Foolish newsletter services free for 30 days. We Fools may not all hold the same opinions, but we all believe that considering a diverse range of insights makes us better investors. The Motley Fool has a disclosure policy.
Copyright 1995 - 2016 The Motley Fool, LLC. All rights reserved. The Motley Fool has a disclosure policy.