Vanguard 529 Plan: A Review of College Savings Options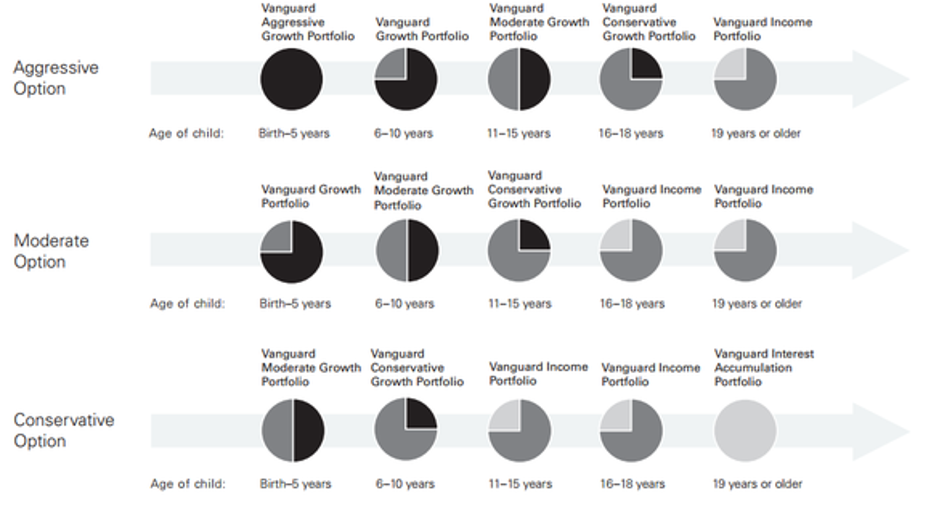 Photo by: Getty Images.
Vanguard's 529 plans rank as one of the least expensive of college savings plans, ensuring that investment performance will fund your child's college expenses rather than your broker's bank account. But fees aren't the only consideration, as choosing the wrong 529 plan can result in lost tax benefits that greatly exceed any other advantage.
Here are five things you should review and consider before choosing Vanguard's 529 over a 529 sponsored by your state.
1. Vanguard's 529 is not right for everyone
The biggest advantage of a 529 plan is that contributions frequently qualify for state tax deductions. However, because Vanguard's 529 plan is sponsored by Nevada, participants in other states may give up big tax savings by enrolling with Vanguard.
For example, the state of Illinois allows married couples filing jointly to take a state income tax deduction of up to $20,000 for contributions to 529 plans. This deduction only applies to the Illinois 529 plan; therefore, contributions to Vanguard's 529 plan would not qualify. Before proceeding with a 529 plan from any company, you should check to see if it will negatively impact the tax deductibility of your contributions.
2. Vanguard offers lower fees, but requires higher minimums
Vanguard's 529 plans generally carry a $3,000 minimum initial investment, although Nevada residents can get started with as little as $1,000, while those who enroll through an employer's automatic plan can get started with a smaller initial investment.
Maintaining a balance of $3,000 or more would be advantageous, however, as Vanguard levies an annual fee of $20 on accounts with less than $3,000 in assets.Once open, additional investments can be made in any amount exceeding the minimum investment of just $50.
3. Vanguard's age-based investments are excellent
Opening a 529 plan means having yet another financial account to manage. Investors who want to take a hands-off approach to saving for college costs might prefer to invest using Vanguard's age-based investments.
The age-based portfolios come in just three types: conservative, moderate, and aggressive. The difference between each option is generally the amount of stock in each portfolio. For example, the conservative option holds just 50% of its assets in stocks for children younger than five years old. However, the aggressive option holds 100% of its assets in stocks for this same group.
Source: Vanguard.
Though each option follows a different path, they all end up at roughly the same place. Once the beneficiary reaches college age, all three portfolios have 100% of their assets in bonds and/or cash equivalents. The plans thus operate in a similar fashion as atarget-date retirement fund, which slowly shifts toward safer investments as an investor reaches retirement age. The best part is that it's all automatic.
For all the convenience of automatic rebalancing, investors pay very little in fees and expenses. All of Vanguard's age-based options carry an annual expense ratio of just 0.17% of assets, the lowest of any of its investment options in its 529 plans.
4. You can pick your own portfolios
Investors who would prefer to take a more direct role in allocating their investments can pick between 19 different portfolios that offer varying exposure to stocks, bonds, and cash.
Popular choices include an S&P 500 Portfolio, which tracks the performance of the S&P 500 Index for a small fee of 0.19% annually. Likewise, for the same price, one can invest in the Total Stock Market portfolio, which invests in virtually every stock listed on U.S. stock exchanges.
By charging higher fees, Vanguard seems to dissuade investors from making their own investment choices. Notably, the age-based options carry a fee of just 0.17% of assets, but those who do their own picking will pay anywhere from 0.17% for low-fee portfolios all the way up to 0.45% for the Morgan Growth Portfolio, which is based on the actively managed Vanguard Morgan Growth Fund. As a general rule of thumb, actively managed funds are much more expensive than index funds.
Vanguard allows up to five total investment choices. Thus, one could theoretically invest 80% of their contributions into a conservative age-based portfolio, and dial up the potential risk and return by investing the remaining 20% in its Growth Index Portfolio, for example.
5. Vanguard balances cost and convenience
Vanguard's 529 compares well to 529 plans offered by other brokerages. The table below compares the minimum investments and annual expense ratios on investments you can buy in 529 plans housed at Vanguard, Fidelity, and Charles Schwab.
| | Vanguard | Fidelity | Charles Schwab |
| --- | --- | --- | --- |
| Minimum investment | $3,000 | $50 (or $15 per month with automatic investments) | $25 |
| Minimum additional investment | $50 | $50 (or $15 per month with automatic investments) | $25 |
| Lowest expense ratio investment offerings | 0.17% | 0.11% | 0.30% |
| Sponsoring state | Nevada | New Hampshire | Kansas |
Sources: Vanguard, Fidelity, and Charles Schwab. Note: Fidelity also manages the Massachusetts 529 plan.
Ultimately, the decision on where to save for college expenses depends primarily on whether your state allows you to deduct contributions to 529 plans sponsored by another state.Expense ratios are a much smaller concern, as a 529 plan with a $10,000 balance would incur just $11 in annual fees at Fidelity vs. $17 at Vanguard and $30 at Charles Schwab, relatively insignificant differences that can be offset by the convenience of keeping a 529 at the same company as your IRA or 401K plan.
All in all, Vanguard's age-based 529 portfolios are a very attractive choice that balances the low fees and expenses of index funds with the convenience of automatic rebalancing as your loved one reaches college age.
A secret billion-dollar stock opportunity The world's biggest tech company forgot to show you something, but a few Wall Street analysts and the Fool didn't miss a beat: There's a small company that's powering their brand-new gadgets and the coming revolution in technology. And we think its stock price has nearly unlimited room to run for early in-the-know investors! To be one of them, just click here.
Jordan Wathen has no position in any stocks mentioned. The Motley Fool has no position in any of the stocks mentioned. Try any of our Foolish newsletter services free for 30 days. We Fools may not all hold the same opinions, but we all believe that considering a diverse range of insights makes us better investors. The Motley Fool has a disclosure policy.