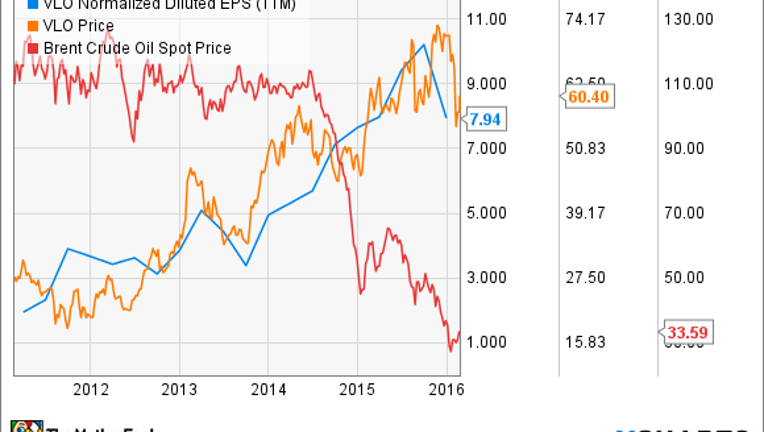 Valerois coming off a very strong year in 2015. Adjusted net income jumped by more than $1 billion to $4.7 billion thanks to robust demand for gasoline and discounted crude prices. Because of that strong operating environment, Valero's stock surged more than 40% for the year, which was quite a different outcome from that of most other energy stocks. Here are five charts that explain Valero's recent success.
Valero loves low oil pricesLow oil prices aren't good for companies selling oil, but it's great news for those like Valero that need to buy oil in order to process it into gasoline and other fuels. Low oil prices do two things for Valero: They lower its feedstock costs while at the same time fueling stronger demand for petroleum products like gasoline. Last year, for example, gasoline demand in the U.S. grew 2.5% to 9.2 million barrels per day, which was the highest level for demand since 2007. This inverse relationship to the price of oil really shows up in Valero's bottom line:
VLO Normalized Diluted EPS (TTM)data byYCharts.
Its dividend keeps going upValero has a long history of growing its dividend thanks to its ability to incrementally improve the profitability of its assets. Last year, however, really takes the cake, with Valero growing its payout by 80% over the prior year. Furthermore, it's already off to a great start in 2016, with the dividend up 20% so far this year, continuing its history of growing the payout:
VLO Dividenddata byYCharts.
It's buying back a meaningful number of stockIn addition to paying a growing dividend, Valero is using some of its recent windfall profit from low oil prices to buy back a meaningful number of its stock. Last year alone, it bought back $2.8 billion in stock, which has significantly shrunk its share count:
VLO Stock Buybacks (Quarterly)data byYCharts.
It generates an above-average return on capital employedValero doesn't return all of its profits to investors each year, instead, it invests billions of dollars both to improve the reliability of its system as well as to grow its earnings power. A good way to measure how well it puts its capital to use is to compare its return on capital employed versus its peers:
VLO Return on Capital Employed (TTM)data byYCharts.
While Valero isn't quite as efficient asMarathon PetroleumandTesoro, which recently moved past it to take the No. 2 spot in the peer group, it is doing a better job thanHolly FrontierandPhillips 66at effectively employing capital to grow shareholder value.
Its valuation is near the bottom of its peer groupOne of the reasons why Valero is buying back so much of its stock is due to its belief that its stock is undervalued. While it might not be the cheapest refiner in its peer group, Valero is certainly on the lower end of the valuation spectrum:
VLO P/E Ratio (TTM)data byYCharts.
What's interesting to note is that not only do Tesoro and Marathon Petroleum have higher returns on capital employed, but both are cheaper as measured by the P/E ratio. Conversely, Phillips 66 and Holly Frontier have lower returns and a higher valuation. Normally, the opposite would be true, suggesting that there are either problems at Tesoro and Marathon Petroleum leading to their discounted valuation or both are very undervalued. Valero, meanwhile, also appears to be undervalued, at least against the peer group average.
Investor takeawayFrom these charts, we learn that Valero loves cheap crude oil because it fuels higher profits, giving it more cash to return to investors and invest back into its business. That said, when it comes to valuation and returns, it's middle of the road. That makes it a pretty solid refining stock, though it might not be the best of the group to buy.
The article Valero Energy Corporation Stock in 5 Charts originally appeared on Fool.com.
Matt DiLallo owns shares of Phillips 66. The Motley Fool has no position in any of the stocks mentioned. Try any of our Foolish newsletter services free for 30 days. We Fools may not all hold the same opinions, but we all believe that considering a diverse range of insights makes us better investors. The Motley Fool has a disclosure policy.
Copyright 1995 - 2016 The Motley Fool, LLC. All rights reserved. The Motley Fool has a disclosure policy.