Valentine's Day Struggles Help Push FTD Companies Inc. Sales Down 10%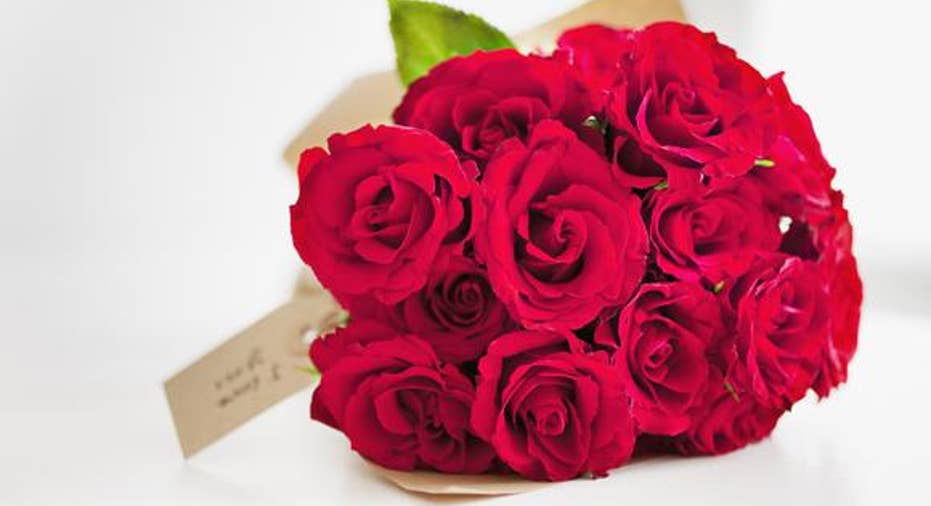 FTD Companies posted quarterly earnings results this week that showed a double-digit sales decline and flat profits as a weak Valentine's Day holiday pinched the business. Still, the florist and gifting specialist affirmed a full-year outlook that projects a return to steady growth in the next few quarters.
Here's how the headline results stacked up against the prior-year period:
| Metric | Q1 2016 Actuals | Q1 2015 Actuals | Growth (YOY) |
| --- | --- | --- | --- |
| Revenue | $331 million | $368 million | -10% |
| Net income | $2.1 million | $2 million | 5% |
| Earnings per share | $0.07 | $0.07 | N/A |
Data source: FTD's financial filing.
What happened this quarter?Falling demand in both its online consumer segment and its provide commerce unit powered the revenue shortfall, which was just slightly offset by growth internationally. A comparable decline in expenses meant that net income ticked higher, protecting overall profitability.
Here are the key highlights of the quarter:
The provide commerce segment, worth about 50% of sales, logged a double-digit sales decline as a 13% drop in order volume swamped a slight increase average order value. The main driver behind this slump was a shrinking ProFlowers business.
Profitability fell in the provide commerce unit; too, with operating income dropping to 4.5% of sales from 4.9% a year ago.
The consumer division also saw order volume decline by double digits as average order spending ticked higher. Its operating margin shrank as well, falling to 8.2% of sales from 8.5%.
FTD's florist segment grew sales and member revenue, however a bad debt expense pushed profits down in that division.
The international business ticked higher as price increases more than offset a small decline in order volume.
What management had to sayThe quarter went roughly according to plan, management said. Q1 was "broadly in line with our expectations," CEO Robert Apatoff said in a press release. FTD in March forecast a 10% revenue decline this quarter, which is exactly what investors saw, due mainly to a quirk of the calendar that put the key Valentine's Day holiday in a weaker sales position. Valentine's Day was on a Sunday this year and also had to compete for attention with a later-than-usual Super Bowl. FTD management said in March that Google search traffic for Valentine's Day holiday-related searches was down dramatically this year compared to the previous year and this impacted it.
The chief executive tried to put the current soft trends into long-term perspective for shareholders. "2016 marks the second year of our multi-year integration plan and our team continues to remain focused on growing profitability and cash flow generation," Apatoff explained. "We are moving forward on a number of new initiatives to continue to strengthen our solid foundation, to position the business for future growth and to return value to our shareholders."
Looking forwardThose initiatives include working to lessen the intense seasonality of a business that's highly exposed to just a few popular gifting days including Valentine's Day and Mother's Day. In that regard, it's good news that some of its smaller brands like Personal Creations and Shari's Berries are seeing strong growth. FTD also recently partnered with greeting card specialist Hallmark and introduced another site to its portfolio, Roses.com.
If all goes to plan, Q1 will mark the weakest quarter of the year. FTD affirmed its 2016 outlook that projects a 2% sales decline and net income of roughly $10 million following last year's $80 million loss.
The article Valentine's Day Struggles Help Push FTD Companies Inc. Sales Down 10% originally appeared on Fool.com.
Demitrios Kalogeropoulos has no position in any stocks mentioned. The Motley Fool recommends FTD Companies. Try any of our Foolish newsletter services free for 30 days. We Fools may not all hold the same opinions, but we all believe that considering a diverse range of insights makes us better investors. The Motley Fool has a disclosure policy.
Copyright 1995 - 2016 The Motley Fool, LLC. All rights reserved. The Motley Fool has a disclosure policy.