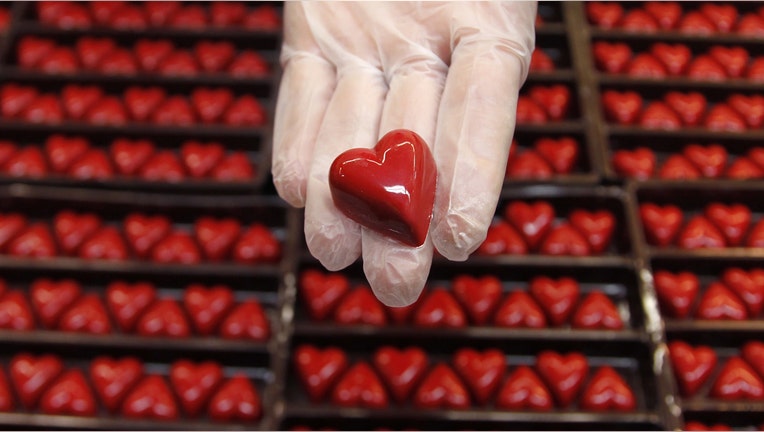 The U.S. economy may be experiencing a period of uncertainty, but that's not stopping Americans from spending on their loved ones this Valentine's Day.
It's true that consumer spending and confidence have been relatively stagnant in recent months, according to data from the Commerce Department and the University of Michigan. But overall outlook likely hasn't fallen enough to keep shoppers form spenidng.
"We're all a little confused about what's happening in the economy...there is uncertainty but I don't think it's any level that will cause somebody to behave differently than their historical pattern around a holiday like Valentine's Day," Steve Barr, U.S. retail and consumer sector leader at PricewaterhouseCoopers said.
A recent survey conducted by the National Retail Federation (NRF) shows 54.8% of consumers plan to celebrate Valentine's Day and will spend an average of $146.84, up from $142.31 last year. In fact, total spending is expected to reach $19.7 billion, a survey high.
"Unlike the December holidays, where the average spend is nearly $1,000, this is a holiday where the spend really can be a smaller amount," Barr said.
As the first major consumer holiday of the year, NRF President and CEO Matthew Shay argues Valentine's Day could provide the positive boost in spending that the U.S. economy needs.
In terms of what consumers will buy for Valentine's Day, 50% of NRF survey respondents said they plan to buy candy, spending a total of $1.7 billion.
Other forecasted spending highlights from the survey include:
$4.4 billion on jewelry
$1.1 billion on greeting cards
$2 billion on apparel
$1.9 billion on flowers
An interesting trend to note this year is the "experience" gift. The NRF says 24% of those surveyed plan to give a gift of experience such as concert tickets or a spa treatment, while 38.8% said they would love to receive a gift of experience.
"Millennials are now in their prime adulthood and we've seen a significant shift of Millennials towards experiences over things...We have every reason to believe that's not only a trend for Valentine's Day, but we believe it's a trend for the foreseeable future," Barr said.
Though he adds traditional Valentine's Day retailers should not feel too threatened.
"I would look at it as less of a risk and more of an opportunity for the retailers...The leading brands constantly reinvent themselves. And that reinvention focuses on the interests of their key consumers. And now that Millennials have expressed their interests -- the retailers need to adapt."
Barr says the Millennial population cares about the planet and will gravitate toward goods that reflect that, such as fair trade, organic and sustainably sourced items.
As for where Valentine's Day purchases will happen, the NRF says 34.5% of consumers surveyed plan to shop at department stores, while more than the 27.9% plan to shop online.
It's no surprise that significant others will benefit the most on Valentine's Day, but an interesting trend the survey reveals is that consumers will spend $681 million on their pets during this holiday of love.