Valeant's Possible Debt Deal Shows Its Management Team Is Completely Missing the Point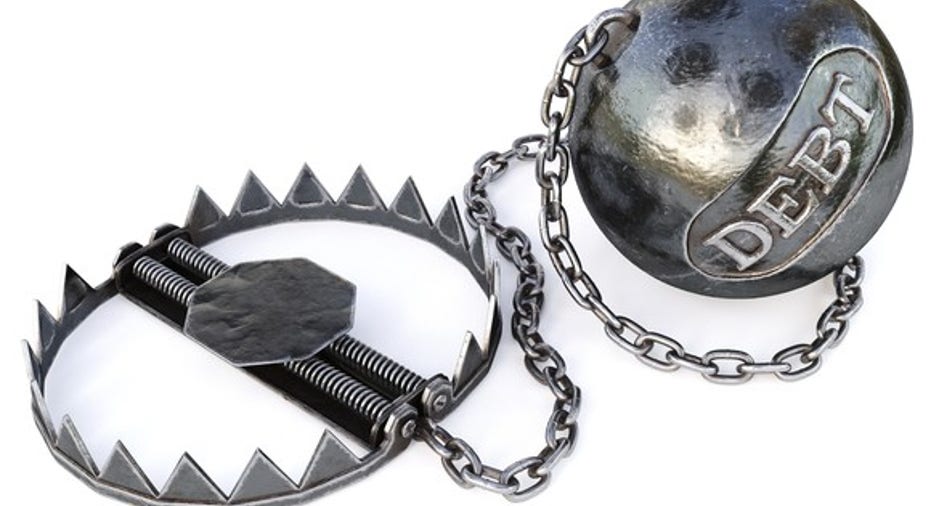 One step forward, two steps back. This is a dance that shareholders of embattled drugmaker Valeant Pharmaceuticals (NYSE: VRX) are getting all too familiar with.
Valeant Pharmaceuticals' shares have now lost 95% of their value since the summer of 2015 as a confluence of factors have weighed on its outlook.
Why Valeant has lost 95% of its value
For starters, Valeant is buried under a mound of debt. It ended the fourth quarter with $29.85 billion in debt, albeit a new regulatory filing from the company this week states that it repaid $1.1 billion in senior secured term loans using the proceeds from the sale of three medicated skincare products to L'Oreal. Nonetheless, the company's debt load is more than seven times its current market valuation, and the company's hands are essentially tied until it sells off more of its assets.
Image source: Getty Images.
Secondly, Valeant's pricing power has taken a direct hit. Former CEO J. Michael Pearson admitted "mistakes" were made in pricing some of its products before Congress last year -- namely, cardiovascular drugs Nitropress and Isuprel -- which has placed an unwanted spotlight on the company's pricing practices. As noted in Valeant's Q4 report, its pricing power was down on a year-over-year basis, which is worrisome.
Also, Valeant's business model has suffered. From the poor PR created from its pricing practices and debt load to its new drug distribution deal with Walgreens Boots Alliance that clearly puts the ball in Walgreens' court, Valeant's once flagship operating segments are witnessing substantial revenue declines.
Say what? Valeant could be taking on more debt
The fact that Valeant has sold a few of its assets -- the aforementioned three skincare products, along with its Dendreon assets -- certainly seemed like a step in the right direction to reducing its debt levels. However, Valeant took those two steps back after announcing the possibility of a new debt restructuring deal that could see it add -- yes, add! --$3.06 billion more in debt, according to Reuters.
According to Reuters' sources, the company is looking to "remove maintenance covenants from its term B loans and modify its revolver maintenance covenants." Valeant would be required to pay a 25 basis-point fee for amending its covenants, and this would mark the third such time in roughly a year that Valeant has had to go to the table with its lenders in order to amend its debt covenants.
Image source: Getty Images.
The new debt is expected to price at 475 basis points over the 0.75% LIBOR (London Interbank Offered Rate)rate, placing it on par with the interest rate currently paid on its term F loans, which totaled $3.8 billion as of Dec. 31 2016. The entire goal of this debt restructuring would be to extend the maturities on three of its loans by combining them with its term F loans.
Valeant's management team is completely missing the point
Though extending the maturities of select tranches of debt would presumably give Valeant more breathing room to meet its payment obligations, it completely misses the point of the two issues that are far more pressing: its secured loan debt covenants, which totaled nearly $19.2 billion as of Dec. 31, 2016, and its ongoing business.
Ultimately, yes, the debt is the issue. But its secured loan debt covenants tied to its debt are much bigger issues.
In simple terms, debt covenants are guided by pre-determined profit, or EBITDA (earnings before interest, taxes, depreciation, and amortization) ratios. For Valeant, its secured lenders keep a close eye on its EBITDA-to-interest coverage ratio -- in other words, how much EBITDA is it generating compared to the amount of capital it must spend to service the interest and fees on its debt each year.
If the EBITDA-to-interest coverage ratio is high, everyone is happy, and lenders feel secure about their loans. If it dips below a pre-determined mark, it could mean a breach of the debt covenant, triggering a rapid repayment of a loan, or series of debt tranches.
Image source: Getty Images.
Based on Valeant's 2017 forecast, the company anticipates generating $3.55 billion to $3.7 billion in EBITDA. However, the cost of servicing its debt was estimated at $1.85 billion. This represents a ridiculously low EBITDA-to-interest coverage ratio of just two-to-one. Valeant's lenders are probably growing increasingly worried that the company won't be able to repay its loans.
The issue is that selling assets won't necessarily improve this ratio. Selling assets and using the proceeds to pay off debt can lower the servicing costs on debt, but it can also lower EBITDA, as well. Unless Valeant is getting its targeted sale price of 11 times EBITDA on its asset sales, it may not see much improvement in its EBITDA-to-interest coverage ratio.
The other problem is that Valeant's management team really doesn't inspire confidence with regard to its business turnaround. Valeant's 2017 guidance includes 2% to 5% growth in its Branded Rx segment and 5% to 7% growth in its Bausch & Lomb segment. However, in the fourth quarter, the company reported a 17% decline in Branded Rx sales and a 1% slide in Bausch & Lomb revenue. Management hasn't presented a clear plan to reignite growth in these businesses, and its figures are somewhat hard to believe considering that it lowered its outlook on three separate occasions in 2016.
Image source: Getty Images.
What's more, Valeant's pricing power is compromised. Consumers and Congress are closely monitoring Valeant's pricing practices, especially given that its product portfolio is full of mature therapies. Without changing the manufacturing process or formulation, Valeant could have a difficult time passing along substantive price hikes. In addition, it's facing losses of exclusivity on assets that delivered more than $700 million in sales.
While I can appreciate management's efforts to reduce debt, there are far more pressing issues that need to be dealt with first. Until those issues are addressed, Valeant will likely remain caught in the proverbial whirlpool.
10 stocks we like better than Valeant PharmaceuticalsWhen investing geniuses David and Tom Gardner have a stock tip, it can pay to listen. After all, the newsletter they have run for over a decade, Motley Fool Stock Advisor, has tripled the market.*
David and Tom just revealed what they believe are the 10 best stocks for investors to buy right now... and Valeant Pharmaceuticals wasn't one of them! That's right -- they think these 10 stocks are even better buys.
Click here to learn about these picks!
*Stock Advisor returns as of February 6, 2017
Sean Williams has no position in any stocks mentioned. The Motley Fool owns shares of and recommends Valeant Pharmaceuticals. The Motley Fool has a disclosure policy.