Valeant Pharmaceuticals Just Delivered a Trifecta of Bad News in Its Q3 Report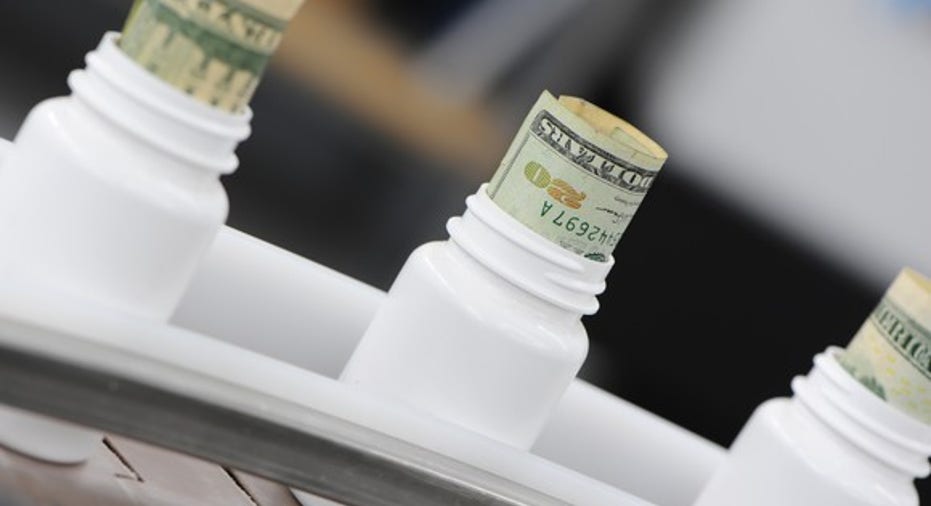 Image source: Getty Images.
Somehow it seems only fitting that embattled drugmaker Valeant Pharmaceuticals (NYSE: VRX) reported its third-quarter earnings results on Election Day, which can itself be described as somewhat chaotic. Not surprisingly -- as has become something of a theme over the past year-and-change for the company -- it's report greatly disappointed Wall Street and investors.
Valeant badly misses the mark
For the quarter, Valeant recorded $2.48 billion in revenue, an 11% decline from the $2.79 billion it reported in Q3 2015, and about $30 million under Wall Street's consensus estimate. For its bottom line, it generated a GAAP loss of $3.49 a share, but it wound up earning $1.55 per share once its multitude of one-time expenses were factored out of the equation. The Street had been expecting a more robust adjusted profit of $1.76 per share. In other words, it was yet another miss for Valeant -- it's fourth in a row.
Making matters worse, Valeant also lowered its full-year fiscal 2016 guidance. Having previously stuck by its forecast ranges of $9.9 billion to $10.1 billion in sales and $6.60 to $7 in EPS it set out in the second quarter, Valeant reduced its outlook to a range of $9.55 billion to $9.65 billion in revenue with $5.30 to $5.50 in adjusted EPS.
The report offered a few very dim rays of sunshine: Among them, the company said its Bausch & Lomb/International segment actually clawed its way to 4% year-over-year sales growth. Valeant recently began breaking out its earnings reports into three segments in an effort to be more transparent. Bausch & Lomb is one of the key potential drivers of growth for the company, so to see it gaining despite the PR and political nightmare enveloping Valeant is a really good sign.
Image source: Getty Images.
Valeant's trifecta of bad news
But, the big takeaway from Valeant's report was disappointment. Investors wanted to see improvement on three fronts, but what they received was news of either minimal improvement, or even worse performance than they'd expected.
1. Debt levels disappoint yet again
First and foremost, shareholders wanted to see that solid progress was being made in Valeant's debt-reduction efforts. What they heard was essentially peanuts, with the hope of future divestitures still hanging in the balance. It ended the third quarter with $30.39 billion in long-term debt, down roughly $380 million from the sequential second quarter. GAAP cash flow also tumbled to $569.9 million from $732.6 million in the prior-year quarter, which makes it even tougher for Valeant to rid itself of debt.
Recent reports have suggested that Valeant could be in discussions to sell its Salix Pharmaceuticals operating segment to Japan's Takeda Pharmaceutical and another unnamed suitorfor approximately $10 billion. According to people familiar with the matter, a sale would include $8.5 billion in up-front cash with the remainder of the deals' value to come from sales-based royalties. While this would certainly help lower Valeant's debt, it would also remove most of rapid growth potential from its drug portfolio. Not to mention, it would be selling Salix for $1 billion less than it paid for the company just 19 months ago.
2. EBITDA-to-interest cost coverage gets worse
Perhaps even more concerning than the debt levels remaining high is the fact that Valeant's EBITDA forecasts continue to fall. Valeant's lenders use EBITDA as a way to measure whether or not it has the ability to repay its loans. These lenders typically want to see that the company is capable of producing multiple times in cash flow what it's paying out each year in interest to service its debt. While there's no concrete figure that all of them target, Valeant's lenders have traditionally focused on 3.5 times EBITDA-to-interest cost coverage (or higher) as the minimum they'd like to see.
Image source: Getty Images.
In recent months, Valeant has had to renegotiate its debt covenants with its lenders on two separate occasions because its EBITDA-to-interest cost coverage ratio fell below the pre-determined mark set by its lenders. Following its Q3 report, and its announcement of a full-year EBITDA forecast reduction to a range of $4.25 billion to $4.35 billion from its prior forecast range of $4.8 billion to $4.95 billion, this ratio got even worse. Through the first nine months of the year, Valeant has produced $3.258 billion in EBITDA, compared to the $1.363 billion it's spent servicing its debt. That works out to a coverage ratio of just 2.38, which is dangerously low.
3. Its new drug distribution partnership still isn't working
Lastly, even though we no longer get a perfect breakout of how the company's flagship dermatology segment is performing, it was pretty evident from Valeant's Q3 report that things still aren't right in its new drug distribution partnership with Walgreens Boots Alliance.
Image source: Getty Images.
As reported, the company's Branded Rx segment, which consists of dermatology sales, its Salix drug portfolio, its Canadian product portfolio, and other products in the U.S., saw sales decline year over year to $847 million from just shy of $1.1 billion. We can assume that Salix's drug revenues are growing thanks to irritable bowel syndrome treatment Xifaxan, so we can only imagine that dermatology sales suffered another major year-over-year decline.
Though no specific figure was broken out in the report, the press release lists "average realized prices resulting from higher managed care rebates in dermatology and Salix, lower price appreciation credits in dermatology and Salix, and changes in the fulfillment model which led to reduced volumes" as the reason behind the drop in Branded Rx sales.
Valeant has been reeling from sizable blows to its image, and its new distribution deal with Walgreens simply doesn't seem to be paying off. In prior quarters, it was noted that prescriptions were being filled at below cost, and there's no guarantee this isn't still happening.
Given that little progress was made in the third quarter, Valeant continues to look like a dangerous stock best off avoided.
10 stocks we like better than Valeant Pharmaceuticals When investing geniuses David and Tom Gardner have a stock tip, it can pay to listen. After all, the newsletter they have run for over a decade, Motley Fool Stock Advisor, has tripled the market.*
David and Tom just revealed what they believe are the ten best stocks for investors to buy right now... and Valeant Pharmaceuticals wasn't one of them! That's right -- they think these 10 stocks are even better buys.
Click here to learn about these picks!
*Stock Advisor returns as of November 7, 2016
Sean Williamshas no material interest in any companies mentioned in this article. You can follow him on CAPS under the screen nameTMFUltraLong, and check him out on Twitter, where he goes by the handle@TMFUltraLong.
The Motley Fool owns shares of and recommends Valeant Pharmaceuticals. Try any of our Foolish newsletter services free for 30 days. We Fools may not all hold the same opinions, but we all believe that considering a diverse range of insights makes us better investors. The Motley Fool has a disclosure policy.