Utilities ETFs Suffer Amid Longest Sell-Off Since 2002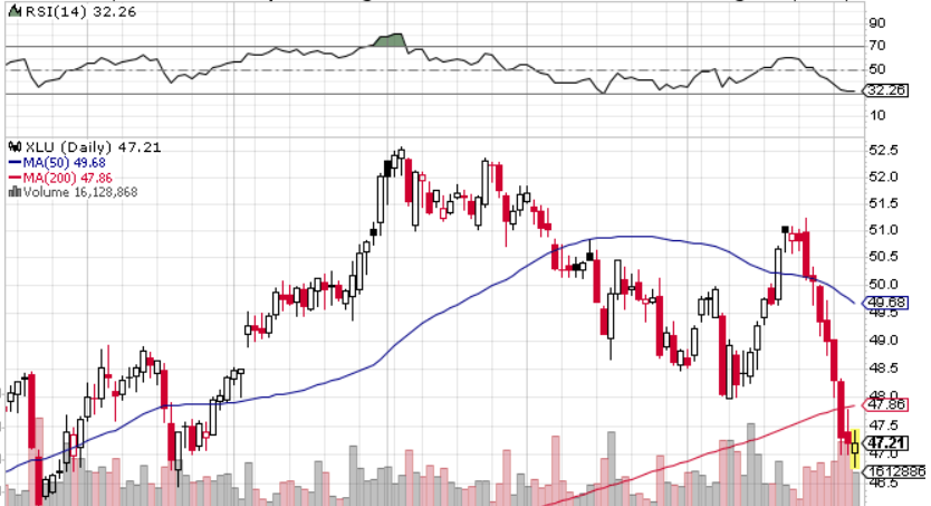 Utilities exchange traded funds plunged over the past two weeks in back-to-back selling, with the sector experiencing its longest rout in 14 years, as traders dumped the bond-esque asset on rising expectations of a Federal Reserve interest rate hike.
Since September 22, the Utilities Select Sector SPDR (NYSEArca: XLU) fell 7.4%, Vanguard Utilities ETF (NYSEArca: VPU) fell 7.3% and First Trust Utilities AlphaDEX Fund (NYSEArca: FXU) decreased 5.5%. XLU and VPU are also now trading below their 50- and 200-day simple moving averages. The utilities sector, though, remains one of the better performing areas of the market, with XLU up 11.7%, VPU up 12.3% and FXU up 14.8% year-to-date.
SEE MORE: The Best Performing Utilities ETF of the Year
The S&P 500 utilities sector closed in the red for the ninth consecutive day on Wednesday, losing close to 7.8% over the period, compared to the 1.1% dip in the broader market, reports Adam Samson for the Financial Times.
Utilities, which have behaved similarly to bonds, had outperformed in the first half of 2016 as investors shifted into value stocks, sought yield-generating assets and dove into safer bets amid a volatile environment. Moreover, dividend-paying stocks like Utilities gained traction on diminished expectations for a Federal Reserve rate hike this year, further fueling the rush toward higher yielding assets.
However, with economic data improving, a number of market observers believe the Fed will have room to raise interest rates sometime before the end of the year, which has diminished demand for bonds and the utilities sector.
"With central banks turning marginally less dovish and with global nominal growth firming, the low volatility bubble has been deflating," Dubravko Lakos-Bujas, a US equity strategist at JPMorgan, told the Financial Times, referring to sectors like utilities that typically experience lower volatility than the broader market.
For more information on the utilities sector, visit our utilities category.
Utilities Select Sector SPDR
This article was provided by our partners at ETFTrends.