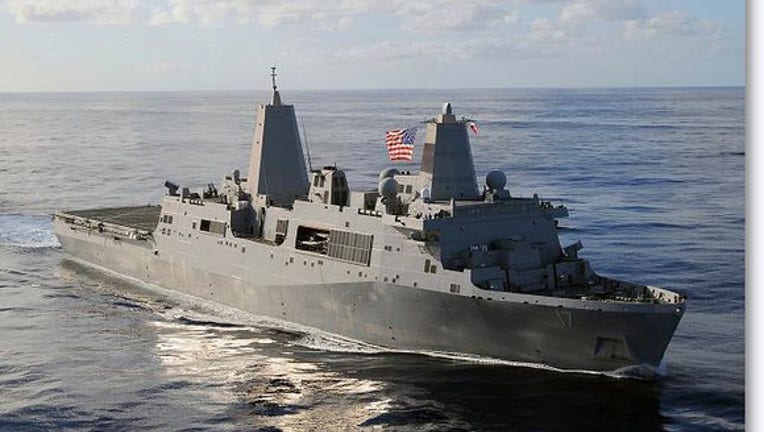 File this story under: Crisis averted.
Two years ago, America's defense establishment was all a-flutter over worries that the Pentagon might decide to buy only 11 San Antonio-class amphibious transport docks for the Navy (instead of 12). But now, the Pentagon has in fact awarded Huntington Ingalls (NYSE: HII) a contract to build a 12th San Antonio-class warship -- and the Marines couldn't be happier about it.
San Antonio-class warships are pretty impressive already. Now imagine them with Tomahawks. Image source: U.S. Navy.
Introducing USS Fort Lauderdale
The San Antonio class, sometimes known as the LPD 17-class (because the first ship of the class, USS San Antonio, is designated LPD 17), belongs to a class of small aircraft carriers designed to support amphibious assaults by Marines. In addition to carrying hovercraft and amphibious tanks for beach assault, each San Antonio-class LPD (landing platform dock) carries a small complement of helicopters and/or MV-22 Osprey tilt-rotor aircraft for aerial assault.
Earlier this week, the Defense Department's daily digest of contract awards confirmed that the Navy has hired Huntington Ingalls to build the 12th ship of the San Antonio class, to be christened USS Fort Lauderdale. It's a windfall for Huntington Ingalls, which derives its best profit margins (according to S&P Global Market Intelligence data, in excess of 17%) from the division that builds San Antonio-class warships. But it's also good news for the U.S. Marine Corps, which has made beefing up the amphibious assault ships, which carry it into battle, a priority.
Big plans for small aircraft carriers
The Navy currently boasts a fleet of 31 such amphibious warfare vessels-- landing platform docks such as USS San Antonio and USS Fort Lauderdale, but also landing helicopter docks (LHDs), landing ship docks (LSDs), and the landing helicopter assault ships (LHAs) that most closely resemble "small aircraft carriers" in appearance, and will one day carryboth MV-22 Osprey tilt-rotor aircraft and F-35B jumpjets from Lockheed Martin. The Navy recently floated a planto increase this number to 38 vessels, however. What's more, the Marines have a plan to make them even more deadly in combat.
As reported earlier this month on Military.com, Marine Corps General Robert Neller has a plan to equip the Navy's amphibious assault ships with Tomahawk cruise missiles. As Neller explains it, the Navy's LHA-class small aircraft carriers will soon be carrying F-35B jumpjets "that can hold any target at risk." That's a good start, but Gen. Neller believes even amphibious assault ships with smaller flight decks could be made more lethal to opposing navies.
As Neller explains, "every LPD" in the fleet already comes equipped with a pairof eight-cell vertical launch systems (VLS) for launching missiles. "We just don't put any missiles on there," laments the general. But the capability to arm LPDs with Tomahawks exists, and the other amphibious warfare vessels might also be outfitted with more robust weapons systems. Such capabilities would enhance the ships' ability not just to land and support troops, but also fight naval battles alongside other surface warships and full-size aircraft carriers.Chief of Naval Operations Admiral John Richardson is also reportedly on board with the idea.
What it means to investors
Support for this idea among both the Marines and the Navy itself suggests this is an idea receiving serious consideration -- and it couldn't come at a more opportune time. Even as the Navy is floating plans to increase its fleet strength from 273 ships to as many as 355, President-elect Donald Trump has made clear he wants the Pentagon to operate more efficiently -- and use taxpayer money more efficiently.
Already, Trump has taken Boeingand Lockheed Martin to task for the prices their airplanes are costing the Air Force -- and airplanes are priced only in the tens of millions of dollars. It seems unlikely that the Navy's own $14 billion Ford-class aircraft carriers will escape his notice. Sooner or later, the Navy will also be asked to make incremental improvements in capability, without attaching high sticker prices to the improvements.
So what does this mean to investors? As the builder of the Ford-class carriers, Huntington Ingalls stands at risk of being next on Trump's chopping block. Luckily though, Huntington also builds the several amphibious warfare vessels now being mootedfor upgrades -- and Huntington's Ingalls shipbuilding division, which builds these vessels, actually earns better profit margins on them than does the company's Newport News division, which builds the Ford.
Conclusion: The upgrades the Marines (and Navy) are proposing are something Huntington Ingalls should get behind. More, cheaper, and more powerful small aircraft carriers would be good news not just for the military and for taxpayers -- but potentially for Huntington Ingalls' bottom line, too.
10 stocks we like better than Huntington Ingalls Industries When investing geniuses David and Tom Gardner have a stock tip, it can pay to listen. After all, the newsletter they have run for over a decade, Motley Fool Stock Advisor, has tripled the market.*
David and Tom just revealed what they believe are the 10 best stocks for investors to buy right now... and Huntington Ingalls Industries wasn't one of them! That's right -- they think these 10 stocks are even better buys.
Click here to learn about these picks!
*Stock Advisor returns as of Nov. 7, 2016
Rich Smithdoes not own shares of, nor is he short, any company named above. You can find him onMotley Fool CAPS, publicly pontificating under the handleTMFDitty, where he's currently ranked No. 346 out of more than 75,000 rated members. Follow him on Facebook for the latest in defense news.
The Motley Fool has no position in any of the stocks mentioned. Try any of our Foolish newsletter services free for 30 days. We Fools may not all hold the same opinions, but we all believe that considering a diverse range of insights makes us better investors. The Motley Fool has a disclosure policy.