Dow drops 807 points as stocks post worst day since June
The S&P's 11 major groups all posted declines
U.S. equity markets tumbled Thursday, posting their worst session since June, as investors wrestled with uncertainty over the timing of a potential COVID-19 vaccine and generally positive economic data.
The Dow Jones Industrial Average fell 807 points, or nearly 3%, but recovered from a drop of s many as 1,000 points in the final hour of trading. Microsoft Inc. and Boeing Co. were among the biggest decliners while Verizon Communications Inc. posted modest gains.
Ticker
Security
Last
Change
Change %
I:DJI
DOW JONES AVERAGES
34672.82
+650.78
+1.91%
MSFT
MICROSOFT CORP.
330.10
+0.02
+0.01%
BA
THE BOEING CO.
200.58
+12.51
+6.65%
VZ
VERIZON COMMUNICATIONS, INC.
50.91
+1.14
+2.28%
The Nasdaq fell nearly 5 percent as Tesla continued its slide for a third straight day after announcing a $5 billion share sale. The stock began trading at its split-adjusted price on Monday.
Ticker
Security
Last
Change
Change %
I:COMP
NASDAQ COMPOSITE INDEX
15387.622596
+133.57
+0.88%
TSLA
TESLA, INC.
1,081.90
-13.10
-1.20%
Tech also paced the selling in the S&P, driven by Apple and Amazon, as the broadest measure of stocks fell nearly 3.5%.
Ticker
Security
Last
Change
Change %
SP500
S&P 500
4583.43
+70.39
+1.56%
AAPL
APPLE, INC.
163.58
-1.19
-0.72%
AMZN
AMAZON.COM, INC.
3,431.99
-11.73
-0.34%
XSW
SPDR SERIES TRUST S&P COMPUTER SOFTWARE ETF
163.08
+3.06
+1.91%
The selling accelerated mid-morning after Dr. Anthony Fauci dashed hopes that a COVID-19 vaccine was coming soon, contradicting documents from the Centers for Disease Control and Prevention.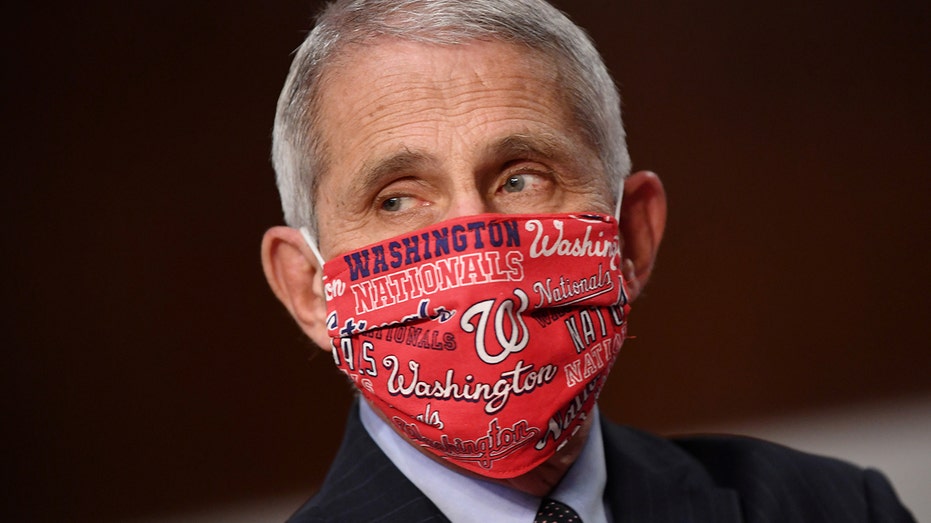 Fauci told CNN a vaccine was unlikely to be ready by the end of October. In a separate interview with NBC News' "Today," Fauci said a vaccine was likely by the end of the year.
His comments coincided with positive news on the economy after the U.S. labor market continues to show signs of incremental improvement. Initial jobless claims for the week ended Aug. 29 totaled 881,000, down from a revised 1.011 million the week prior. Continuing claims, meanwhile, fell to 13.254 million in the week ended Aug. 22, down from a revised 14.492 the week prior. Both numbers were better than expected.
On Friday, the monthly jobs report is due and economists expect U.S. employers added 1.4 million jobs in August.
Ticker
Security
Last
Change
Change %
FDX
FEDEX CORP.
236.25
+8.43
+3.70%
UPS
UNITED PARCEL SERVICE, INC.
199.86
+5.84
+3.01%
In other hiring news, FedEx announced plans to hire 70,000 seasonal workers, 27% more than the same period a year ago. The company is predicting "unprecedented" seasonal demand. UPS has yet to release its seasonal plans.
FEDEX TO HIRE 70,000 FOR THE HOLIDAYS
Elsewhere, Novavax Inc. announced positive early-stage data for its experimental COVID-19 vaccine was published in the New England Journal of Medicine. NanoViricides Inc. investors await an update from the company on its COVID-19 drug. The Centers for Disease Control and Prevention said on Wednesday to be prepared for a vaccine by Nov. 1.
Ticker
Security
Last
Change
Change %
NVAX
NOVAVAX, INC.
162.78
-29.87
-15.50%
NNVC
NANOVIRICIDES
4.55
-0.19
-4.01%
Meanwhile, Costco Wholesale Corp. said sales at stores open at least 12 months rose 13.1% from a year ago, outpacing the 10.7% gain that analysts were anticipating. Digital sales were up 102%.
Looking at earnings, Campbell Soup Co. reported quarterly results that beat on both the top and bottom lines amid "unprecedented demand" for its food and beverages.
Ticker
Security
Last
Change
Change %
COST
COSTCO WHOLESALE CORP.
527.29
-2.54
-0.48%
CPB
CAMPBELL SOUP CO.
40.66
+0.76
+1.90%
PVH
PVH CORP.
99.13
-5.99
-5.70%
PVH Corp., which operates Calvin Klein and Tommy Hilfiger, reported a surprise profit amid strong online demand for comfortable clothing.
Looking at commodities, West Texas Intermediate crude oil fell 14 cents to $41.37 per barrel while gold slipped $6.80 to $1,927.60 an ounce.
U.S. Treasurys ticked higher, pushing the yield on the 10-year note down to 0.621%.
CLICK HERE TO READ MORE ON FOX BUSINESS
Markets slid across Europe with France's CAC down 0.44%, Germany's DAX losing 1.4% and Britain's FTSE shedding 1.52%.
In Asia, Japan's Nikkei outperformed, ending up 0.94%, while Hong Kong's Hang Seng and China's Shanghai Composite fell 0.45% and 0.58%, respectively.