US stocks on two-day losing streak as health stocks fall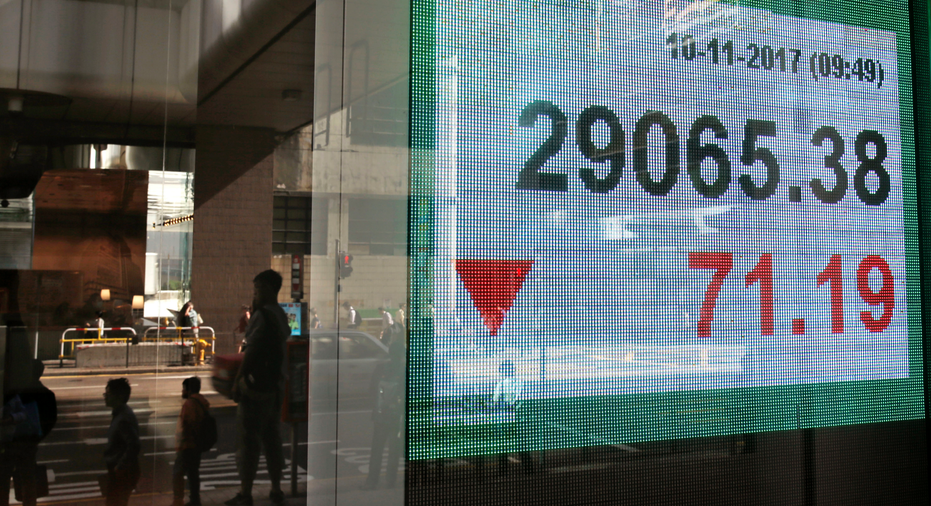 So that's what a losing streak feels like. Stocks fell for the second day in a row Friday, which hadn't happened in a month, as Amazon put a scare into yet another industry: medical device and health care equipment companies.
Those companies slumped after an analyst for Citi Investment Research said Amazon might be on the verge of shaking up their industry by speeding up distribution and cutting prices. Energy companies gave up some of their recent gains while retailers, media companies and household goods companies moved higher. Stocks finished the week with small losses, ending an eight-week winning streak.
One factor in those losses was uncertainty over the Republican plan to cut taxes. Stocks dipped Thursday after Senate Republicans proposed leaving corporate tax rates alone in 2018 before cutting them in 2019. That surprised investors, who pulled stocks down slightly from their recent record highs.
"We would expect a little bit more of that as we get more delays and uncertainty in the tax plan," said Sean Lynch, the co-head of global equity strategy for Wells Fargo Investment Institute. Lynch said an eventual tax cut for companies, and for at least some individuals, would give investors "a dose of confidence" that company earnings will grow a bit faster and the economy and stock market will rise for a bit longer.
The Standard & Poor's 500 index lost 2.32 points, or 0.1 percent, to 2,582.30. The Dow Jones industrial average slid 39.73 points, or 0.2 percent, to 23,422.21. The Nasdaq composite turned higher and rose 0.89 points to 6,750.94. The Russell 2000 index of smaller-company stocks inched up 0.26 points to 1,475.27.
The S&P 500 set an all-time high on Wednesday, but finished the week down 0.2 percent. The index had gained five percent over its winning streak, the longest in almost four years. The Russell 2000, which is comprised of smaller companies that might benefit more from a corporate tax cut, fell 1.3 percent this week. That was its largest loss in three months.
Citi Investment Research analyst Amit Hazan wrote Friday that Amazon is making quick progress in the medical supply field and could soon start distributing goods to hospitals, as some organizations appear interested in working with the online retail giant.
"New online distribution/wholesaling models like Amazon's will come to dominate the supply chain" in coming years, Hazan said.
Baxter International, which sells intravenous pumps and other hospital equipment, fell $1.35, or 2.1 percent, to $64.04. Becton, Dickinson dipped $5.25, or 2.3 percent, to $219.23. Medical device maker Medtronic slid $1.48, or 1.8 percent, to $79.33.
Competition with Amazon has hurt retailers for years and the online giant has also pressured supermarkets and grocery stores with its purchase of Whole Foods. In recent weeks, health care product companies, medication distributors and drugstores have all fallen as Wall Street wondered what Amazon's logistics expertise and its willingness to slash prices will do to their businesses. Drugstores CVS and Walgreens jumped Friday; investors may be relieved that Amazon could turn its focus to industries they are less involved in.
Long-suffering department stores made gains Friday. J.C. Penney advanced 42 cents, or 15.3 percent, to $3.17 after it said a closely-watched sales measurement grew for the first time in more than a year. The company also took a smaller quarterly loss than analysts had expected. Macy's built on its 11 percent jump a day ago and added another 48 cents, or 2.5 percent, to $19.98. Competitor Kohl's rose $1.87, or 4.5 percent, to $43.04. All of those companies have seen their sales and stocks tumble in large part because of increasing online competition.
Walt Disney Co. rose $2.10, or 2 percent, to $104.78 after it said it received bigger payments from cable companies for ESPN and offered more details about its planned sports streaming services. The company also announced plans for a new "Star Wars" film trilogy. "Star Wars: The Force Awakens," released in late 2015, grossed about $2 billion and investors have high hopes for next month's "The Last Jedi."
U.S. crude oil lost 43 cents to $56.74 a barrel in New York. Brent crude, used to price international oils, gave up 41 cents to $63.52 a barrel in London.
Wholesale gasoline gave up 1 cent to $1.81 a gallon. Heating oil lost 1 cent to $1.93 a gallon. Natural gas rose 1 cent to $3.21 per 1,000 cubic feet.
Bond prices slumped. The yield on the 10-year Treasury note rose to 2.38 percent from 2.34 percent.
Gold dropped $13.30, or 1 percent, to $1,274.20 an ounce. Silver fell 10 cents to $16.87 an ounce. Copper lost 1 cent to $3.08 a pound.
The dollar rose to 113.54 yen from 113.32 yen. The euro fell to $1.1618 from $1.1643.
The FTSE 100 index in Britain fell 0.7 percent. The French CAC 40 lost 0.5 percent and the German DAX dipped 0.4 percent. Japan's benchmark Nikkei 225 index lost 0.8 percent and South Korea's Kospi fell 0.3 percent. In Hong Kong, the Hang Seng dipped less than 0.1 percent.
___
AP Markets Writer Marley Jay can be reached at http://twitter.com/MarleyJayAP His work can be found at https://apnews.com/search/marley%20jayt