US stock indexes veer lower ahead of trade talks with China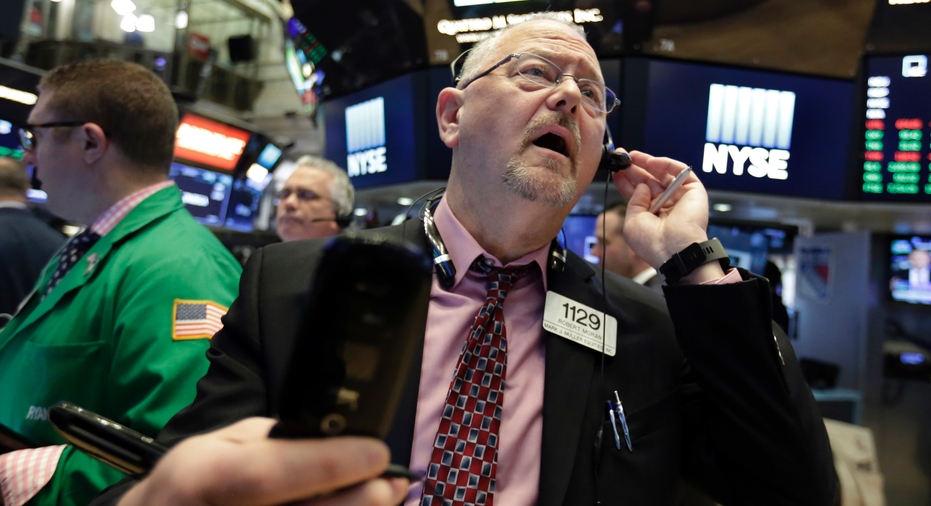 U.S. stock indexes veered slightly lower in late-afternoon trading Thursday ahead of a new round of trade talks between the U.S. and China. Losses in technology stocks, utilities and other sectors outweighed gains in energy and industrial companies. Small-company stocks were faring better than the rest of the market.
KEEPING SCORE: The S&P 500 index slipped 2 points, or 0.1 percent, to 2,720 as of 3:22 p.m. Eastern Time. The Dow Jones industrial average lost 61 points, or 0.3 percent, to 24,707. The Nasdaq composite fell 11 points, or 0.2 percent, to 7,387. The Russell 2000 index of smaller-company stocks picked up 10 points, or 0.7 percent, to 1,626, a day after it closed at an all-time high.
TRADE JITTERS: The Trump administration was scheduled to resume talks in Washington with senior Chinese officials seeking to ward off a trade war between the world's two biggest economies. But while fielding questions from reporters Thursday afternoon, Trump suggested the talks may not end up averting a trade war with China: "Will that be successful? I tend to doubt it," Trump said.
The Trump administration has proposed tariffs on up to $150 billion in Chinese products to punish Beijing for forcing American companies to turn over technology in exchange for access to the Chinese market. China has countered by targeting $50 billion in U.S. products.
Neither country has imposed the tariffs.
THE QUOTE: "Now that we're making it out of earnings season, geopolitical is going to come back into the forefront of what the market's concerns are," said Shawn Cruz, manager of trader strategy at TD Ameritrade. "And that may continue to drive intraday volatility until we get more certainty as far as what is actually going to come out of these trade talks."
SWITCH OFF: Cisco slid 3.6 percent to $43.55 after the seller of routers, switches and software's latest quarterly results disappointed investors. The slide in Cisco helped pull technology sector stocks lower.
WORRISOME OUTLOOK: J.C. Penney sank 11.4 percent to $2.72 after the struggling department store chain said it might take a loss in 2018 as it cut its annual forecast.
BURGER BLAHS: Shares in Jack in the Box lost 7.8 percent to $84.28 after the burger chain reported disappointing results in its fiscal second quarter.
NOT WELL: Wells Fargo fell 1.5 percent to $54.24 after the Wall Street Journal reported that some employees in its business banking division improperly altered information on documents related to corporate customers.
REQUEST DENIED: Shares in CBS slid 4.2 percent to $51.57 after a Delaware judge refused Thursday to grant the company a restraining order against its majority shareholder. CBS had sought to prevent Shari Redstone's National Amusements from thwarting a board vote scheduled for later Thursday on a dividend that would dilute National Amusements' voting power, effectively giving CBS independence.
SLICK DEAL: Williams Partners jumped 7.5 percent to $41.31 after it agreed to be acquired by oil pipeline company Williams Cos. in an all-stock deal they valued at $10.5 billion.
BEEFING UP: Kroger rose 1.7 percent to $25.36 after the supermarket operator said it's increasing its investment in the British online grocer Ocado as it fends off Amazon.com and other online threats to traditional grocers. The subscription rights agreement will give Kroger access to Ocado's online ordering, automated fulfillment and home delivery technology in the U.S.
A GOOD LOOK: Dillard's climbed 6.8 percent to $76.87 after the department store chain's latest quarterly results beat Wall Street's expectations.
ENERGY: Benchmark U.S. crude oil gave up early gains, finishing flat at $71.49 a barrel in New York. Brent crude, used to price international oil, rose 2 cents to $79.30 a barrel in London. Earlier in the day it briefly went above $80 a barrel, its highest level since November 2014.
Energy stocks notched solid gains. Valero Energy gained 4.3 percent to $119.98.
BOND YIELDS: Bond prices fell. The yield on the 10-year Treasury rose to 3.11 percent from 3.10 percent late Wednesday.
CURRENCIES: The dollar rose to 110.75 yen from 110.25 yen on Wednesday. The euro weakened to $1.1799 from $1.1802.
METALS: Gold fell $2.10 to $1,289.40 an ounce. Silver added 11 cents to $16.48 an ounce. Copper gained 2 cents to $3.09 a pound.
MARKETS OVERSEAS: In Europe, Germany's DAX gained 0.9 percent, while France's CAC 40 rose 1 percent. Britain's FTSE 100 added 0.7 percent. Major indexes in Asia finished mostly lower. Japan's Nikkei 225 index added 0.5 percent. Hong Kong's Hang Seng fell 0.5 percent. The Kospi in South Korea slid 0.5 percent.