US stock indexes cap choppy trading week with a mixed finish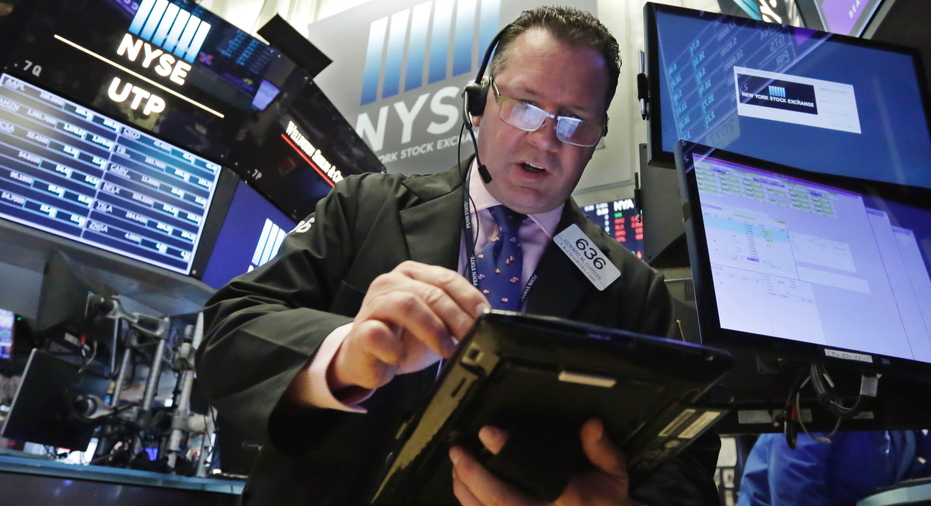 Despite a choppy week of trading and a mixed finish for U.S. stocks, the market extended its recent streak of relative calm Friday.
The S&P 500, the market's benchmark index, notched its 10th day in a row without a gain or drop of 1 percent or more. That's the longest stretch going back to January 26, when the market broke four and a half months of calm with a 1.2 percent gain, which also marked a record high.
Just one week later, the market entered an extended bout of volatility that included a rapid plunge of 10 percent in early February. That was the first "correction" the market had seen in two years.
Since then, the market has returned to quieter trading, even as U.S. companies report fatter profits and investors grow anxious about rising interest rates and the threat of a trade war between the U.S. and China.
"Now it feels like investors are paralyzed trying to choose between a pretty solid economic picture and great earnings growth, and rising rates and ongoing geopolitical drama day to day," said Craig Birk, executive vice president of portfolio management at Personal Capital.
The S&P 500 index fell 7.16 points, or 0.3 percent, to 2,712.97. The Dow Jones industrial average gained 1.11 points to 24,715.09. The Nasdaq composite lost 28.13 points, or 0.4 percent, to 7,354.34.
The Russell 2000 index of smaller-company stocks rose 1.34 points, or 0.1 percent, to 1,626.63, its third all-time high in a row.
The indexes finished the week in the red, but are still on track for gains this month, led by the Russell 2000.
After a strong start to the month, markets have been choppy this week as investors turned the page on the first-quarter earnings reporting season and weighed the implications of the ongoing trade tensions between the U.S. and China. The countries, which have threatened tariffs on each other, were holding discussions aimed at averting a trade war between the world's two biggest economies.
Traders have also been coming to grips with the yield on the 10-year Treasury note moving well past 3 percent. It hit 3.12 percent on Wednesday, its highest level in almost seven years.
"The issue of inflation is starting to rear its head again," said Jeff Kravetz, regional investment strategist for U.S. Bank Private Wealth Management. "That's got investors a bit nervous. And then we have the dollar strengthening and emerging markets weakening."
Even so, the S&P 500 has remained on a narrow trading range, keeping volatility largely under wraps, at least for now.
On Friday, banks and technology companies were among the biggest decliners, offsetting gains by industrial and health care stocks. Energy companies also declined as crude oil prices closed lower.
Bond prices rose, sending yields lower. The yield on the 10-year Treasury fell to 3.06 percent from 3.12 percent late Thursday. The pullback in bond yields, which affect interest rates on mortgages and other consumer loans, weighed on bank stocks. Citigroup fell 2.2 percent to $69.96.
Some companies' latest quarterly results or outlooks also put investors in a selling mood Friday.
Campbell Soup plunged 12.4 percent to $34.37 after the packaged foods company lowered its profit forecast and said that its CEO, Denise Morrison, was retiring effectively immediately. The stock was the biggest decliner in the S&P 500 and had its worst single-day drop since 1999.
Nordstrom tumbled 10.9 percent to $45.36 after the upscale department store chain said sales at established stores, a key metric for retailers, showed meager gains in the first quarter.
Applied Materials slumped 8.2 percent to $49.51 after the maker of chipmaking equipment forecast revenue for the current quarter that was below Wall Street's estimates.
Industrials and health care stocks notched solid gains. Drugmaker Nektar Therapeutics led all stocks in the S&P 500, climbing 7.7 percent to $85.30. Deere & Co. gained 5.7 percent to $155.25 after the agricultural and construction equipment maker forecast 35 percent growth in equipment sales for its third quarter.
PayPal Holdings added 2 percent to $80.79 on news that the company is buying Stockholm-based payment processing startup iZettle for $2.2 billion with the aim of expanding into Europe and Latin America.
Benchmark U.S. crude oil fell 21 cents to settle at $71.28 a barrel in New York. Brent crude, used to price international oil, lost 79 cents to $78.51 a barrel in London.
The slide in oil prices was a drag on energy stocks. Range Resources slid 3.2 percent to $15.17.
Gold gained $1.90 to $1,291.30 an ounce. Silver slipped 3 cents to $16.46 an ounce. Copper dropped 3 cents to $3.06 a pound.
The dollar fell to 110.68 yen from 110.75 yen on Thursday. The euro weakened to $1.1773 from $1.1799.
In other energy futures trading, heating oil lost 2 cents to $2.27 a gallon. Wholesale gasoline slipped a penny to $2.23 a gallon. Natural gas gave up a penny to $2.85 per 1,000 cubic feet.
Major indexes in Europe fell. Germany's DAX gave up 0.3 percent, while France's CAC 40 slid 0.1 percent. Britain's FTSE 100 lost 0.1 percent.
Asian stock markets finished mostly higher. Japan's Nikkei 225 added 0.4 percent and South Korea's Kospi index rose 0.5 percent. Hong Kong's Hang Seng index gained 0.3 percent.