US showpiece at world's fair leaves a legacy of unpaid bills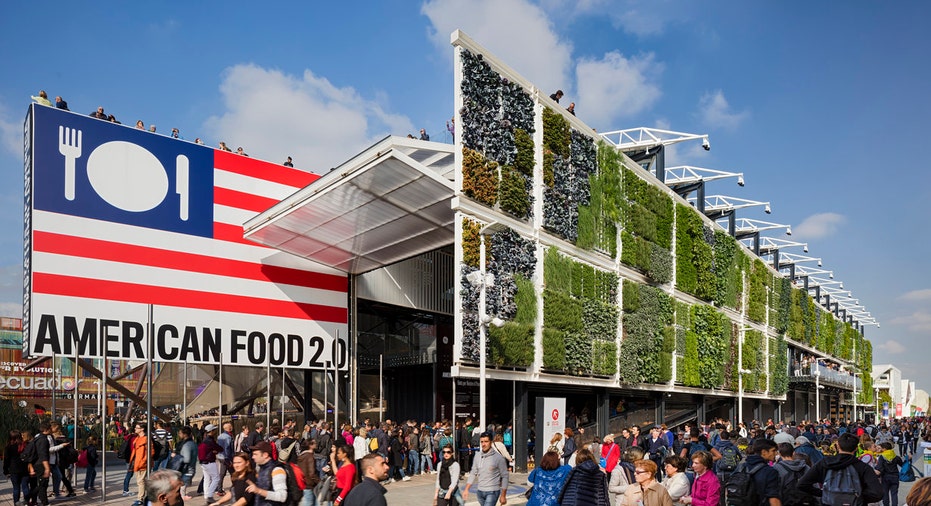 It was built to showcase the United States of America to the world, an airy, eye-catching pavilion with a facade of live plants and a walkway built with pieces of New York's famous Coney Island boardwalk.
Now, after attracting more than 6 million visitors to become the most popular attraction at the 2015 world's fair in Italy, the government-designated nonprofit group that ran the U.S. pavilion is bankrupt, leaving $28 million in debt from Manhattan to Milan.
Through interviews and documents, The Associated Press found that attempts at a federal bailout have stopped. The building is being dismantled after lingering for two years. And creditors are flabbergasted at how a high-profile project done in America's name plunged them into a financial hole.
"It was a fantastic experience in every way but one," said architect James Biber, whose New York-based firm had to lay people off because of $1 million in unpaid fees. "It's unconscionable and outrageous."
The fallout comes as the U.S. seeks to host a world's fair of its own in Minnesota in 2023. A decision is expected this month.
"It's not a situation that anyone went into thinking that that's how it would resolve itself," said Charlie Faas, CEO of the nonprofit Friends of the U.S. Pavilion Milano 2015.
Since the first "Great Exhibition" in 1851 in London, world's fairs have periodically trumpeted technological progress, promoted international cooperation and projected national pride. They have produced some indelible architecture, including the Eiffel Tower in Paris and Buckminster Fuller's geodesic dome in Montreal, but they have also been derided as dated, expensive exercises in puffery.
Many nations put government funds into their pavilions, but a 1990s law prevents the U.S. from doing so without special congressional approval. The country sat out the 2000 expo in Hannover, Germany, after struggling to raise private money.
The State Department tapped Friends, a nonprofit formed by culinary and business organizations, to orchestrate a showpiece for the food-sustainability-themed Milan Expo 2015.
The pavilion featured a "vertical farm" — a facade of hydroponic planters growing more than 40 different crops — plus a programmable waterfall and a roof terrace covered by special glass that could turn opaque to block the summer sun.
Videos presented various Americans' perspectives on nourishing a growing global population. Food trucks offered star-spangled fare from barbecue to lobster rolls. Visitors included then-first lady Michelle Obama, members of Congress, prime ministers and royals.
"We really felt good about making this for the U.S.," said exhibition designer Tom Hennes, whose New York-based Thinc Design is now out more than $1 million.
Behind the scenes, financial red flags were flapping even as the pavilion welcomed as many as 65,000 visitors a day.
The Friends group was responsible for covering the costs. But the State Department appointed a political fundraising veteran to court sponsors, and then-Secretary John Kerry hosted meetings and made calls to talk up the project with business leaders. Such household names as General Electric, Microsoft, Chevron and 3M signed on.
A similar fundraising strategy had rolled up $60 million for an Expo 2010 pavilion in Shanghai. But this time, court papers show, only about $39 million came in.
As to why, there's no one answer. The State Department says it was told there were fundraising headwinds in Europe from lingering effects of the 2008 financial crisis. Faas said the U.S. set an ambitious timeline, requesting proposals for the pavilion 20 months before the fair.
Money ran so short that organizers stopped paying anything except operating expenses to keep the building open. Faas argues a shutdown would have slammed the door on any hope of further contributions.
"We were operating with the creditors' best interest in mind as we went through this. Every day, we made sure we were optimizing and giving credibility to raising money," Faas said.
Fundraising became even tougher, and creditors grew more restless, after the six-month expo closed in October 2015.
The ticketing-software company Best Union USA Inc., of Orlando, Florida, sued Friends for over $96,000 in unpaid bills. After settling last December, the company is still owed $66,000, bankruptcy papers show; a company attorney declined to comment. Other creditors held off taking legal action.
"We're an American company; we didn't want to embarrass the U.S. government, and we were being assured that everything would be all right," said Joseph Harary, CEO of Woodbury, New York-based glass maker Research Frontiers Inc., which is owed over $240,000.
In letters and emails, State Department officials and Faas assured creditors they were working to get the bills paid. As of December, the State Department was still pursuing public money, wrote Ambassador Philip Reeker, the U.S. consul general in Milan. At that point, then-President Barack Obama and the Senate Appropriations Committee had OK'd proposed budget language allowing the State Department to kick in cash.
The provision was axed from the spending measure that Congress ultimately approved and President Donald Trump signed this spring. After that, Reeker told the Friends group in July that State "will no longer pursue a legislative solution, and no other viable options" were apparent.
Friends was left with no choice but bankruptcy, Faas said. The nonprofit owed three dozen companies and people as much as $15 million apiece and had just $481,000 in the bank, court filings show.
The State Department said in an email to the AP that it did what it could to help Friends with its obligations "and while hopeful, did not make promises related to the debt relief." The agency says it will provide more administrative help for future pavilions.
The pavilion itself now belongs to Hammerbrooklyn Immobilien GmbH, a company based in Hamburg, Germany, that got the building in exchange for removing it.
"It was really a sad situation. Nobody took care of it for two years," said managing director Johannes Lichtenthaler.
The New York company that provided the Coney Island boardwalk wood, Sawkill Lumber, is trying to get it back; the company is owed $55,000. Lichtenthaler says that much of the wood is damaged but that his company aims to reuse as much as possible in a planned startup incubator space in Hamburg.
To the State Department, it's an OK end for a building designed to trumpet American culture, businesses and ingenuity.
"We are glad the spirit of innovation will live on," the agency says.