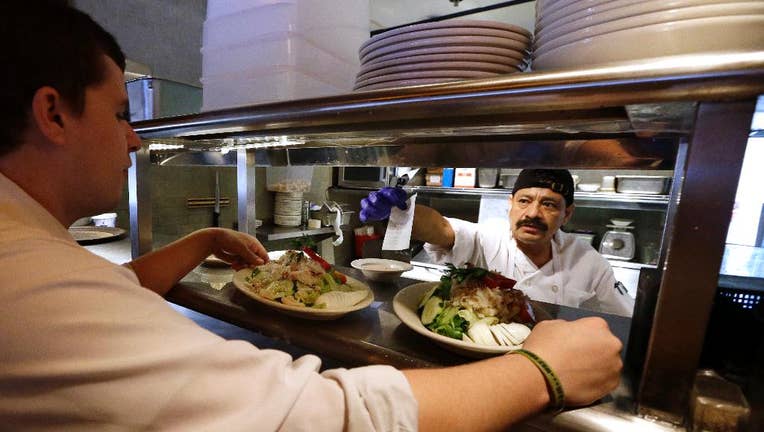 The Labor Department issues its first estimate for the economy's productivity in the second quarter at 8:30 a.m. Eastern Tuesday.
PRODUCTIVITY RISES: Economists believe productivity rose moderately in the April-June quarter, increasing at an annual rate of 1.5 percent, according to a survey by data firm FactSet. If so, that would be the first increase after two quarters of decline.
Economists also expect employment costs ticked up just 0.3 percent, after spiking 6.7 percent in the first quarter.
Productivity measures the economy's output of goods and services for each hour worked. It is a gauge of how efficient workers are.
Greater productivity is key to raising living standards and the pay of Americans. It allows employers to boost wages and salaries without having to increase prices and potentially spark inflation.
Rising labor costs, meanwhile, can be a precursor of inflation. While they rose sharply in the first quarter, they have been sluggish since the recession. Companies haven't had to increase pay much to hold onto workers.
GROWTH PICKS UP: The economy expanded at a 2.3 percent annual rate in the second quarter, after growing just 0.6 percent in the first. That boost, which reflected greater spending by consumers and a pickup in exports, should lift the productivity figure.
Companies also hired more workers from April through June, but overall the number of hours worked increased about 0.75 percent, according to economists at RBS, a bank. When output grows faster than hours worked, productivity increases.
Yet productivity has slowed markedly in the past four years, a trend that has puzzled economists. It rose just 0.7 percent in 2014 and 0.9 percent in 2013.
That's far below the strong 2.8 percent average annual productivity growth that occurred from 1995 through 2004, which largely reflected a boost from the widespread use of computers and the Internet. From 2005 through 2014, productivity increased an average of just 1.5 percent a year.
Some experts believe that improvements in software and other high-tech products aren't being accurately measured by the government's statistics, which were formulated when manufacturing, agriculture and other tangible goods accounted for a bigger share of the economy.
Other economists argue that companies haven't yet figured out how to fully exploit smart phones, tablets and other recent innovations. Productivity should increase as they learn to do so. And still others point out that companies have been reluctant since the recession to invest in large equipment such as industrial machinery, which could boost their employees' productivity.
The Federal Reserve carefully monitors productivity and labor costs for signs that inflation is nearing higher levels. While labor costs jumped in the first quarter, they rose a modest 1.8 percent in 2014. That suggests companies aren't being forced to raise prices to cover labor costs.