US indexes drift in early trade; department stores nosedive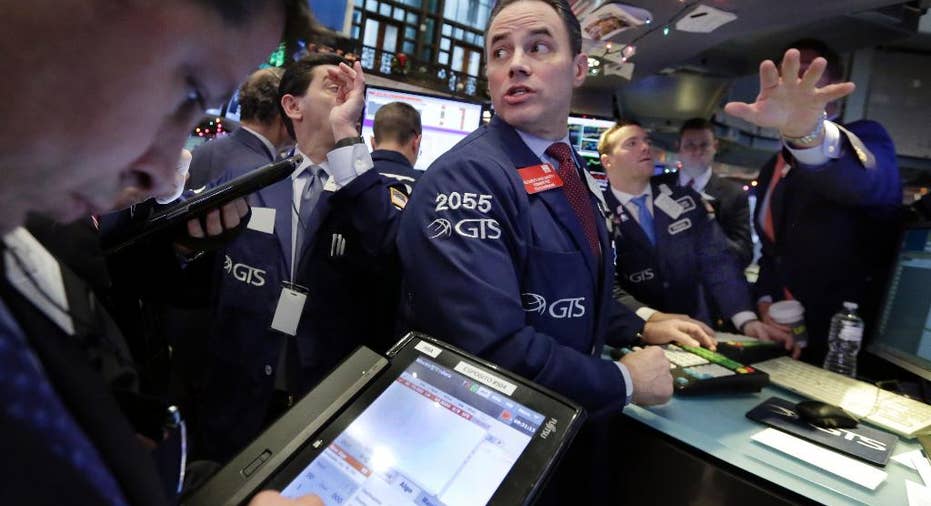 Department stores dominated the news Thursday morning as Macy's and Kohl's both plunged following weak holiday-season reports that led the chains to cut their profit forecasts. Macy's also said it will eliminate 10,000 jobs as it continues to close stores. Sears jumped after it said it will close 150 stores and sell its Craftsman tool brand. Overall, stocks were only slightly lower as gains for energy and technology companies limited the losses.
KEEPING SCORE: The Dow Jones industrial average dipped 17 points, or 0.1 percent, to 19,924 as of 10 a.m. Eastern time. The Standard & Poor's 500 index lost 1 point to 2,269. The Nasdaq composite rose 12 points, or 0.2 percent, to 5,489. The Russell 2000 index of small-company stocks declined 6 points, or 0.4 percent, to 1,382.
FIRE SALE: Macy's and Kohl's reported declines in a key sales measure for November and December. Macy's said it will cut 10,000 jobs as it restructures its business, sells properties and continues to close stores. Macy's, which has lost about half its value over the last two years, tumbled $4.64, or 12.9 percent, to $31.20 and Kohl's slumped $8.70, or 16.8 percent, to $43.16. Competitor Nordstrom gave up $4.31, or 8.8 percent, to $44.61 while J.C. Penney dropped 56 cents, or 6.6 percent, to $7.92.
Online retail giant Amazon rose $11.74, or 1.6 percent, to $768.92 as investors felt the continued trouble for traditional stores shows Amazon is succeeding.
SEARS RISES AGAIN: Sears jumped after it said it will sell the Craftsman brand to Stanley Black & Decker for $900 million. Sears will also get a percentage of Craftsman sales over the next 15 years and it will continue to sell the products at its stores. That gives Sears another raft of cash, and its shares climbed 48 cents, or 4.6 percent, to $10.84. Last Thursday the company's stock rose 10 percent after Sears said it secured new financing that will help fund its operations.
Sears also said it will close another 150 stores. Investors rarely see that kind of announcement as a positive, but they've long expected such a move. Stanley Black & Decker gained $2.41, or 2.1 percent, to $118.90. In October the company agreed to buy Newell Brands' tools business for $1.95 billion.
BRICK, MORTAR, TEARS: The struggles for department stores also sent real estate investment trusts lower. Some of the largest losses went to companies that operate and develop shopping malls. Simon Property Group dropped $4.77, or 2.6 percent, to $179.31 and General Growth Properties lost 66 cents, or 2.6 percent, to $25.32.
PAYROLL REPORT: Private U.S. companies added 153,000 jobs in December, according to payroll processor ADP. That total was a bit lower than analysts expected and slightly slower than the pace of hiring for the rest of 2016. The government will issue its own hiring report on Friday.
ENERGY: Benchmark U.S. crude gained 61 cents, or 1.1 percent, to $53.87 a barrel in New York. Brent crude rose 63 cents, or 1.1 percent, to $57.09 a barrel in London.
BONDS: Bond prices edged higher. The yield on the 10-year Treasury note fell to 2.42 percent from 2.44 percent.
CURRENCIES: The dollar continued to slip a bit lower. It fell to 115.96 yen from 117.60 yen. The euro rose to $1.0546 from $1.0467.
OVERSEAS: The FTSE 100 index in Britain was up 0.2 percent after closing at all-time highs the last few days. The German DAX held steady and the CAC-40 in France lost less than 0.1 percent. Japan's benchmark Nikkei 225 index fell 0.4 percent and the Kospi of South Korea edged 0.2 percent lower. Hong Kong's Hang Seng index rose 1.5 percent.
___
AP Markets Writer Marley Jay can be reached at http://twitter.com/MarleyJayAP His work can be found at http://bigstory.ap.org/journalist/marley-jay