US hiring slows to 151K jobs in August; Fed hike less likely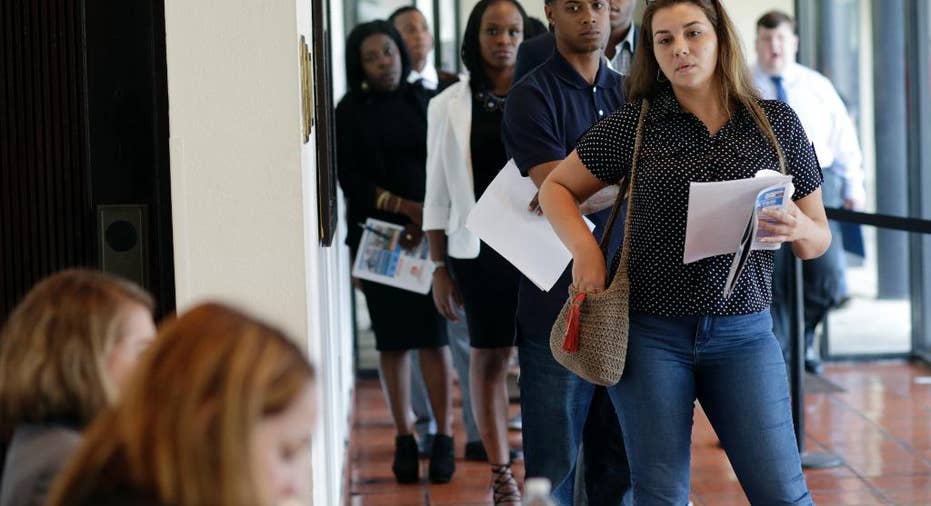 U.S. employers slowed their hiring in August to a modest 151,000 jobs and barely raised wages. The pullback in job growth reduces the likelihood that the Federal Reserve will raise interest rates when it meets this month.
The unemployment rate remained 4.9 percent for a third straight month, the Labor Department said Friday in its monthly jobs report.
August's job gain was far below July's 275,000, which was the most in eight months, and June's 271,000. Even so, over time, the current pace of hiring is enough to lower the jobless rate.
"The data-dependent Fed will most likely see the payroll numbers as taking pressure off any immediate need to hike interest rates," said Chris Williamson, chief market economist at IHS Markit.
The slowdown in hiring appeared to please stock investors, who likely see a diminished prospect of a Fed rate increase later this month. Higher borrowing rates tend to weigh down stock prices. The Dow Jones industrial average rose nearly 100 points in early trading.
Hiring had been robust earlier this summer, with job growth averaging 232,000 for the past three months. Those gains appeared to make consumers more confident and willing to spend, potentially accelerating the economy's growth in the second half of this year after a sluggish start to 2016.
In August, though, hiring weakened across most major industries, and employers cut workers in manufacturing, construction and mining. Job growth slowed sharply in professional and business services, which includes higher-paying jobs such as engineers, accountants and architects as well as temporary jobs, which usually pay below-average wages. Temp help firms shed 3,100 positions.
Average hourly pay barely rose in August and has increased just 2.4 percent over the past 12 months. The average workweek declined slightly to 34.3 hours
Even with last month's deceleration in hiring, job growth has been strong over the past year, and economists are unlikely to be alarmed by one month's unexpectedly sluggish figure. Moreover, in previous years, the August jobs report has typically come in below economists' expectations and has usually been revised up in the following months. Over the past five years, the August figure has been revised up by an average of roughly 70,000.
Fed officials have noted the economy's improvement and the decline in the unemployment rate to levels considered all but fully healthy. Fed Chair Janet Yellen said in a speech last month that "the case for an increase ... has strengthened in recent months."
Still, the Fed's preferred inflation gauge remains below its target of 2 percent, a trend that may contribute to a delay in the central bank's resumption of the rate increases it began in December last year.
Other recent economic data have been mixed, though most analysts forecast a pickup in growth after a sluggish start to 2016.
Consumers appear more confident and have been spending at a steady clip. The Conference Board said this week that its measure of consumer confidence reached an 11-month high in August.
Americans are particularly optimistic about the job market, the board's survey found, with the percentage of Americans saying jobs are "plentiful" reaching its highest point in nine years.
At the same time, businesses remain cautious. Few are investing in new plants and equipment, thereby depressing factory output. A private survey found that manufacturing shrank in August as new orders and production plummeted.
Though Americans continue to make big purchases, such as for homes and cars, sales of both may have plateaued. Sales of existing homes slipped in July after reaching a nine-year high in June. And auto sales have leveled off this year after achieving a record high in 2015.