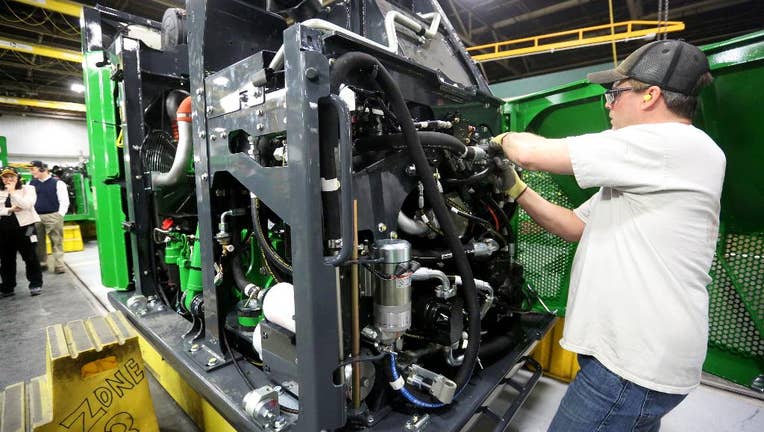 The Commerce Department reports on U.S. June factory orders at 10 a.m. Eastern Tuesday.
ORDERS UP: The expectation is that orders rose 1.7 percent, according to a survey of economists by data firm FactSet.
SLUGGISH DEMAND: Orders to U.S. factories fell by the largest amount in three months in May, reflecting a big decline in demand in the highly volatile category of commercial aircraft.
A preliminary report last week showed that orders for durable goods in June jumped 3.4 percent, reflecting a rebound in aircraft orders booked by Boeing at the Paris air show. That report will be revised and the government will also include an estimate for June demand for nondurable goods, items such as food, paper and chemicals.
Last week's report showed that orders in a key category that serves as a proxy for business investment plans rose by 0.9 percent. That modest gain followed two months of declines in the investment category.
U.S. manufacturers have struggled this year from the effects of a strong dollar and a plunge in energy prices. The higher value of the dollar against foreign currencies makes U.S. goods more expensive in major export markets. The lower oil prices have led energy companies to scale back sharply on investments.
A closely watched gauge of manufacturing activity slipped in July but remained in a range that signals further expansion in manufacturing. The Institute for Supply Management said Monday that its manufacturing index dipped to 52.7 in July, down from 53.5 in June. Any reading above 50 indicates expansion. The index hit a 12-month high of 58.1 last August.
The government reported last week that the overall economy, as measured by the gross domestic product, grew at a 2.3 percent annual rate in the April-June quarter, an improvement from a slight 0.6 percent GDP increase in the first quarter. The rebound was powered by consumer spending, with business investment falling during the second quarter.
Economists are hopeful that overall economic growth will revive further to around 3 percent in the second half of the year as continued gains in employment bolster consumer spending. The expectation is that strength in the consumer sector will be enough to offset weakness in manufacturing.