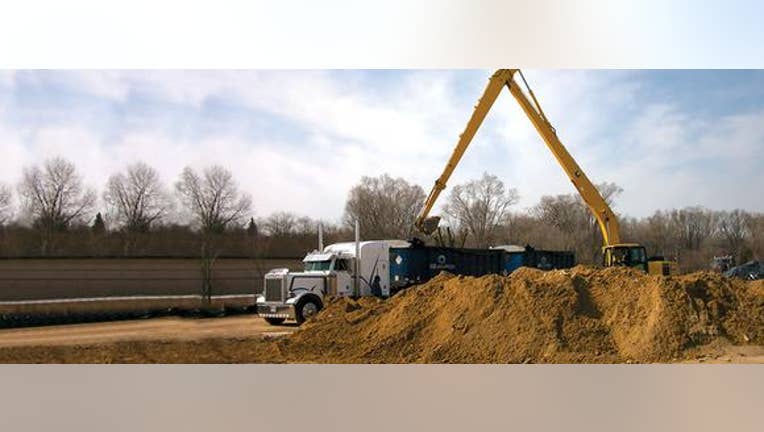 Image source: US Ecology.
US Ecology reported fourth-quarter and full-year 2015 results after the market closed on Thursday. As expected, the environmental services company's revenue and earnings decreased from the year-ago period due to the continuation of the cyclical market headwinds it encountered in the third quarter. These headwinds involve a slowdown in the industrial sector. Positively, the company's base business rebounded somewhat from the previous quarter, and it foresees better bottom-line results in 2016.
US Ecology's key quarterly numbers
Data source: US Ecology. *Allstate Power Vac was sold on Nov. 1, as planned.
Met its EBITDA guidance but missed on EPSFor the full-year 2015, revenue was $563.1 million, up from $447.4 million in 2014. The divested Allstate Power Vac contributed $59.1 million of revenue in 2015 compared to $37.0 million in 2014.Adjusted EBITDA was $125.5 million compared to $109.0 million in 2014. Pro forma adjusted EBITDA, which excludes Allstate, increased 11% year over year to $122.6 million. Adjusted EPS was $1.57 in 2015 and includes approximately $0.07 of non-cash amortization of deferred financing costs and approximately $0.05 associated with higher income taxes. Adjusted EPS for 2014 was $1.99.
US Ecology's $122.6 million adjusted core business EBITDA, which excludes Allstate, met its expectations of $122 million to $125 million. However, its adjusted EPS of $1.57 fell short of its expectations of $1.73 to $1.80. The company pared back its 2015 guidance last quarter.
The company's own expectations are more important than analysts' estimates. However, Wall Street expectations can help explain market reactions. So, it's worth noting that analysts were looking for fourth-quarter EPS of $0.47 on revenue of $131.7 million, and full-year EPS of $1.72 on revenue of $557.66 million. US Ecology surpassed revenue estimates, but missed on the bottom line.
Base business rebounds from Q3US Ecology's fourth-quarter operating results and pro forma adjusted EBITDA came in slightly better than it anticipated due to stronger-than-expected results in its base business, driven by a rebound in key verticals. (Its base business doesn't include its event business, which it now defines as nonrecurring projects of 1,000 tons or more.)
Said CEO Jeff Feeler in the press release:
Segment performanceThe environmental servicessegment generated $97.0 million in revenue in the fourth quarter, down from $100.6 million in the fourth quarter of 2014. This decline consisted of year-over-year decreases of 3% in treatment and disposal revenue and 5% in transportation revenue. Gross profit increased to $37.2 million in the quarter, up from $37.1 million in the year-ago period.
The field and industrial services segment generated $41.3 million in revenue in the fourth quarter, down from $56.6 million in the year-ago period. The divested Allstate business contributed $8.1 million of revenue for one month of ownership in the quarter compared to $17.4 million of revenue in the fourth quarter of 2014. The decrease in revenue was primarily the result of less remediation services work and lower transportation revenue. Gross profit for the fourth quarter was $7.0 million, which included $1.6 million from the divested Allstate business. This compares to gross profit of $9.1 million in the fourth quarter of 2014, which included $4.0 million from Allstate. Excluding Allstate, gross profit in the quarter increased to $5.4 million from $5.1 million in the year-ago period.
Looking aheadFeeler commented in the press release:
US Ecology provided the following guidance for 2016:
Data source: US Ecology. *Revenue growth on pro forma basis, excludes Allstate's revenue in 2015. **EPS growth when adding back the amortization of deferred financing fees and the higher tax expense.
Going into earnings, analysts were projecting that US Ecology would earn $1.82 per share on revenue of $509.12 million in 2016, so the consensus for both revenue and EPS fall at the low end of the company's guidance.
The article US Ecology Earnings: Base Business Rebounds Somewhat, but Market Headwinds Remain originally appeared on Fool.com.
Beth McKenna has no position in any stocks mentioned. The Motley Fool recommends US Ecology. Try any of our Foolish newsletter services free for 30 days. We Fools may not all hold the same opinions, but we all believe that considering a diverse range of insights makes us better investors. The Motley Fool has a disclosure policy.
Copyright 1995 - 2016 The Motley Fool, LLC. All rights reserved. The Motley Fool has a disclosure policy.