Uranium Stocks: What to Watch in 2017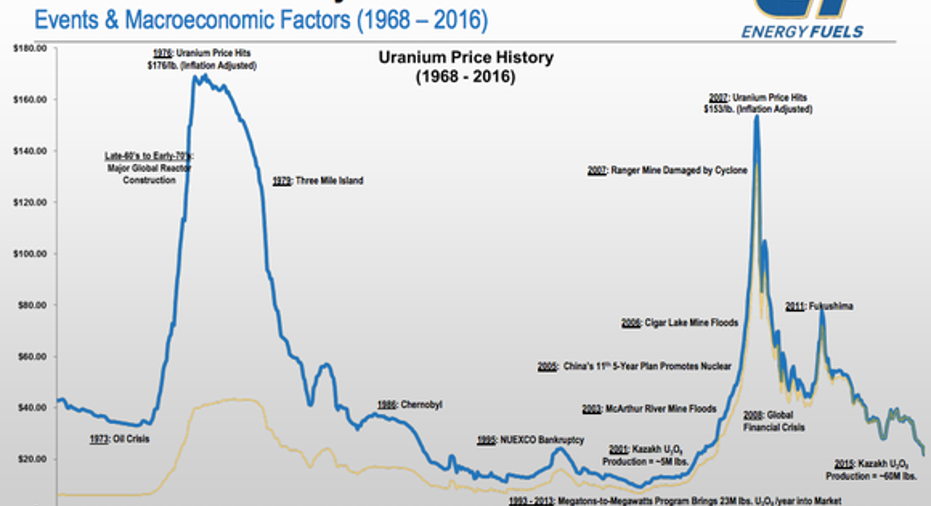 Uranium miners like Cameco Corp. (NYSE: CCJ) have been suffering through a rough patch. The immediate problem is falling uranium prices. But that's really a symptom of a bigger issue, which is a supply-and-demand imbalance. Investors looking at uranium as a way to play nuclear power need to understand that dynamic, and what's expected to fix the problem, before they buy into this sector.
A Rio Tinto employee working at one of its uranium facilities. Image source: Rio Tinto.
Steep drop
In 2011, uranium prices were in the range of $70 per pound. The spot price for the nuclear fuel, which Cameco notes was "down to new 10-year lows,"was around $25 per pound in the third quarter of 2016. Luckily, the world's largest publicly traded uranium miner's business is backed by long-term contracts that helped keep its realized price at just over $43 a pound.
A long-term look at the history of uranium prices. Image source: Energy Fuels.
Still, though, you see the problem. The price trend is going the wrong way -- which is why Cameco has been directing its efforts to cost-cutting and refocusing around its best mines. For example, the company reduced its capital spending projections for 2016 by around 10% when it reported third-quarter results. And, despite the downturn, it has continued to invest in its Cigar Lake mine because it's relatively cheap to operate. The recent opening of that mine helped to cut Cameco's cash costs of producing uranium by more than 20% through the first nine months of 2016.
These are solid operational moves, and they show that Cameco is working hard to adjust to a difficult environment. In fact, the miner has managed to remain profitable despite the headwinds it's faced. Still, you'll want to ensure the miner keeps making progress in these efforts from a company-specific standpoint. But when you look at the industry, which includes giant diversified miners like Rio Tinto (NYSE: RIO) and tiny upstarts like money-losing Energy Fuels, the supply-demand dynamic is the real key for uranium next year and thereafter.
Japan at the crossroads
One of the biggest issues facing uranium today actually stems from the 2011 Fukushima reactor meltdown in Japan. That event caused Japan to shut all of its nuclear power plants and even led Germany to plan a shift away from the electricity option. In addition to reminding the world of the risks involved in running nuclear reactors, the swift shutdown of so many reactors pushed supply and demand out of whack.
After Japan began to realize that doing without nuclear power was an expensive proposition, the island nation announced its intention to restart many of its shuttered nuclear facilities. However, progress has been very slow. To be fair, Japanese restarts alone won't solve the supply-demand imbalance they helped to create. But once enough of these reactors are back up and running, the uranium market will have passed a key emotional hurdle. Cameco, for example, describes the current market sentiment as "anemic." And a big part of that is the state of Japan's nuclear fleet.
Under construction
Once investors and market participants start to see that the clouds are beginning to lift, they can focus on some of the positives. One of the biggest is that there are currently 57 reactors under construction today. The new reactors are mostly in developing markets where demand for power is growing quickly, like China and India. More important, the opening of new reactors is expected to more than offset demand declines from reactors being mothballed. That, in turn, will help to correct the supply-demand imbalance.
So, as an investor, you'll want to keep a close eye on the progress at the plants that are in a state of development. About two-thirds of these are expected to come on line in the next three years.
The really long term
That said, the really long-term view for uranium isn't three years into the future -- it's decades. Which is why you also need to watch long-term construction plans. For example, the U.S. Energy Information Administration projects that nuclear power production will increase more than 70% by 2040. Emerging markets are expected to account for 86% of that growth, with China alone making up a massive 54%.
Projecting big growth for nuclear energy. Image source: U.S. Energy Information Administration, 2016.
The only problem with this really long-term view is that sometimes big construction plans don't pan out as planned. Uranium's future won't be nearly as positive if alternative power options, like solar and wind, grab more share of the market than expected. So you need to monitor those 57 nuclear plants being built today and watch the long-term picture.
That means keeping an eye out for more nuclear power construction news. It also means watching for technology advances that can make the fuel option safer and cheaper to build. Companies like General Electric'sGE Hitachi partnership are working on next-generation plants that investors should closely monitor.
Balancing out
Investors watching the uranium market in 2017 clearly shouldbe monitoring uranium prices. But there's a lot that goes into that, both over the short term and the long term. And on that score, you'll want to watch Japan's efforts to restart shuttered nuclear power plants, the progress on the plants currently under construction, and updates on plants and technology planned but not yet built. All of that is the backdrop behind the company-specific moves that uranium miners like Cameco are making today -- with the goal of surviving the downturn so they can benefit from bright expectations for the future.
10 stocks we like better than Cameco When investing geniuses David and Tom Gardner have a stock tip, it can pay to listen. After all, the newsletter they have run for over a decade, Motley Fool Stock Advisor, has tripled the market.*
David and Tom just revealed what they believe are the 10 best stocks for investors to buy right now... and Cameco wasn't one of them! That's right -- they think these 10 stocks are even better buys.
Click here to learn about these picks!
*Stock Advisor returns as of Nov. 7, 2016
Reuben Brewer has no position in any stocks mentioned. The Motley Fool owns shares of General Electric. Try any of our Foolish newsletter services free for 30 days. We Fools may not all hold the same opinions, but we all believe that considering a diverse range of insights makes us better investors. The Motley Fool has a disclosure policy.