UPS Stock Upgraded: What You Need to Know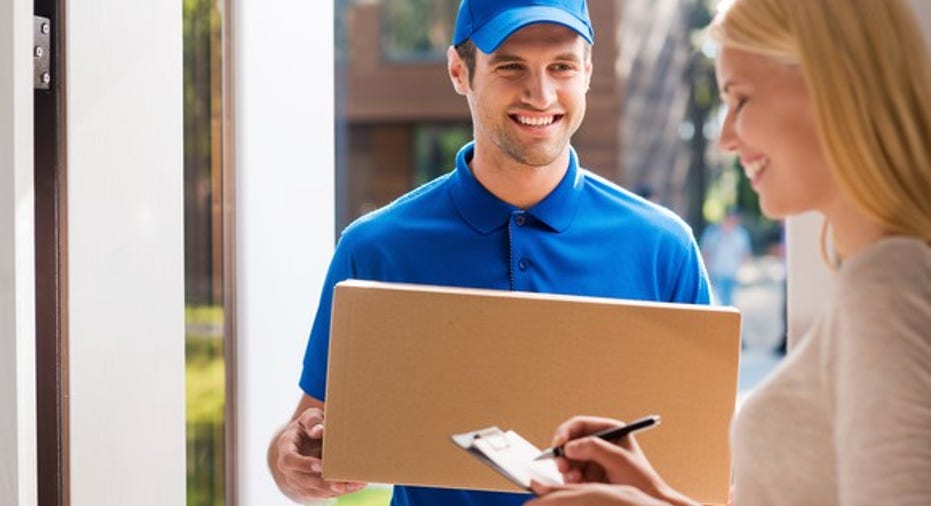 It's been a rough couple of weeks for investors in United Parcel Service(NYSE: UPS) stock, shares of which are off 10% since reporting earnings on Jan. 31 -- but things are already starting to look up.
This morning, analysts at boutique investment banker Aegis Capital announced they are sticking with their projected price target of $120 on UPS shares. And since UPS has fallen back from that target, they're going ahead and upgrading UPS stock as well -- to buy. As the analyst points out, if and when UPS rises from its current valuation of $105 and change to hit $120, the stock will provide investors with a 13.6% equity profit. Throw in a hefty 2.9% dividend yield, and the total return on this stock could exceed 16.5%.
Here are three more things to know about UPS.
Should you sign up for some UPS stock? Image source: Getty Images.
1. Earnings
Let's start with the news that sparked the sell-off in UPS stock, which in turn led to today's upgrade. On Jan. 31, UPS reported its financial results for fiscal 2016. Earnings per share declined 28% in comparison to fiscal 2015, falling to $3.87 per share, after charges related to revaluing the pension fund subtracted $1.88 from UPS' take. Absent those charges, UPS' earnings per share would actually have risen 6% -- slightly ahead of revenue gains of 4.4%.
2. Guidance
Back out the pension charge, therefore, and UPS actually showed some improvement last year, and turned in earnings that, while at the low endof guidance, at least fit within the guidance range that management had announced prior to earnings.
Additionally, UPS offered relatively optimistic guidance for a return to earnings growth in the new year. For fiscal 2017, UPS is now projecting that it will grow revenue 5% to 7% (faster than last year), improve its operating profit margin at least "slightly" in comparison to 2016, and produce at least pro forma profits of $5.80 to $6.10 per share. Wall Street is proffering an earnings estimate of $5.95 per share for this year -- smack dab in the middle of UPS' guidance range, and allowing ample room for a positive earnings surprise.
3. Taxes
As reported this morning on StreetInsider.com, Aegis has a curious take on all of the above. On the one hand, UPS' guidance falls short of the $6.40 in profits that Aegis had previously expected the company to earn this year (and Aegis is cutting its own projections), which would seem to argue for a downgrade. On the other hand, the reasonsAegis is cutting its earnings projections for UPS stock are altogether separate from the guidance.
According to Aegis, prior to last week's news, it was expecting UPS to earn $6.40 this year. This was based, however, largely on Aegis's expectation that "tax reform" in the U.S. would lower UPS's tax bill by about $0.32 per share, adding 350 basis points to the company's operating margin. Aegis now views tax reform as less likely in the near term, and so is removing those hoped-for tax-break-related profits from its projections. Incidentally, Aegis is also removing $0.05 worth of hoped-for "stock concentration" profits from stock buybacks that it no longer expects will happen this year. Finally, Aegis is projecting increased headwinds from foreign exchange rates, which will outweigh UPS' promises of "slight" profit margin improvement.
Altogether, Aegis's adjustments add up to $0.44 less profit for UPS this year than the analyst had previously projected. And this explains its lower projected profit for the company.
Final thing: What it all means to investors
While Aegis is slightly less optimistic about UPS' profits, though, the analyst remains bullish on UPS stock. The analyst argues that UPS' price-to-earnings ratio of 27has now sunk to "a market multiple." (By the way, 27 times earnings is also the P/E on FedEx (NYSE: FDX) stock -- but it's worth pointing out that both UPS and FedEx shares actually trade at a slight premium to the S&P 500's current 25.7 P/E ratio.) Regardless, Aegis argues that the shares are selling for "about 10% lower than the shares normal valuation" after UPS' stock sell-off, and says this fact justifies jumping on UPS stock today.
I disagree.
While it's true that UPS (and FedEx) sell at a premium to the market, and that as members of America's parcel shipping duopoly, theydeserveto sell at a premium, I think the size of UPS' premium is too great. Simply put, 27 times earnings is way too much to pay for a company that, in the opinion of most analysts, is only expected to grow its earnings at 10% annually over the next five years -- and which instead shrank its earnings last year.
Even 10% cheaper than what it costs a week ago, UPS stock costs too much today, and Aegis is wrong to recommend it. And as for FedEx? With a 13% growth rate, I think it's overpriced at 27 times earnings, too -- but at least less overpriced that UPS.
10 stocks we like better than United Parcel ServiceWhen investing geniuses David and Tom Gardner have a stock tip, it can pay to listen. After all, the newsletter they have run for over a decade, Motley Fool Stock Advisor, has tripled the market.*
David and Tom just revealed what they believe are the 10 best stocks for investors to buy right now... and United Parcel Service wasn't one of them! That's right -- they think these 10 stocks are even better buys.
Click here to learn about these picks!
*Stock Advisor returns as of February 6, 2017
Rich Smith has no position in any stocks mentioned. The Motley Fool recommends FedEx and United Parcel Service. The Motley Fool has a disclosure policy.