Up 147% in the Past Year, Will This Newest Product Push Micron Technology Inc. Even Higher?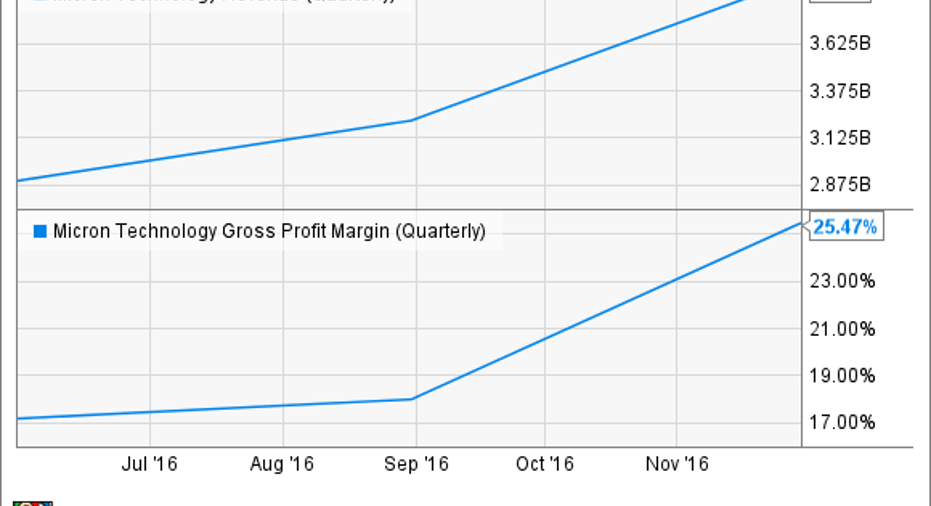 Shares of Micron Technology (NASDAQ: MU) have set the market on fire in the past year, thanks to strong memory prices and lower per-bit costs that have led to impressive financial gains.
Data by YCharts.
This favorable pricing environment looks set to continue as memory demand will increase at a faster pace than supply in 2017. What's more, the long-term prospects of the memory chip market appear to be bright as IC Insights expects it to hit a size of $110 billion in 2021, up from $77 billion in 2016.
Micron, however, is not going to rely solely on growth in the memory chip market. It has now trained its sights on the fast-growing Internet of Things and networking segments with its latest product.
Targeting fast-growing markets
Micron Technology and its controller partner Hyperstone recently launched the eU500 embedded universal serial bus (eUSB) device, capable of operating in harsh environments with a long lifecycle. The company claims the device's fast boot time and data logging capabilities make it ideal for use in telecommunications base stations that require almost 100% uptime, without the need of any maintenance.
Image source: Hyperstone.
What's more, the product can also be deployed to manage data center servers as a data logger and also as a boot drive for a fast boot-up time. Data loggers play a mission-critical role in data centers as they track variables -- such as voltage shifts -- by attaching time-stamps, which can be used to point out the problem in case of a shutdown, creating the need for a fast USB thumb drive.
More importantly, the eUSB is capable of operating on its own in remote areas, with Micron also providing remote upgrades to make them future-proof. All this gives potential users a good reason to deploy the product in data centers and base stations, giving the company access to a huge market.
So how big is this opportunity for Micron?
It is difficult to put a number on the size of the embedded USB market, but the areas where this device could be used will grow at a rapid pace. The data center infrastructure management market, for instance, will expand at almost 15% a year until 2020 to a size of $1.42 billion, according to Sandler Research.
As it turns out, hardware accounts for 30% of data center infrastructure management, indicating that it will be worth around $425 million by the end of the decade. Now, embedded USB should play a key role in this segment as the purpose of data center infrastructure management is to help administrators collect and analyze power-related data in real time.
What's more, the demand for eUSB will also rise due to an increase in data center construction, with TechNavio forecasting that it will grow at more than 9% a year until 2019 to $22.7 billion. On the other hand, the base station market will present another sizable opportunity for Micron to sell its eUSB product.
TechNavio analyst Abhishek Sharma points out that the construction of base stations will gain robust traction over the next four years, thanks to the growing deployment of LTE networks to satisfy high-speed networking and Internet of Things demand. The analyst expects the market to clock a growth rate of 17% a year until 2021, paving the path for Micron to tap into the Internet of Things and telecommunications industries.
In all, the embedded USB market should give Micron Technology a nice boost while complementing its moves into areas such as gaming and automotive through its DRAM memory products.
10 stocks we like better than Micron TechnologyWhen investing geniuses David and Tom Gardner have a stock tip, it can pay to listen. After all, the newsletter they have run for over a decade, Motley Fool Stock Advisor, has tripled the market.*
David and Tom just revealed what they believe are the 10 best stocks for investors to buy right now... and Micron Technology wasn't one of them! That's right -- they think these 10 stocks are even better buys.
Click here to learn about these picks!
*Stock Advisor returns as of February 6, 2017
Harsh Chauhan has no position in any stocks mentioned. The Motley Fool has no position in any of the stocks mentioned. The Motley Fool has a disclosure policy.