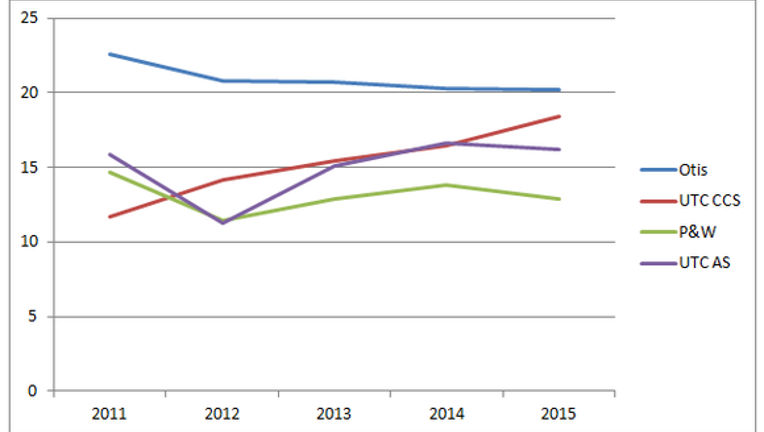 An abridged illustrated history of buildings "elevatored" by Otis. Image source: United Technologies.
United Technologies Corporation is a great company, and it owns a lot of great businesses. But which one is United Technologies' best business? That's the question I was asked the other day, and I have to admit I was stumped.
Writing so often about defense stocks as I do, my natural response would ordinarily have been "Sikorsky helicopters," of course. It's the most popular helicopter brand on the planet, has tens of billions of dollars worth of new contracts coming its way -- obviously that's the best business.
Except... United Technologies doesn't own Sikorsky anymore. Lockheed Martindoes.
On the other hand, thanks to a big, fat check handed over by Lockheed Martin in exchange for Sikorsky, United Technologies does own about 9 billion more dollars than it did before selling Sikorsky. And if United Tech is smart, it'll invest at least some of that sum in its best business that still remains.
But again: Which one is that?
Crunching the numbersFor the answer to that puzzler, I turned to the data gurus at S&P Capital IQand pulled up the revenue and operating profit numbers for United Tech's four remaining big divisions. I compared each one to the others to see which business does the best job of extracting profitable pennies from revenue dollars. Here's what I found:
See what's going on up there? Currently, United Technologies' best-performing business segment is Otis elevators by a long (presumably vertical) mile. It's the company's biggest revenue producer ($16.8 billion last year). It's the most profitable business by operating margin (20.3%) as well. That's the situation today. What's more, it's been the situation every year for the past five years.
But what about the future? Because a picture is worth 1,000 words, the answer to that question may be best answered in the form of a graph...
Data source: S&P Capital IQ.
...and what this graph tells you is that even if Otis is United Tech's smallest remaining business segment by revenues, those revenues are currently the most profitable revenue dollars United Technologies earns. The profitability of those revenues has been steadily slipping, however, falling from nearly 23% five years ago to barely 20% today.
At the same time, UTC Climate, Controls & Security (UTC CCS) remains the company's biggest business by revenues. This maker of alarm systems, fire extinguishers, and surveillance equipment for buildings has been steadily shrinking its revenue base -- but steadily growing its profitability.
Answering the questionCurrently, Otis remains the "best business" at United Technologies. It makes the most money from the least revenues, and so is the best squeezer of profitable pennies from revenue dollars. If things keep going the way they've been trending, though, UTC CCS -- already United Tech's biggest revenue contributor -- could one day soon become the company's most profitable business as well.
Stay tuned to the Fool in the new year, and we'll see if 2016 is the year that finally happens.
The article United Technologies Corporation's Best Business Segment in 2015 originally appeared on Fool.com.
Rich Smithdoes not own shares of, nor is he short, any company named above. You can find him onMotley Fool CAPS, publicly pontificating under the handleTMFDitty, where he's currently ranked No. 308 out of more than 75,000 rated members.The Motley Fool has no position in any of the stocks mentioned. Try any of our Foolish newsletter services free for 30 days. We Fools may not all hold the same opinions, but we all believe that considering a diverse range of insights makes us better investors. The Motley Fool has a disclosure policy.
Copyright 1995 - 2015 The Motley Fool, LLC. All rights reserved. The Motley Fool has a disclosure policy.