Union Pacific railroad's 1Q profit chugs ahead 9 percent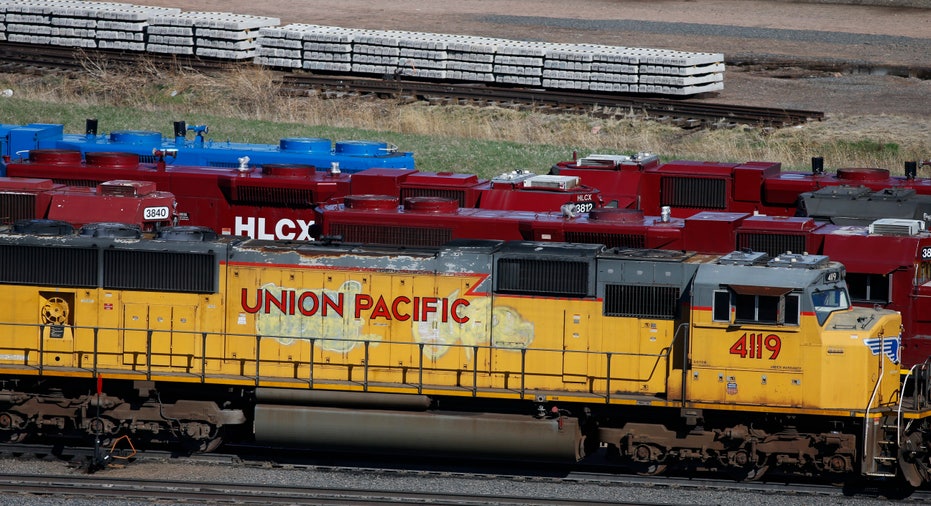 Union Pacific's first-quarter profit climbed 9 percent as the railroad hauled 2 percent more freight, increased prices and worked to control costs.
The Omaha, Nebraska-based railroad said Thursday it earned $1.07 billion, or $1.32 per share, in the quarter. That's up from $979 million, or $1.16 per share a year ago.
Union Pacific Corp. is forecasting that shipping volume will continue to grow at a low single-digit rate this year. The railroad plans $350 million to $400 million worth of productivity improvements this year.
Union Pacific is keeping a close eye on the Trump administration's trade policies because about 12 percent of the railroad's carloads either come from or go to Mexico.
CEO Lance Fritz said he doesn't believe drastic changes are needed to most trade agreements, but the deals could be improved with negotiations.
"Overall, I'm optimistic they're going to get to the right place," said Fritz, who said he believes global trade is critical to the U.S. economy.
Union Pacific's quarterly profit beat the $1.23 per share that analysts surveyed by Zacks Investment Research expected.
The railroad's revenue grew 6 percent to $5.13 billion in the quarter. Analysts expected $5 billion revenue.
Edward Jones analyst Dan Sherman said Union Pacific controlled its costs well during the quarter as fuel costs jumped 44 percent to $460 million.
"To get this result required very good control," Sherman said.
Weaker demand for coal as utilities switch to cheaper natural gas has weighed on railroad profits for several years, but coal shipments rose during the quarter.
Union Pacific says it hauled 16 percent more coal, and its coal revenue jumped 25 percent to $648 million.
Fritz said coal demand appears to be stabilizing after several years of sharp declines.
The railroad operates 32,400 miles of track in 23 states.
Union Pacific's stock was up $3.76, or 3.4 percent, to $113.93 in afternoon trading Thursday.
_____
Elements of this story were generated by Automated Insights using data from Zacks Investment Research. Access a Zacks stock report on UNP at https://www.zacks.com/ap/UNP
_____
Keywords: Union Pacific, Earnings Report, Priority Earnings