Unilever plc Earnings: Maintaining Momentum Despite Market Challenges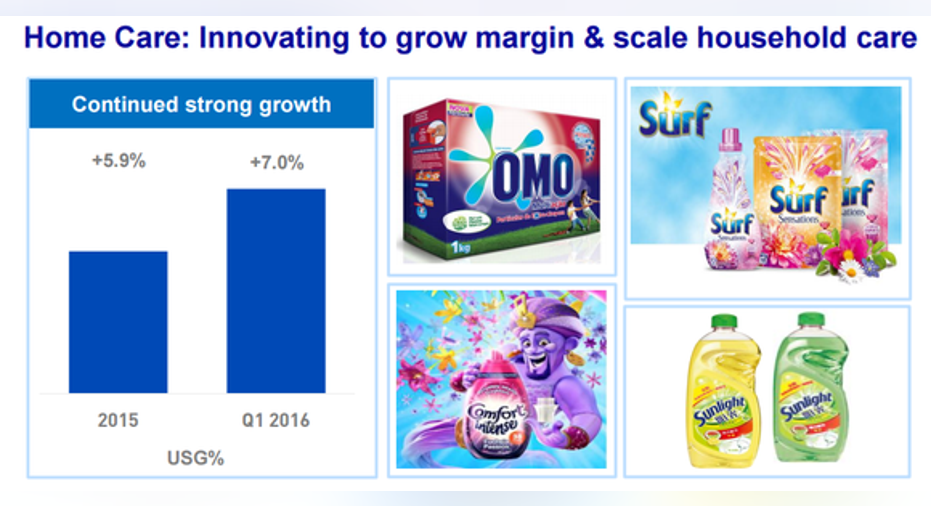 Unilever announced first-quarter earnings results on Wednesday that showed steady global growth despite weak (and declining) demand in many key markets. Revenue fell by 2% to 12.5 billion euros, but rose by 5.1% after accounting for currency changes.
What happened this quarter?There's no question that the overall selling environment was soft. Economic growth in the U.S. and in emerging markets like Brazil and Russia ticked lower and pulled Unilever's organic growth rate down from the prior quarter.
However, with strong gains in Latin America, Unilever managed growth in emerging markets that more than offset weakness in more developed economies. As a result, the consumer products giant boosted share in each of its four key product segments this quarter: personal care, foods, home care, and refreshment.
Other highlights of the quarter include:
Organic sales rose 4.7% thanks to a healthy mix of pricing gains (2%) and volume growth (2.6%). Unilever likely beat rival Procter & Gamble on this fundamental growth metric. P&G posts its Q1 results next week but has projected only minor organic growth for its fiscal year that ends in August.
Unilever posted 8% organic gains in emerging markets including Latin America and Asia, compared to flat sales in North America and Europe.
The home care division turned in the best segment performance with its 7% sales improvement led by Omo, Surf, and Sunlight brands, marking an acceleration from the 6% growth it logged through 2015.
Unilever raised its dividend by 6%, trouncing the 1% hike that P&G announced last week.
What management had to say"We are maintaining momentum despite a tougher external environment, with all four [product] categories gaining market share," CEO Paul Polman said in a press release. "This broad-based growth, including over 8% in emerging markets, shows the validity of our strategy, portfolio management and a step-up in innovation," he explained.
Innovation helped sales growth accelerate in the home care division. USG = Organic growth. Image source: Unilever investor presentation.
Executives noted that market challenges kept negative pressure on results around the world. "Consumer demand remained fragile," they said, as volume growth was weak in emerging markets, non-existent in North America, and negative in Europe thanks mainly to price deflation.
There's no quick rebound expected in that trend, either. "With markets remaining volatile, we continue to focus on driving agility and resilience in our business," Polman said.
Looking forwardThese results were consistent with Unilever's warning in January that growth will be hard to come by in 2016. Still, the numbers also demonstrate that its innovation-anchored strategy can power increased market share even in a flat market.
While it waits for a rebound in economic growth, Unilever is focused on slicing a further 1 billion euros out of its cost structure by 2018. That extra efficiency, plus continued healthy pricing gains, should keep operating margin and cash flow rates rising -- and provide the fuel for increased returns to shareholders like the solid dividend boost that management announced in conjunction with these results.
The article Unilever plc Earnings: Maintaining Momentum Despite Market Challenges originally appeared on Fool.com.
Demitrios Kalogeropoulos has no position in any stocks mentioned. The Motley Fool recommends Procter & Gamble and Unilever. Try any of our Foolish newsletter services free for 30 days. We Fools may not all hold the same opinions, but we all believe that considering a diverse range of insights makes us better investors. The Motley Fool has a disclosure policy.
Copyright 1995 - 2016 The Motley Fool, LLC. All rights reserved. The Motley Fool has a disclosure policy.