Unfazed by FDA Warning, Gilead Sciences' Stock Could Be Turning a Corner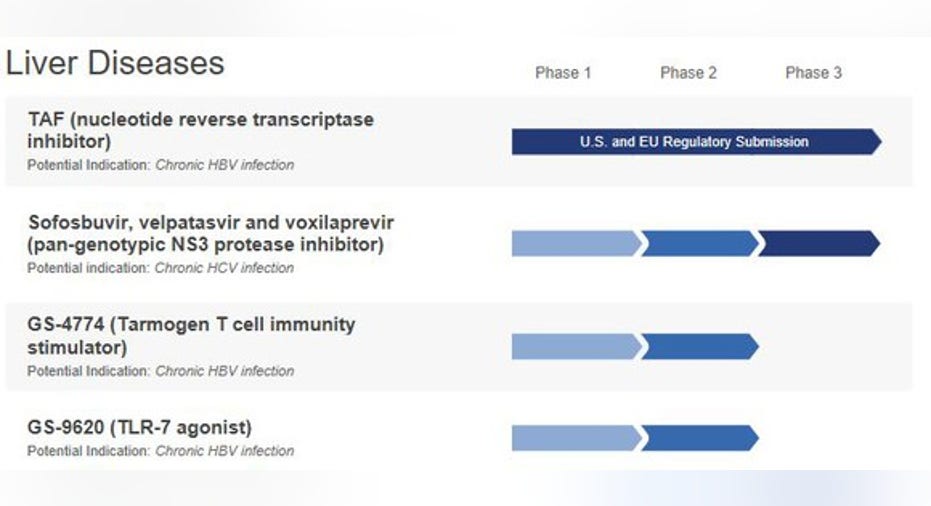 Image source: Getty Images.
Looking for a bright spot in the gloom ofGilead Sciences'(NASDAQ: GILD)long decline in share price? Earlier this month, news broke that all of Gilead's HCV drugs must now bear the so-called dreaded "black box" label -- the FDA's most serious warning on a prescription med. The market braced for a gut punch, because the warnings affixed toAbbVie's(NYSE: ABBV)hep-C drugs a year ago sliced 10% off its share price.
Although Gilead's HCV franchise is of the utmost importance to this company, representing over 50% of total sales, the biotech's stock has barelybudged.There are a couple of reasons why.
First, a big sell-off based on a negative but commercially insignificant headline typically signals that the market was looking for a reason to dump the stock anyway. Correspondingly, when the share price holds firm, it indicates that those investors whopanic easilyhave already exited. In other words, given that Gilead's trailing-12-month P/E isat a record lowof 6.4, it's possible that a lot of bad news is already baked into the stock price.
Put those things together, and shareholders should feeljustified in maintainingahealthy optimism about Gilead's future. Let's look at how the biotech's HCV franchise could be impacted by the FDA warning and why the stock may finally be ready to turn the corner.
"Black box" won'tdent HCV drug sales long term
The so-called "black-box warnings" -- officially known asboxed warnings-- are the most serious safety warnings the FDA imposes on a drug. First instituted in 1979, the warnings are intended to highlight a serious adverse reaction that may be life-threatening but could be prevented by limitations on drug usage.
That warning will now be slapped on the entire crop of hep-C wonder drugs -- not just Gilead's and AbbVie's, but alsoJohnson & Johnson's(NYSE: JNJ)Olysio,Merck &Co's(NYSE: MRK)Zepatier, andBristol-Myers Squibb's(NYSE: BMY)Daklinza. Why? The FDA said it noted 24 cases in which direct-acting antivirals brought patients' previous hep-B infections roaring back.Two patients died, and one required a liver transplant.
While that sounds grim, investors should realize that hundreds of thousands of hepC patients have been treated (and cured) by the antivirals. They have a near-perfect cure rate, and prior interferon-containing combo treatments were slower and less effective, and producedmultiple side effectsin many more patients. There's no doubt that physicians will continue to prescribe them. In fact, black-box warnings often have littleimpact onsales if the drugs are effective.
Two noteworthy examples are attention-deficit drugRitalinand popular antibiotic Cipro (ciprofloxacin). Ritalin is projected to take in a stunning$17.5 billion by the year 2020, and Ciprocontinues to be routinelyprescribed by doctors for mild infections.
What's more significant is that the FDA wants physicians to screen patients for hep-B infections before prescribing. That could delay the onset of treatment by Gilead's hep-C drugs, but it should not, in the long run, reduce the number of patients treated by more than a couple of percentage points. According to reports in theAnnals of Gastroenterology,cases of HBV/HCV coinfection in the U.S. range in the low single digits.
The silver lining: Hep-B screening couldopen upa new market
It's estimated that up to1.4 million peoplehave chronic hep-B in the U.S. Like hep-C, the disease can cause liver failure and also death, and it's also a silent killer, like hep-C. While around 50% of those stricken with hep-C don't realize they are at risk, raise that percentage to around 65% with hep-B.
Gilead has a drug on the market to treat hep-B: Viread. Viread faces generic competition in December 2017, but Gilead's new version (TAF) will likely head that off and build stronger sales, because it causes far less damage to bones and kidneys. But the real opportunity for Gilead may be in GS-9620, which is now in human trials and being touted as a possible hep-B cure. In fact, Gilead has its sights set on curing two more viral epidemics -- hep-B and HIV -- just as it created the first cure for hep-C.
Image Source: Gilead Sciences investor presentation.
A pipeline aimed atthe world's biggest killers
Gilead faces long odds in curing either of those viral epidemics any time soon. Its biggest near-term success is more likely to come in another multibillion-dollar market: the treatment of a disease known as NASH (nonalcoholic steatohepatitis), which is reaching epidemic proportions in the United States. Gilead just announcedtodaythat it was advancing promising investigational drug GS-4997 into phase 3 trials against the disease.
Despite the potential of Gilead's drugs, the company's valuation reflects a great deal of fear -- and very little hope about its future. The stock's forward P/E of 6.7 is a tiny fraction of the average biotech's forward P/E of63, or the broader pharmaceutical industry's forward P/E of 28.
With HCV sales declining and Wall Street laser-focused on quarterly numbers, unlocking near-term shareholder value in this stock may require an acquisitive Big Pharma company with a lucrative buyout offer. But in the long term, investors have more important things to rely on: Gilead's incredible track record of innovation, a rock-bottom P/E, and a pipeline that just might contain a cure for another one of the world's big killers.
A secret billion-dollar stock opportunity The world's biggest tech company forgot to show you something, but a few Wall Street analysts and the Fool didn't miss a beat: There's a small company that's powering their brand-new gadgets and the coming revolution in technology. And we think its stock price has nearly unlimited room to run for early in-the-know investors! To be one of them, just click here.
Cheryl Swanson owns shares of Johnson and Johnson and Gilead Sciences. The Motley Fool owns shares of and recommends Gilead Sciences. The Motley Fool has the following options: short October 2016 $85 calls on Gilead Sciences. The Motley Fool recommends Johnson and Johnson. Try any of our Foolish newsletter services free for 30 days. We Fools may not all hold the same opinions, but we all believe that considering a diverse range of insights makes us better investors. The Motley Fool has a disclosure policy.