Under Armour's Footwear Sales Still Have Plenty of Room to Run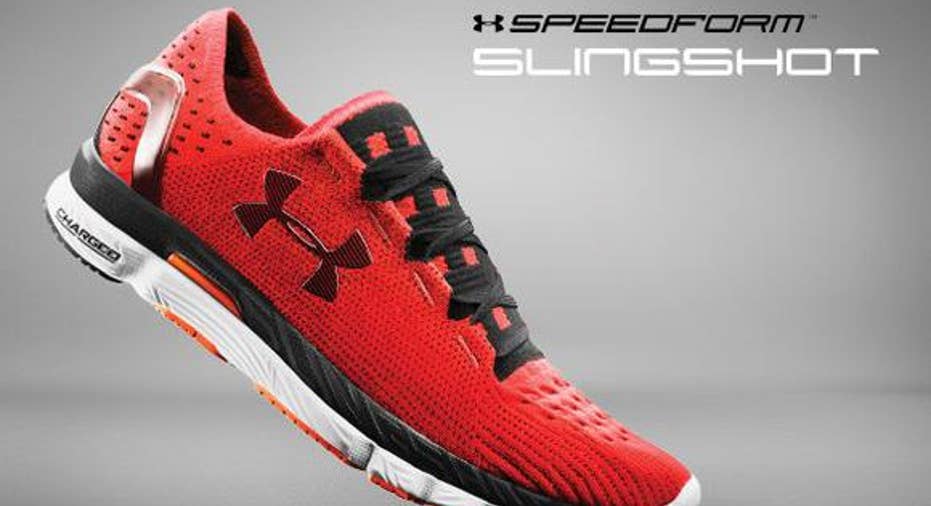 Reigning NBA MVP Steph Curry and the UA Curry Twos. Image: Under Armour
Under Armour stock surged on April 21 after the company released first-quarter earnings that exceeded analyst expectations and represented the 24th consecutive quarter of more than 20% sales growth year over year. What really caught most analysts' eyes was footwear sales, which jumped 64% year over year to $264 million, representing more than a quarter of total sales.
"For Under Armour, it's the cadence at which we have competed since we started this race 20 years ago and the pace where our team is most comfortable," said CEO Kevin Plank."That pace of growth is most evident in our footwear business, with revenues for the first quarter up 64%."
Basketball shoe sales led the way, with MVP Steph Curry's continuing dominance on the court helping to sell UA Curry shoes. Importantly, however, Under Armour's footwear segment is growing far beyond basketball shoes and still has plenty of room to run.
Basketball shoe sales are only getting startedCurry has helped Under Armour blast into the basketball market in the past couple of years, fueled by his league MVP title last year and his team's record number of wins this season. Under Armour jumped on the opportunity with the Curry Ones in early 2015 and the Curry Twos later in the year.
Now Under Armour is planning to launch the Curry 2.5 this month in time for the NBA playoffs, where the Golden State Warriors led by Curry have a strong chance of winning for a second straight year. The Curry Threes are planned to come out in the fall. Since Under Armour hasCurry signed through 2024, expect these sales to continue surging.
And it's not just Curry. Under Armour continues to make bets on other rising basketball hopefuls and teams to continue growing. Under Armour is also increasing its focus on China, where basketball has become increasingly popular.
The Speedform Slingshot. Image: Under Armour;
Running is still innovating quicklyRunning is still Under Armour's largest footwear category by sales, and the one with the most new shoes released recently. Under Armour released its Speedform Gemini in early 2015, one of the first UA shoes that most reviewers agree are great running shoes. Then the Gemini 2 came out with an even better design, as well as the Gemini 2 Record Equipped, which includes a chip that connects the shoe to the users MapMyRun app and records run stats.
In March, the company released its Speedform Slingshot, a lightweight shoe with a smaller sole. The upper of the shoe is made with custom-engineered yarn, called "dyneema," which is said to be 15 times stronger than steel by weight -- so strong it has to be cut by lasers instead of scissors. The shoes are meant to be for sprinting, complementing the Geminis, which provide more of a distance appeal.
Next up could be the Speedform Amp, which Under Armour briefly hinted at in its investor day last year. The Amp was said to do away with the "lasting board" -- a flat, firm part of the sole that doesn't have much to do with functionality but is part of the manufacturing process -- to get an even more custom feel exactly contoured to the shape of a runner's foot.
Other segments, including golf and tennis, show promiseGolf sales have continued to surge for Under Armour, regardless of Jordan Spieth's disappointing second-place finish at the Masters in April. Under Armour released three golf shoes in April, one of which Speith was wearing during the Masters. Plank noted in the conference call that the Drive One, the midrange of the three styles at $199 a pair, is already one of the top five selling items on UA.com after just a few weeks on the market.
Then there's Under Armour's first 3D-printed cross-trainer called the UA Architech, printed in Baltimore. Even at $300, it sold out the first small batch of 96 pairs in 19 minutes on UA.com. "We will continue to test and learn with this technology and customization," Plank said, "and you can expect new 3-D printed iterations later this year."
UA Architech 3D printed shoes. Image: Under Armour.
Can revenues jump 150% in three years?While footwear is only 25% of Under Armour's total sales, it is the fastest growing segment and looks prepared to continue surging. And it's not just more styles and increased market share that will help the company to reach that goal; the shoes are also gaining in average selling price (ASP). During the quarter, ASPs grew in the high single digits and are expected to continue growing throughout the year.
Under Armour said last September that it forecasts for $1.7 billion in footwear sales by fiscal year 2018. While that's an aggressive 150%growth goal from the $678 million in 2015, success across so many segments and rising ASPs certainly makes it possible.
The article Under Armour's Footwear Sales Still Have Plenty of Room to Run originally appeared on Fool.com.
Bradley Seth McNew owns shares of Nike, Under Armour, and Under Armour,. The Motley Fool owns shares of and recommends Nike and Under Armour. The Motley Fool owns shares of Under Armour,. Try any of our Foolish newsletter services free for 30 days. We Fools may not all hold the same opinions, but we all believe that considering a diverse range of insights makes us better investors. The Motley Fool has a disclosure policy.
Copyright 1995 - 2016 The Motley Fool, LLC. All rights reserved. The Motley Fool has a disclosure policy.