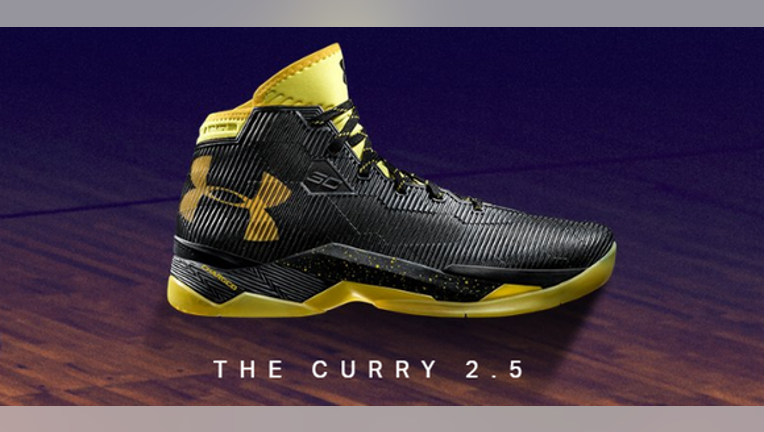 After trumpeting the success of its predecessor Curry 2.0 basketball shoes, Under Armour released the Curry 2.5 last month. Image Source: Under Armour.
As of this writing, the NBA Finals have been a reversal of fortunes for the Golden State Warriors compared to their experience in the semi-finals. Far from the hard-fought games that Golden State (and Cleveland) endured to advance to the championship round, this series has been a one-sided affair with Golden State's narrowest margin of victory being 15 points. Game Two's 23-point victory was essentially a blowout, with LeBron James turning in a disappointing, turnover-filled performance.
Outside of majority owner Joe Lacob, team management, and (of course) the players, Under Armour's CEO , Kevin Plank, may be the biggest beneficiary of Golden State's success. That's because this year's finals encapsulate the main themes of the athletic-shoe market: On one hand, you have the most influential shoemaker, Nike , represented by affable superstar LeBron James. On the other, Under Armour's scrappy entrance into the athletic-shoe market is best personified by Golden State's diminutive superstar, Steph Curry.
It's starting to look as if Plank may have pulled off the greatest endorsement steal in the history of the NBA.
Under Armour shoe sales are exploding because of Curry
In the company's last conference call, Plank sounded like one part Under Armour CEO and one part president of the Steph Curry fan club. It's not hard to understand why and even harder to blame him for his ebullience: Owing to the success of Steph Curry's signature Curry Two shoe, Under Armour reported year-on-year footwear revenue growth of 64%, making it by far its fastest-growing segment. Plank summed up his company's performance:
Nike's loss was Under Armour's gain
Perhaps "steal" is an incorrect classification for Under Armour and "unforced error on behalf of Nike" a more appropriate description. ESPN provided a detailed account into how Nike blew its opportunity to re-sign the athlete.
A gaffe-filled meeting in which Curry's first name was repeatedly mispronounced, and a personalized PowerPoint slide mistakenly referred to "Kevin Durant," the Oklahoma City Thunder power forward, rather than Curry, soured the athlete and his father on the brand. Under Armour, still a nascent player in basketball footwear, reportedly offered Curry $4 million a year, $1.5 million more than Nike's figure -- and Nike chose not to match the offer.
Curry has lived up to his side of the contract by winning two consecutive Most Valuable Player awards -- the second of which was the first unanimous vote in the history of the award. He's also led his team to the best regular-season record ever, and he appears to be on track to winning consecutive NBA Finals trophies.
Nike will be OK, but now it has a legitimate competitor
With seven years of experience, Curry probably has a long career ahead of him to continue to sell Under Armour shoes. James' 13 years in the game probably puts him in the latter part of his career. Nike's huge $500 million-plus lifetime shoe deal with James appears to assume his name cachet will continue post-career the way Michael Jordan's has. That's a risky proposition, considering Jordan is the only retired athlete to have maintained his brand with high popularity.
In the end, it's wrong to say Nike will struggle on account of one missed endorsement deal, but it missed a big opportunity at the hands of $1.5 million a year and five minutes of pre-pitch quality control. As such, its dominant market share on basketball shoes will continue to contract as Under Armour steals market share. It's a safe assumption that Under Armour's CEO is paying close attention to this year's NBA Finals.
The article Under Armour's Billionaire CEO, Kevin Plank, May Be the Biggest Winner of the NBA Finals originally appeared on Fool.com.
Jamal Carnette has no position in any stocks mentioned. The Motley Fool owns shares of and recommends Nike and Under Armour (A Shares). The Motley Fool owns shares of Under Armour (C Shares). Try any of our Foolish newsletter services free for 30 days. We Fools may not all hold the same opinions, but we all believe that considering a diverse range of insights makes us better investors. The Motley Fool has a disclosure policy.
Copyright 1995 - 2016 The Motley Fool, LLC. All rights reserved. The Motley Fool has a disclosure policy.