Under Armour Stock Is In Serious Trouble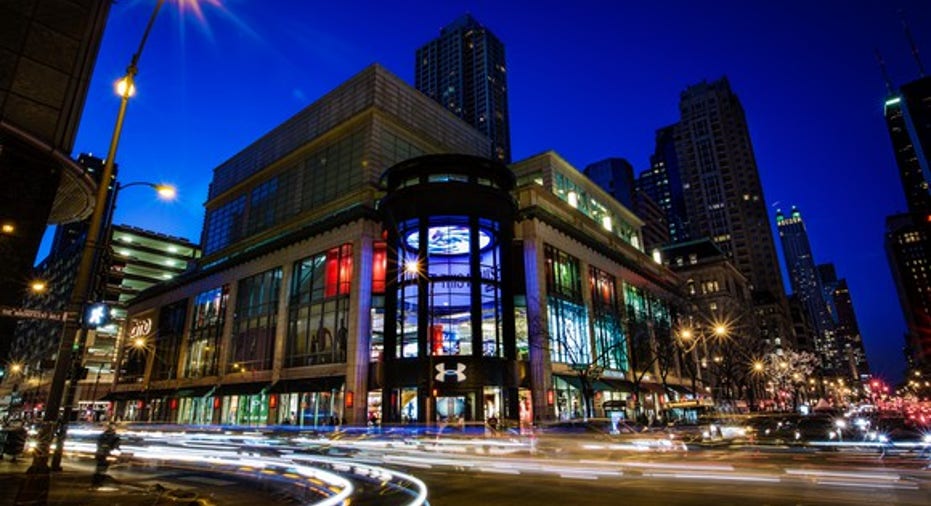 What happens when a company that's reported 26 straight quarters of 20% revenue growth or better suddenly doesn't?
The stock falls off a cliff, of course.
That was the rude awakening for Under Armour(NYSE: UA) (NYSE: UAA) last week after revenue growth in the key fourth quarter came in at just 12%. The stock plummeted 26% -- and this was the second report in a row that's driven shares down more than 20%, as the company has twice dialed down its guidance significantly.
Under Armour Brand House, Chicago. Image source: Under Armour.
CEO Kevin Plank blamed several factors for the slowdown in revenue growth. Bankruptcies in sporting goods retail such as that of Sports Authority had hampered growth earlier in the year and continued to do so in the fourth quarter. The liquidations weighed on prices, forcing discounts, and the company did not see the sales reappear in other channels in the way it had expected. Sales through October were strong, but they hit a bump afterwards as, according to Plank, "slower traffic caused significant promotional activities earlier, deeper, and broader than expected."
The company seemed to have the wrong product mix as tastes evolved to "lifestyle" items. He also said the company did not have the right amount of cold-weather gear available. Revenue growth in apparel, which makes up the bulk of the company's sales, slowed to just 7.4%.
The poor top-line performance and promotional environment trickled down to the bottom line as gross margin compressed 320 basis points to 44.8% and operating income actually decreased 6% to $167 million. Earnings per share fell by a penny to $0.23.
Separately, CFO Chip Molloy said he was leaving the company immediately for personal reasons, a surprising move since he had only been with the company for a year.
It gets worse
While the quarterly results were certainly disappointing, Under Armour's guidance for 2017 also left much to be desired. The sportswear maker sees revenue growth continuing at just 11-12% this year, and it expects operating income to decline to $320 million from $420 million last year as the company makes strategic investments in marketing, new product innovation, connected fitness, the international market, and other areas to build for the future.
Management had foreshadowed such a slowdown in the company's third-quarter report when it scaled back operating income guidance for 2018 to $600 million from a previous forecast of $800 million. The company said profit growth would slow as it makes investments to "get big, fast," but Plank also reassured investors that the company would still hit its revenue goal of $7.5 billion in 2018. That statement seemed questionable at the time, as the extra investments the company needed to make only served to maintain the revenue growth rate it had before, and indeed revenue slowed significantly.
Based on the 2017 guidance, management is only expecting to reach $5.4 billion in revenue this year, making $7.5 billion in revenue next year out of reach -- it would be almost impossible for the company to grow its revenue by nearly 40% in a single year without an acquisition.
At a crossroads
The stock has gotten hammered on two earnings reports in a row. When a high-valued growth stock doesn't live up to expectations, it tends to get slashed. The stock has now lost more than half of its value since the summer.
The good news for investors may be that the bad news is now out on the table. At a P/E of 46, though, Under Armour stock could still fall further if it misses its current guidance. The company still needs to prove it can come out on the other side of this strategic investment period, as that does not seem guaranteed based on two straight deep guidance cuts, and investments in areas like connected fitness have yet to pay big dividends on the bottom line. Plank also may have lost some credibility with investors after reassuring them of the $7.5 billion mark by next year. At this point, Under Armour looks headed for $6 billion in 2018 instead of $7.5 billion.
Under Armour's brand remains strong, and it's forged a number of key marketing alliances, such as deals with Major League Baseball and UCLA, which should begin paying dues once they kick in. But the company is still struggling to be a lifestyle brand. The market for sports performance apparel is only so big, especially when cheaper knockoffs abound. Plank and his management team understands this, but its ability to develop a meaningful presence in streetwear will ultimately determine if it can match rivals likeNike(NYSE: NKE) andAdidas.
10 stocks we like better than Under Armour (C Shares) When investing geniuses David and Tom Gardner have a stock tip, it can pay to listen. After all, the newsletter they have run for over a decade, Motley Fool Stock Advisor, has tripled the market.*
David and Tom just revealed what they believe are the 10 best stocks for investors to buy right now... and Under Armour (C Shares) wasn't one of them! That's right -- they think these 10 stocks are even better buys.
Click here to learn about these picks!
*Stock Advisor returns as of January 4, 2017
Jeremy Bowman owns shares of Nike and Under Armour (C Shares). The Motley Fool owns shares of and recommends Nike, Under Armour (A Shares), and Under Armour (C Shares). The Motley Fool has a disclosure policy.