Under Armour Kicks It Up a Notch With New Connected Fitness Devices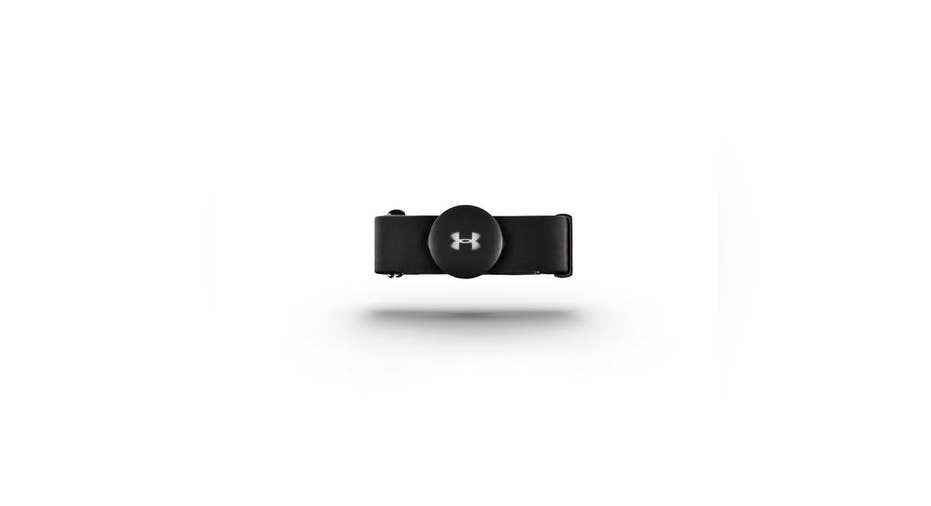 "First it was about changing how athletes dress; now it's about changing the way athletes live," said Under Armour Chief Digital Officer Robin Thurston to reporters gathered at Under Armour's New York office on Dec. 10 to hear why Under Armour has made such big investments in connected fitness and to get a first look at an ecosystem of new Under Armour connected fitness products set to be announced at the Consumer Electronics Show in Las Vegas on Jan. 6-9.
The various connected fitness products, co-built by Under Armour and HTC, mark Under Armour's biggest push into technology yet and -- in what could spell a big win for investors -- the company says this is just the starter kit.
First look at the new gear After the Connected Fitness team showed these products, I was given each of the items to test and report on. This is just a first look at each item, but expect a more in-depth write-up later in the month. Check out fool.com's UA ticker page to stay up-to-date.
UA BandThe UA Band has a sleek design with a smooth curved face and dimpled underside providing extra breathability and comfort. The small screen is navigated by swiping left or right, showing step count, heart rate, total time asleep the previous night, and allowing for tracking a workout in real time directly on the band.Under Armour is entering a pretty crowded space with this new wrist fitness tracker, but the company is confident that the band's style and ease of connecting into Under Armour's ecosystem will help it to stand out.
UA Band. Image source: Under Armour
The connected scaleUnder Armour is certainly not the first to make a scale that measures both weight and body fat percentage, but it plays well with the Under Armour ecosystem so that users can make decisions in their daily activity based on weight goals and their activity/nutrition trends. It's also the most beautiful scale I've seen. The smooth black glass top and red dimpled underside match the UA Band, and the Under Armour executives talked at length about how important it was to create something that would be not only be accurate and seamless for syncing, but beautiful enough that users would feel proud to have it in their home.
UA scale.Image source: Under Armour
A simple chest-strap heart-rate monitorThe final HTC product in the new Under Armour connected fitness gear line is the new heart rate chest strap, a simple-to-use device with no screens or buttons that allows for accurate constant heart rate monitoring during a workout. The Under Armour executives said that the chest strap is important because the drawback of any wrist monitor is that you are giving up accuracy for convenience. They said this is the case for all wrist fitness trackers, as the technology just isn't there yet for reading a pulse on users' wrists like is it is with the chest strap.
UA chest strap. Image source: Under Armour
Wireless headphones with coming heart-rate trackingUnder Armour has partnered with headphone maker JBL for these Bluetooth wirelessheadphones that will be sold separately from the other gear. These headphones aren't actually part of the connected fitness family -- yet.Watch out later this spring for when a new version of these headphones is released with the ability to track heart rate, possibly as accurately as the chest strap.
UA wireless headphones. Image source: Under Armour
Next-generation SPEEDFORM GeminiI've loved the Under Armour Speedform Fortis, which I wrote about in this article on Under Armour's running segment. However, these second-generation SPEEDFORM Gemini are a definite step up in terms of performance, style, and comfort, showing support for why Under Armour's running and footwear segments are likely to continue growing sales and market share rapidly. In this second generation, the shoes have a chip in them that tracks running seamlessly in MapMyRun, and can record up to five runs before syncing to allow for untethered runs when preferred. The UA team says the shoes can actually track distance and pace more accurately than GPS.
UA SPEEDFORM Gemini 2. Image source: Under Armour
Putting it all together: The new Record appUnder Armour released Record, its own fitness tracking app, in January 2015 to be a total fitness monitoring app combining the best of Under Armour's acquisitions such as MapMyFitness and MyFitnessPal. With this new Record 2.0, Under Armour has designed the app to give a better snapshot of users' total fitness, monitoring not only steps and workouts, but also sleep and nutrition, in one daily health wheel.
UA Record app 2.0, Photo: Under Armour
Granular-level nutrition tracking can be pulled from MyFitnessPal, or users can just add light, medium, or heavy consumption for the day.The UA band tracks steps, workouts, and automatically starts recording when the wearer is asleep to track total time asleep and resting heart rate while asleep.The middle part of the fitness wheel shows weight when clicked, synced from the UA Scale, and can stay hidden for when users want to share a snapshot of their fitness wheel to their Record followers and social media.
Then, of course, there is the social aspect that allows users to post about their workouts, follow friends or professional athletes, and create or participate in challenges with other Record users. The biggest new change is that users now select how they feel, and can track over time how their levels of sleep, nutrition, and activity affect how they feel, giving them the ability to make lifestyle changes accordingly.
Betting on Under Armour's connected fitness investmentsUnder Armour has been growing revenue at impressive rates, up 29% in the first three quarters of 2015 compared to the same time frame in 2014. However, income has only gone up about 6% during that period because of the investments Under Armour is making in its business, particularly connected fitness.
That investment could be about to pay off now that the whole connected fitness product ecosystem has launched, and this could be just the beginning. "Connected fitness plays across the categories and everything we are doing" says Thurston, "and you'll see that come through with new product innovations and how they touch the brand." From that we can see that these products are only the first wave in what could be a whole series of products that play a role in the connected fitness category growth.
The article Under Armour Kicks It Up a Notch With New Connected Fitness Devices originally appeared on Fool.com.
Bradley Seth McNew owns shares of Under Armour. The Motley Fool owns shares of and recommends Under Armour. Try any of our Foolish newsletter services free for 30 days. We Fools may not all hold the same opinions, but we all believe that considering a diverse range of insights makes us better investors. The Motley Fool has a disclosure policy.
Copyright 1995 - 2016 The Motley Fool, LLC. All rights reserved. The Motley Fool has a disclosure policy.