Under Armour, Inc.'s Best Moves in 2016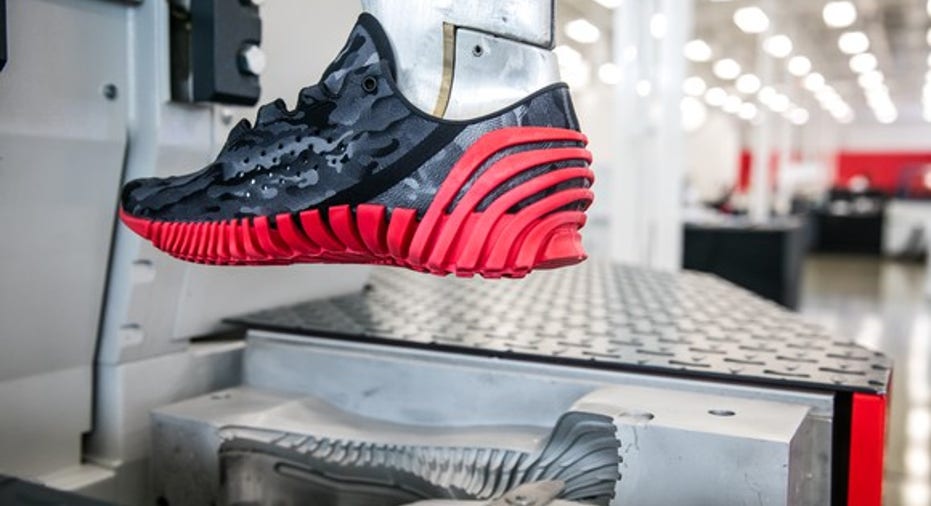 Under Armour athlete and NBA MVP Steph Curry. Image source: Under Armour.
Under Armour (NYSE: UAA)(NYSE: UA) has had an incredible year in terms of brand growth and investing in interesting new markets. However, the stock price certainly hasn't reflected that; it's down around 20% so far in 2016, mostly because of worries over how much money those investments are using that isn't showing up on the bottom line. Here were the best moves the company made this year to show for those investments, and why things should get even more exciting from here.
Dominating the Olympics, driving international growth
Under Armour had a massive showing at the Summer Olympics with many of its sponsored athletes winning gold. Thanks to an International Olympic Committee rule change,Under Armour was also able to market them more effectively during the games even though it wasn't an official sponsor. Following athletes like Michael Phelps and Team USA Gymnastics dominating their respective sports on the world stage, Under Armour's international sales grew 74%year over year in the third quarter.
Other than Under Armour's huge showing at the 2016 Summer Olympics, the company has also been successful in using its sponsored athlete and NBA MVP Steph Curry to tour China and promote the Under Armour basketball brand, including his signature Curry shoes. Under Armour has also opened up various regional stores and offices around the world in 2016 to drive even more international focus.
Racing ahead in footwear
Footwear seemed like a small opportunity for Under Armour 10 years ago, and some analysts said was a mistake for Under Armour to go after it. Fast-forward to 2016, and footwear makes up about a quarter of sales and is one of the company's most important growth segments. Much of thatrecent footwear success is thanks to well-performing basketball shoes, specifically with the Curry 2.0 and 2.5 shoes released earlier this year. The Curry 3.0 shoes were launched in October, so we'll see in fourth-quarter earnings if that new style has sold as well as its predecessors.
UA Bandit 2. Image source: Under Armour.
Other than basketball, 2016 has been a year of incredible footwear growth in other categories. In the running segment, Under Armour launched some impressive shoes this year including the connected Gemini 2, which include a run-tracking chip that connects to the Record mobile app, as well as the Bandit 2 running shoe, which has gotten a lot of praise from the running industry. Under Armour also released new golf shoes and the first 3D-printed cross-trainer called the UA Architech, making 2016 a huge year for diverse footwear growth.
Making its wearables debut
Under Armour's international and footwear segment growth was already in the works before 2016, but this year marked the first time ever that Under Armour had skin in the wearables game. In January, Under Armour launched its Healthbox, which includes a wristband tracker, connected scale, heart rate strap, wireless headphones, and the connected Gemini 2 shoes discussed above. Most recently, the company launched heart rate tracking wireless headphones.
Under Armour was already in the tech space with its acquired mobile fitness apps that now have over 190 million users, but the wearables debut was a major shift for the sportswear industry following Nike's (NYSE: NKE) abrupt exit from the category in 2014 and Fitbit's (NYSE: FIT) own struggles to compete with lower-priced or more robust wearables. Under Armour doesn't break down its hardware sales in earnings reports, but based on the fact that its Connected Fitness segment still makes up only about 2.3% of sales, it's probably not much. Still, what could be much more important is the data Under Armour is gathering from its wearables users -- and what they're planning for future wearables releases after this 1.0 release.
From the "Lighthouse" manufacturing innovation center. Image source: Under Armour.
Marking its manufacturing transformation
Finally, there's the35,000-square-foot manufacturing innovation center called "Lighthouse" that Under Armour showcased this summer. This manufacturing playground iswhere designers, engineers, and manufacturing visionaries can bring their ideas to life in a fraction of the time and cost of standard manufacturing practices, and with more tools to make those ideas truly innovative.
"In our industry, in apparel and footwear, we make a shirt and shoe the exact same way we did 100 years ago," Plank said during the public showcase of the center.Using technology like 3D printers and body scanners, Under Armour hopes that this initiative will lead the future of its manufacturing including its "local for local" concept of making product in the same region it's meant to be sold in.
Looking forward to 2017, Under Armour is likely to continue impressing with its growth in key segments and announcements of investments that plant flags in new markets. However, don't expect earnings to rise massively in 2017, as the company has already said it's willing to forego short-term earnings for long-term investments and gains. For Foolish investors with long-term views, that doesn't sound like a bad thing.
10 stocks we like better than Under Armour (A Shares) When investing geniuses David and Tom Gardner have a stock tip, it can pay to listen. After all, the newsletter they have run for over a decade, Motley Fool Stock Advisor, has tripled the market.*
David and Tom just revealed what they believe are the 10 best stocks for investors to buy right now...and Under Armour (A Shares) wasn't one of them! That's right -- they think these 10 stocks are even better buys.
Click here to learn about these picks!
*Stock Advisor returns as of Nov. 7, 2016.
Seth McNew owns shares of Nike and Under Armour (C shares). The Motley Fool owns shares of and recommends Fitbit, Nike, Under Armour (A and C shares). Try any of our Foolish newsletter services free for 30 days. We Fools may not all hold the same opinions, but we all believe that considering a diverse range of insights makes us better investors. The Motley Fool has a disclosure policy.