Under Armour Inc. Does It Again: Key Takeaways From Another Stellar Quarter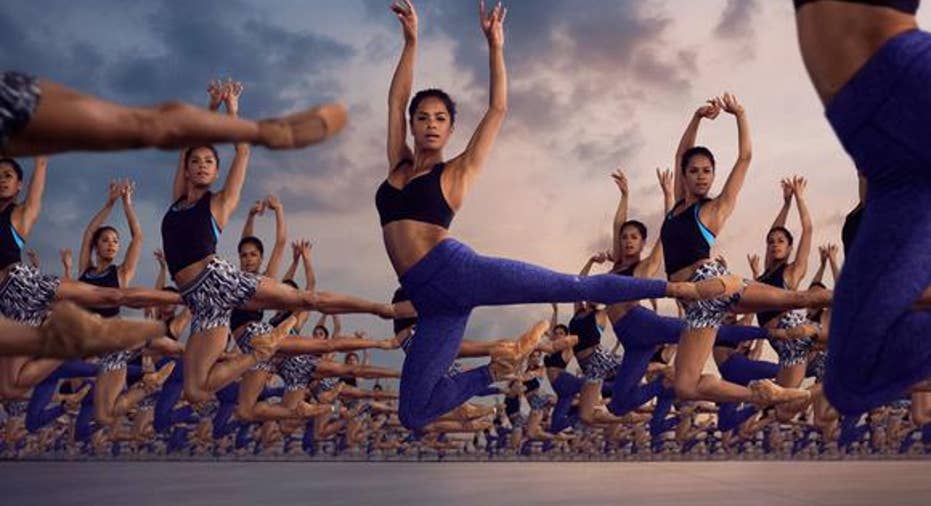 Under Armour will sell $1 billion in women's products this year. Image source: Under Armour.
No,Under Armour didn't take a step back in the first quarter -- not at all. The high-performance footwear, apparel, and accessory maker simply crushed it, reporting 30% growth in revenue, 26% growth in operating income, and 33% growth in earnings per share.
Here's a closer look at the company's financial results announced April 21, and takeaways from how Under Armour performed in the key areas of its business where management is investing in growth.
Gaining operating leverage, but cash flow and balance sheet bears watchingConsidering that many analysts were expecting Under Armour to report a decline in net income this quarter due to the company's aggressive growth investments, it was a nice surprise to see GAAP earnings actually increase. This was especially positive in light of growing international sales, which is one factor that pushed gross margins down to 45.9% from 46.9% versus the year-ago quarter.
Another key factor? SG&A -- that's sales, general, and administrative -- expenses as a percentage of sales. In the 2015 quarter, the company spent $350 million on SG&A versus $445.8 million in the just-completed quarter. Those costs were up 27% in real terms, but the company gained some leverage benefits, with SG&A falling as a percentage of sales, from 43.5% to 42.5%.
At the same time, the company is using more debt to fund its growth plans than it has in the past. Under Armour finished the quarter with $935 million in debt, up from one year ago, and sequentially.
The company did pay down a portion of its long-term debt, bringing the balance down to $218 million from $352 million at year-end. However, its revolving debt increased to $550 million, up from $275 million sequentially. Simultaneously, cash and equivalents was down from a year ago, while up only slightly from December, to $157 million.
The biggest factor behind higher debt and lower cash? Inventory. One year ago, the company carried $578 million in inventory versus 834 million this quarter. This is an area of intentional focus, according to CEO Kevin Plank, who said on the earnings call that the idea was to build up inventory to better meet customer demand. However, starting in the second quarter, inventories should increase at a similar rate to revenue going forward.
Continued execution on footwear, international growthUnder Armour hit a game-winning three-pointer when it landed NBA superstar Stephen Curry as an endorsed athlete, and his signature shoe line continues to be one of the best-selling basketball shoes in the world. On the earnings call, Plank said that shoe sales in China make up almost 33% of total sales, and the Curry Two was leading the way. As a comparison, footwear sales make up about 26% of total revenue for the consolidated business, though the Curry Two was the best-selling e-commerce product last quarter.
But Under Armour's footwear success is about more than just Curry; after all; running shoes are Under Armour's biggest footwear category. The company also released three new golf shoes ahead of Master's week, leveraging Jordan Spieth, another Under Armour star.
Footwear sales were up 64% in the quarter, and the company's higher-priced shoes are a key reason. ASPs -- average selling prices -- climbed in the high-single digits in the quarter.
With 55.9% international sales growth, Under Armour is making quick progress in establishing itself as a global brand. But even at that growth rate, it was still less than 15% of total revenue. In other words, the company has a lot of room to continue growing its presence outside of North America.
Some raw quarterly numbers for context:
Footwear sales: $264.2 million
International sales: $149.3 million
As quickly as international and footwear sales are growing, these businesses are still tiny compared to the addressable market, and in relation to Under Armour's current sales.
Women's business now worth $1 billion per year; connected fitness driving salesPlank pointed out that women's sales would surpass $1 billion in 2016, making it 20% of the company's projected $5 billion revenue in 2016. He also said that women's e-commerce sales were growing at a faster rate than men's e-commerce sales.
HealthBox, the company's recently launched connected-fitness product, which includes fitness bands, a high-performance heart monitor, and a WiFi-enabled scale, was the company's second best-selling e-commerce product in the quarter, behind the Curry Two. The HealthBox products work with Under Armour's fitness apps such as MapMyRun and UA Record, giving athletes access to a number of metrics about their bodies, as well as their athletic performance. They also connect users to Under Armour's Web store, making it even easier to put more athletes in Under Armour apparel, accessories, and shoes.
Looking aheadManagement increased its revenue guidance for 2016 from $4.95 billion to $5 billion, and operating income from $503 million to a range between $503 million and $507 million. The company also said it expects gross margin percent to be flat to last year, and for SG&A expense to grow about 27%, slightly ahead of revenue, but down from last year's 29% increase.
Eventually, the company's sales-growth rate will come back to earth. But as things stand today, Under Armour has alotof room to grow both at home and abroad. And while another six years of 20% annualized growth might be a long shot, even for Stephen Curry, many more years of double-digit growth could be a layup for this team.
The article Under Armour Inc. Does It Again: Key Takeaways From Another Stellar Quarter originally appeared on Fool.com.
Jason Hall owns shares of Under Armour. The Motley Fool owns shares of and recommends Under Armour. The Motley Fool owns shares of Under Armour,. Try any of our Foolish newsletter services free for 30 days. We Fools may not all hold the same opinions, but we all believe that considering a diverse range of insights makes us better investors. The Motley Fool has a disclosure policy.
Copyright 1995 - 2016 The Motley Fool, LLC. All rights reserved. The Motley Fool has a disclosure policy.