Under Armour Drops as Wall Street Traders Focus on Spieth Meltdown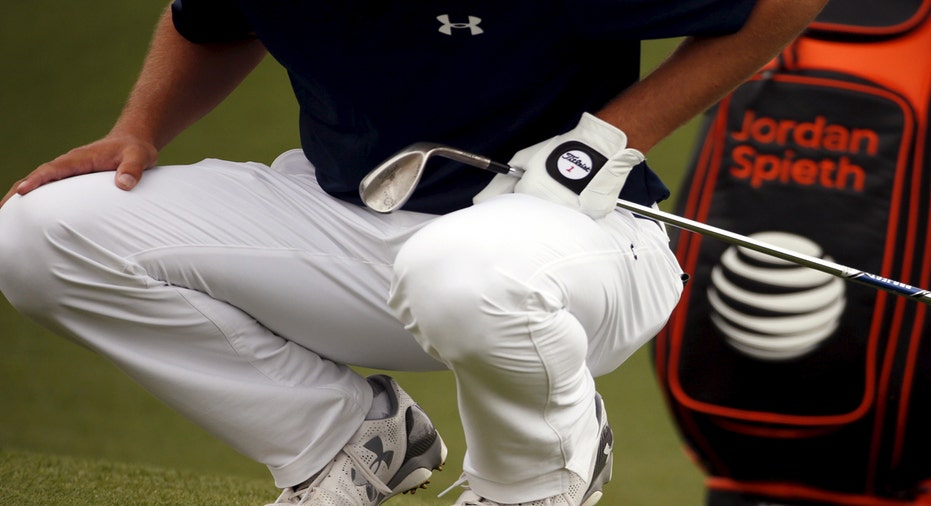 Shares of sports apparel maker Under Armour (NYSE:UA) dropped nearly 6 percent on Monday, a day after defending champion Jordan Spieth lost the Masters golf tournament in a shocking meltdown.
Spieth last year signed a 10-year agreement to wear the No. 2 U.S. sportswear maker's golf shoes and other clothes, and his collapse in Sunday's final round appeared to be partly behind the drop in the company's shares.
Also hurting the stock, Morgan Stanley said in a note that Under Armour, a leader in "athleisure," appears to be losing market share for the first time in three years.
But Spieth's loss is unlikely to dent Under Armour's growth momentum and the stock's selloff may reflect the sports preferences of many on Wall Street, said BB&T analyst Corrina Freedman.
Under Armour has signed endorsement deals with a number of high-flying professional athletes, which have helped elevate its profile and boost sales.
Impressive performances by two other major Under Armour endorsers - National Basketball Association point guard Stephen Curry and National Football League quarterback Cam Newton - have not sparked major rallies in the company's stock.
Under Armour also sponsors English soccer club Tottenham Hotspur, which is second in the Premier League.
"More Wall Street traders watch golf than watch basketball, it would appear," Freedman said.
"Steph Curry is having a phenomenal season, but the stock doesn't move on significant advances by Steph Curry. And Cam Newton in the Super Bowl didn't have much of an impact either."
In a research note, Morgan Stanley analyst Jay Sole wrote that he believes that Under Armour's core U.S. wholesale apparel growth has slowed.
Under Armour has been quick to cash in on the new trend of "athleisure," a mash-up of athletic and casual clothing growing popular even in formal settings like offices, which has helped it maintain a revenue growth momentum of more than 20 percent for 23 straight quarters.
Wall Street expects Under Armour's revenues for the March quarter to jump 29 percent. The company is due to report its results on April 21.
The company's stock was down 5.77 percent at $41.03 in late Monday afternoon trading on the New York Stock Exchange.
(Reporting by Noel Randewich)