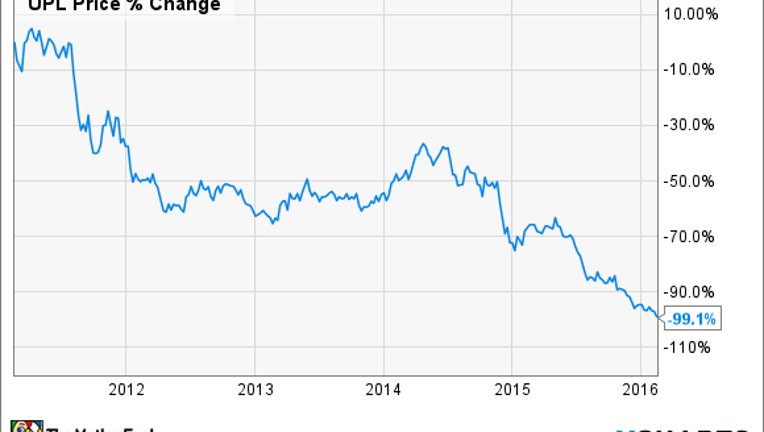 Ultra Petroleum has been in a very tough stretch over the past few years. Ever since natural gas prices started sliding in 2012, the stock has continuously tumbled, losing more than 99% of its value.
With prices still at unprofitable levels for just about everyone in the industry, Ultra's fourth-quarter earnings ended the year on a very sour note. To make matters worse, management's outlook for 2016 looks even bleaker. Let's take a quick glance at the numbers from this past earnings report and figure out where the company might be headed in the year ahead.
Ultra Petroleum's quarter: The raw numbers
| Metric | Q4 2015 | Q3 2015 | Q4 2014 |
| --- | --- | --- | --- |
| Revenue | $189.3 | $222.5 | $319.0 |
| EBITDA | ($3,070.2) | $129.4 | $332.9 |
| Adjusted Net Income | ($38.9) | $32.5 | $96.3 |
| Net Income | ($3,204.6) | ($3.1) | $209.7 |
| Adjusted Earnings Per Share | ($0.25) | $0.21 | $0.63 |
| Earnings Per Share | ($20.91) | (0.02) | $1.37 |
In millions, except per-share data.Data source: Ultra Petroleum earnings release.
There is such a large discrepancy between Ultra's adjusted and real earnings because it realized a $3.14 billion asset impairment to write down the value of its natural gas properties. At today's prices, most of its reserves are considered uneconomical and therefore must be written down from the balance sheet. Ultra can still revisit these reserves in the future if oil and gas prices increase again, so it's basically a non-cash impairment that doesn't reflect the quarterly performance of the company.
What happened with Ultra Petroleum this quarter
Ultra's total production for the quarter was 73.8 billion cubic feet equivalent, a 4.5% increase compared to the same quarter last year.
Total production for 2015 was 290.1 billion cubic feet equivalent, a 17% jump from 2014's total.
All work outside of the Wyoming/Pinedale field has been suspended.
The average well cost in its Pinedale operations was $2.75 million for the quarter, a 27% reduction from 2014's per-well costs.
The company borrowed the remaining $266 million of its available liquidity under its credit line.
Management is currently in negotiations with creditors to renegotiate the conditions of its debt.
What management had to sayIf you were looking for some comfort from management that things will get better, you won't be finding it this quarter. Based on statements by CEO Michael Watford, Ultra's financial situation is looking grim for the year:
Looking forwardFor the coming year, Ultra plans to spend about $260 million in total capital expenditures. So unless operations start to consume cash, the recent borrowings from its credit facility should be enough to cover those capital costs. The company anticipates that spending at this level, mostly on its Pinedale fields, will be sufficient to keep production levels pretty flat compared to 2015.
Ultra Petroleum is behind the 8-ball here, as evidenced by the somber comments from management. With oil and gas prices this low, it will need some love from its lenders soon -- otherwise, it will no longer be in compliance with its debt covenants. Investors should be keeping tabs on how it is able to further reduce its production costs and see if there is any increase in gas prices in 2016. Without them, Ultra Petroleum will continue to be stuck in this dismal situation.
The article Ultra Petroleum's Profits Slid Hard This Quarter, and Its Outlook Looks Even Worse originally appeared on Fool.com.
Tyler Crowe has no position in any stocks mentioned.You can follow him at Fool.comor on Twitter@TylerCroweFool. The Motley Fool recommends Ultra Petroleum. Try any of our Foolish newsletter services free for 30 days. We Fools may not all hold the same opinions, but we all believe that considering a diverse range of insights makes us better investors. The Motley Fool has a disclosure policy.
Copyright 1995 - 2016 The Motley Fool, LLC. All rights reserved. The Motley Fool has a disclosure policy.