Ulta Salon, Cosmetics & Fragrance Inc. Posts Accelerating Customer Traffic Growth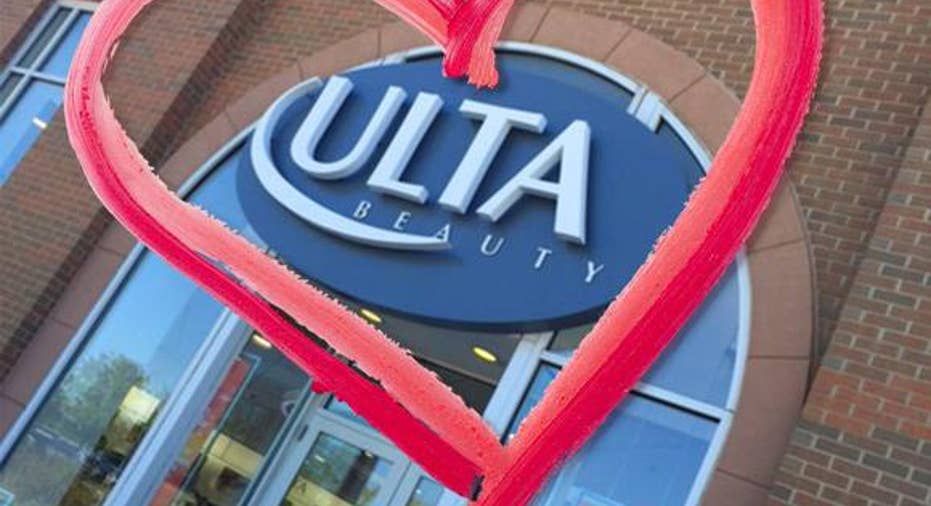 Ulta Beauty posted third-quarter earnings results on Dec. 3 that showed strong business momentum heading into the critical holiday shopping season. The beauty product retailer's sales, net income, and profit figures all spiked higher by 20% or better.
Here's how the headline numbers stacked up against the prior-year period:
The raw numbers
Source: Ulta Beauty's financial filings.
What happened with Ulta Beauty this quarter?The results showed accelerating growth across Ulta's retail stores as its cosmetics, fragrance, skin and hair care products, and salon services met with sharply rising customer demand. Yet profitability ticked lower as management directed more spending to upgrading its supply chain. Highlights of the quarter include:
Comparable-store sales rose 13%, representing a strong improvement over the prior quarter's 10% gain.
Customer traffic spiked 11% higher, compared to a 7% increase in each of the prior two quarters.
E-commerce revenue jumped 56% and contributed 2 percentage points of Ulta's 13% overall comps gain.
Gross profit slipped to 37% of sales from 36% a year ago, due to costs associated with opening a new distribution center.
Ulta opened 45 new stores, bringing its base to 860 locations, up from 774 at the start of the year.
Net profit margin slipped to 7.8% from 7.9%. But profitability is still improving on a year-to-date basis, rising from 7.7% to 8% through the first three quarters of the year.
What management had to say"Ulta Beauty's excellent performance in the third quarter was highlighted by top line momentum driven by double digit traffic growth, leading to above-plan earnings growth," CEO Mary Dillon said in a press release. Executives believe their marketing, branding, and product assortment efforts are paying off, and they're particularly excited about a loyalty program that now boasts 17 million active members.
Image source: Ulta Beauty.
"Delivering against our six strategic imperatives continues to drive our business forward," Dillon said. The clearest indication that these initiatives are working is customer traffic. "Our efforts to build awareness of the Ulta Beauty brand," Dillon said, "are bringing more guests to discover our differentiated [product] assortment."
Looking forwardUlta issued a significant hike to its full-year sales and profit outlook. Dillon and her team now see comps growth clocking in at between 10% and 11%, compared to the 8% to 10% they had forecast last quarter. For investors keeping track, that marks the third straight time this year that Ulta has raised its comps guidance (the company began 2015 targeting 7% comps growth).
Earnings are now expected to grow by at least 20% -- up from the high teens percentage range Ulta pegged last quarter. Dillon said the sales and profit outlook boosts were driven by improving business momentum. "As a result of our financial performance in the third quarter and our position of strength heading into the holiday season,we are raising our guidance," she said.
The article Ulta Salon, Cosmetics & Fragrance Inc. Posts Accelerating Customer Traffic Growth originally appeared on Fool.com.
Demitrios Kalogeropoulos has no position in any stocks mentioned. The Motley Fool recommends Ulta Salon, Cosmetics & Fragrance. Try any of our Foolish newsletter services free for 30 days. We Fools may not all hold the same opinions, but we all believe that considering a diverse range of insights makes us better investors. The Motley Fool has a disclosure policy.
Copyright 1995 - 2015 The Motley Fool, LLC. All rights reserved. The Motley Fool has a disclosure policy.