UK extradition hearing to start for tycoon sought by India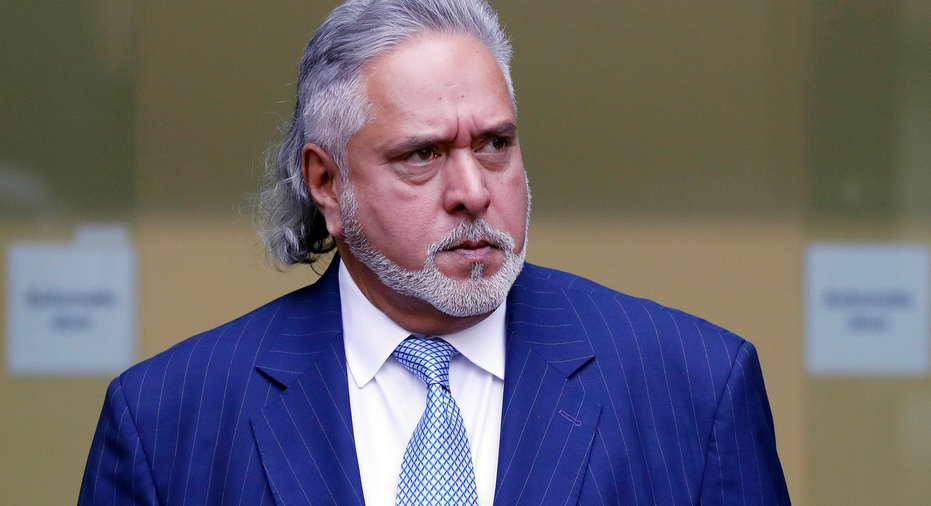 Indian tycoon Vijay Mallya is set to face an extradition hearing in London that should determine whether he is sent back to India to face money laundering allegations related to the collapse of several of his businesses.
The Westminster Magistrates Court hearing, which begins Monday and is due to last about eight days, will be widely followed in India, where Mallya is known for his flashy lifestyle and lavish parties attended by fashion models and Bollywood stars.
Mallya, who denies the allegations, was once hailed as India's version of British entrepreneur Richard Branson for his investments in a liquor company, an airline, a Formula One team and an Indian Premier League cricket club.
In November, he called the allegations "baseless and fabricated." Asked by reporters outside the courthouse why he didn't return to India to answer the charges, he snapped back: "That's none of your business."
The 61-year-old was also a politician for six years before resigning from the upper house of India's parliament last year, a day before an ethics committee was set to recommend his expulsion.
Mallya launched Kingfisher Airlines in 2005 and the carrier set new standards for quality and service, forcing competing airlines to improve. But it ran into trouble as it expanded. The Indian government suspended the airline's license in 2012 after it failed to pay pilots and engineers for months.
That triggered the collapse of several more of Mallya's businesses. He left India last year after a group of banks demanded he pay back more than $1 billion in loans extended to his airline.
He has been living in Britain since March 2016 and has refused to return to India to face trial in the Kingfisher Airlines case. India canceled his passport and began an extradition process.
In May, India's Supreme Court ruled Mallya had disobeyed its order barring him from transferring $40 million to his children.
Gurcharan Das, a New Delhi author and former chief executive of Procter & Gamble India, said Mallya was an excellent salesman who built a great brand that included one of the nation's favorite beers and a high-performing airline.
He said that Mallya, like many others, tried to expand too quickly, buying a no-frills airline that wasn't a good fit with his company. He said Mallya's political connections have made him a national symbol of the perils of crony capitalism.
"I see it as a bit of a tragedy. He is somebody who had quite outstanding talents," Das said. "What hurt him was his flamboyant lifestyle. He didn't bother to hide it. He flaunted it. That, too, in the public imagination has made him a villain."
He said Mallya kept up to a dozen homes with full staff as well as buying private jets and yachts, all in a poor country where most rich people tend to hide their wealth.
But Das said Mallya's biggest mistake was to leave India.
"He should have just toughed it out here," Das said. "There are a number of other businessmen who owe far more money to the banks than he does. He just got scared and skipped out."
Mallya has argued that Britain has long been a second home for him.
India's government this month rejected Mallya's argument that he wouldn't be safe in an Indian jail if he was sent back, and was planning to tell that to the London court, according to the Press Trust of India news agency.
___
Nick Perry reported from New Delhi.