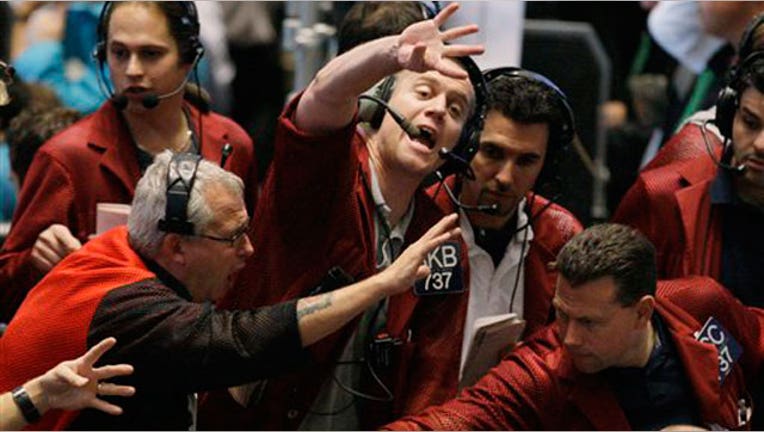 FOX Business: Capitalism Lives Here
The bulls on Wall Street ended the week on Friday in retreat as renewed economic jitters left the Nasdaq Composite with its first six-day losing streak in nearly a year.
Today's Markets
According to preliminary calculations, the Dow Jones Industrial Average rose 1.76 points, or 0.01%, to 13328.00, the S&P 500 dipped 4.23 points, or 0.30%, to 1428.61 and the Nasdaq Composite slumped 5.30 points, or 0.17%, to 3044.11.
Even though Friday's losses were tiny, the blue chips still lost nearly 300 points on the week as investors' appetite for risky assets like stocks was hurt by downbeat forecasts on the slowing global economy.
The Nasdaq landed in the red for the sixth session in a row, the longest slump for the index since a seven-day slide back in November.
A new report on consumer sentiment from Reuters and the University of Michigan helped boost sentiment early in the day, but then that optimism faded.
The gauge checked in at 83.1, up from a September reading of 78.3 and marking the highest reading since September 2007. Economists were expecting sentiment to fall to 78.
The Commerce Department said producer prices rose 1.1% in September from August, a bigger jump than the 0.7% expected, as energy prices swelled. Excluding the food and energy components, prices were flat, compared to expectations of a 0.2% gain.
Trading desks were also beginning to focus on third-quarter corporate earnings.
J.P. Morgan Chase (NYSE:JPM) kicked off earnings season for the banks with a beat.
The biggest U.S. bank by assets revealed third-quarter profits of $1.40 a share, compared to $1.02 a share in the same period in 2011. Sales came in at $25.9 billion excluding the impact of debt value adjustments.  The figures topped estimates of earnings of $1.24 a share on revenues of $24.53 billion.
Wells Fargo (NYSE:WFC) posted third-quarter earnings of 88 cents a share, topping Wall Street's estimates by a penny. The bank's sales came in at $21.2 billion, missing estimates of $21.47 billion.
Also in corporate news, chip maker Advanced Micro Devices (NYSE:AMD) warned after the close of trading on Thursday that its sales are likely to have fallen 10% in the third quarter from the one before.
Oil prices closed lower but managed to halt a three-week losing streak. The benchmark crude contract traded in New York dropped 21 cents, or 0.23%, to $91.86 a barrel. Wholesale New York Harbor gasoline sold off by 212% to $2.8928 a gallon.
In metals, gold skidded lower by $10.80, or 0.61%, to $1,758.00 a troy ounce.
Foreign Markets
The Euro Stoxx 50 dipped 0.72% to 2469, the English FTSE 100 slipped 0.62% to 5793 and the German DAX slumped 0.68% to 7232.
In Asia, the Japanese Nikkei 225 drifted lower by 0.15% to 8534 and the Chinese Hang Seng rose 0.65% to 21136.