UBS: iPad Buzz is Nice, But iPhone 5 is Apple's Secret Weapon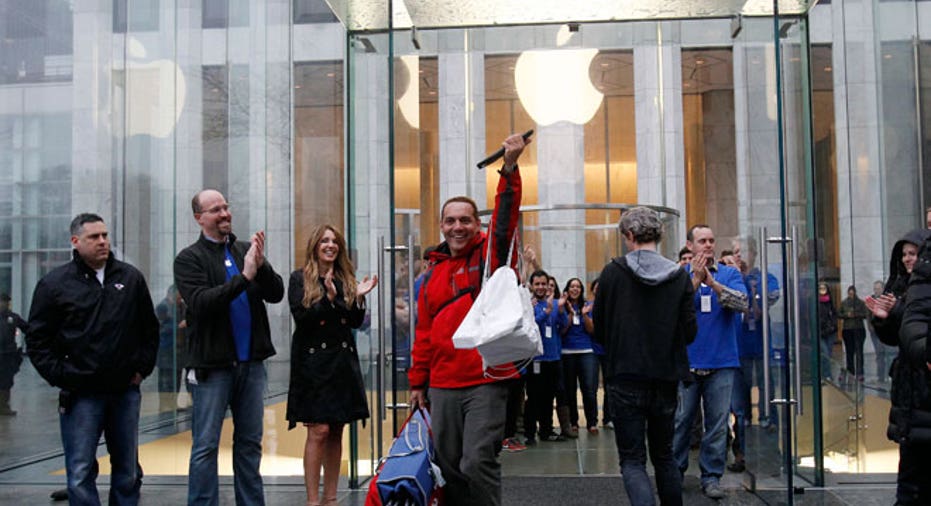 Consumers across the world are lining up in droves to snag Apple's (NASDAQ:AAPL) latest iPad before it sells out, but analysts at UBS are far more excited about the next iPhone that they expect to hit shelves this October.
While Apple hasn't made any mention of its future iPhone plans, the technology world always seems abuzz with rumors about when Apple's next blockbuster product will drop. A team of analysts at UBS led by Maynard Um is betting that a complete revamp that includes "new innovations that will be significant enough to drive above average excitement and buzz" is on tap for October.
Apple rolled out the iPhone 4S in October 2011, selling four million units in the first three days it was on sale. The device looks exactly like the iPhone 4 that went on sale in June 2010, but has enhancements that make it faster, and a popular new feature called Siri that the company markets as a voice-driven concierge.
The Swiss banking giant thinks the iPhone 5 will be the company's "biggest launch ever," driven by a boost in the number of carriers it's available on and the variety of countries in which it is available.
"The complete redesign should drive a stronger than average upgrade cycle for existing iPhone users and continue to encourage other smartphone and non-smartphone users to make the switch," UBS' analysts wrote.
It expects the launch to be so big, in fact, that it lifted its full-year 2013 iPhone sales estimate to 156.5 million units from 149.5 million. However, the company does note that supply constraints could prove to be problematic, but adds that they are difficult to assess presently. Apple sold 37.04 million iPhones in the final quarter of 2011, according to a regulatory filing.
What about the rollout today of the new iPad and Apple's massive cash hoard? UBS says those will take a backseat to the all-important iPhone.
"While the iPad 3 reception and use of cash issues are important, we believe the iPhone 5 will trump both as a catalyst in 2012," the analysts wrote.
UBS has also joined other big banks, such as Morgan Stanley, in taking a more bullish outlook on the Cupertino-based technology behemoth. It expects Apple's stock price to hit $675 this year, a roughly 15% premium to the $585.56 where it recently traded on the Nasdaq Stock Market today. Shares briefly touched $600 before falling back on Thursday.
It also lifted its full-year 2013 sales and profit estimates. UBS is now expecting revenue of $180.1 billion on $50.43 a share in earnings, up from $175.8 billion on $48.83 a share. The consensus estimate among Wall Street economists is for an EPS of $48.36, with a top-line reading of $184.1 billion.
With strong earnings and plenty of cash, UBS thinks it is "simply a matter of time" until Apple initiates a long-awaited dividend in the 2% range.
One thorn in Apple's side may come in the form of shortage of display parts from Apple's partners that could impact short-term iPad sales. "We believe [first-quarter] supply will be in significant imbalance relative to demand with a balance likely in the next couple of quarters," the analysts noted.