Uber's trucking ambitions in lower gear after Otto deal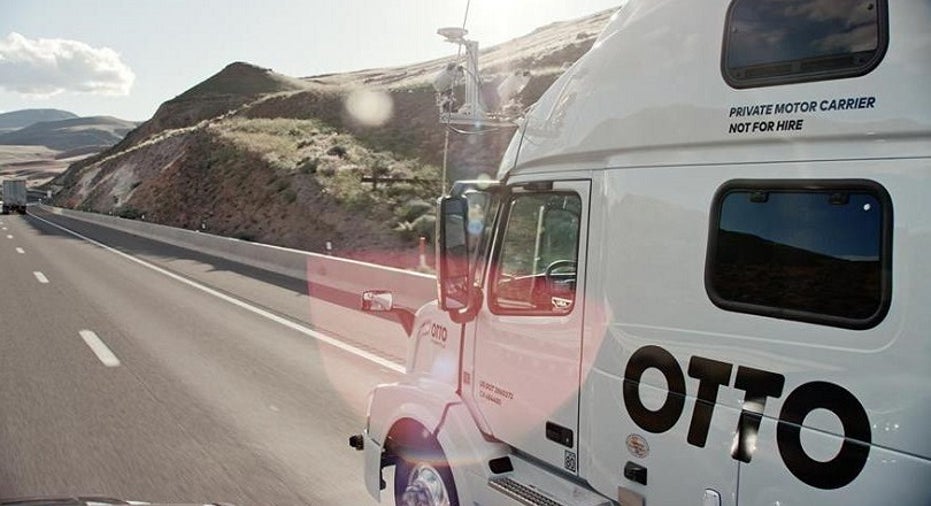 Uber Technologies' drive to become a major player in the trucking business is off to a bumpy start, with analysts and industry executives questioning what exactly the company can bring to the sprawling $700-billion industry.
The San Francisco ride-services giant had planned to disrupt freight hauling by offering a complete package of trucking technology including self-driving trucks and smartphone-based logistics services.
But what has emerged so far, industry watchers say, is a modest effort to build a brokerage service connecting truckers looking for loads to shippers with cargo to haul.
Uber's self-driving truck effort is weighed down by a high-stakes lawsuit over allegedly stolen trade secrets linked to its $680-million purchase of self-driving trucking startup OttoMotto last year. Testing of the autonomous technology has slowed and several Otto engineers have been redeployed to Uber's cargo business, according to state transportation agencies and Uber officials.
Meanwhile, that unit, dubbed Uber Freight and launched publicly in May, looks a lot like the firms it is trying to displace. Rival startups and old-line transport firms alike have come out with apps to match truckers to cargo. Uber Freight also uses a conventional call center and online "load boards" where truckers have found work since the dot-com era began.
"The world doesn't need another broker," said Eric Gilmore, chief executive of Turvo, a Sunnyvale, California logistics startup that's trying to wring paperwork out of the shipping process.
Turmoil among Uber's top ranks could also prove damaging as the company grapples with a series of scandals related to its hard-charging culture and business practices. Just this week, Uber Chief Executive Travis Kalanick announced he is taking a leave of absence; his second-in-command Emil Michael left the company; and board member David Bonderman resigned.
HITTING THE GAS
Uber executives say the company's push into trucking is moving forward at full throttle. Bill Driegert, director of operations at Uber Freight, said the business is shipping "large brand names" and has "a solid core of drivers who have signed up and are using it regularly."
"We are all in on this," Driegert said. "We are in it for the long-term and we think we can make a difference."
Still, he acknowledged that Uber's self-driving truck initiative and its freight business are on separate tracks, with no plans to collaborate on a full complement of services anytime soon. Otto doesn't yet have a commercial product for customers to buy.
That's a different message from last fall. In a September interview, just a month after Uber acquired Otto, the startup's co-founder Lior Ron told Reuters he expected truckers would be using the firm's driverless technology to haul freight by 2017 as part of a suite of trucking services offered under the Uber banner.
In April, Uber retired the "Otto" name without explanation and now lumps the business into its Advanced Technologies Group, a unit that works on a variety of self-driving technologies and mapping.
Detours and course-corrections are typical with any startup. Uber's challenge is to make inroads in a fragmented, low-margin industry where many shippers and brokers have ties going back decades.
Delivering cargo requires more complex logistical planning than does ferrying people home from bars. The financial stakes are higher too. Goods can spoil and shippers and fleet managers can lose money if a load doesn't arrive on time.
Uber must prove "they have the same capabilities as any broker that has been doing this for years," said Thom Albrecht, president of Sword & Sea Transport Advisors, a Virginia-based consulting firm.
Investors are counting on it. Optimism that the San Francisco ride-services giant can "Uberize" other transport businesses has propelled the firm to a $68 billion valuation, despite its lack of profits. Uber lost $708 million in the first quarter, down from $991 million in the fourth quarter last year, the company said recently.
Privately held Uber is under pressure to go public. Investors, including Saudi Arabia's Public Investment Fund and Fidelity Investments, are waiting for a big payoff.
But Uber has struggled to dominate other markets the way it has ride-hailing. Its food and package-delivery services, UberEats and UberRush, for instance, aren't major players in their categories.
"This is ambition porn at its finest," said Anand Sanwal, chief executive of venture capital data company CB Insights. "Uber continues to enter new verticals to feed the narrative that their total addressable market is massive."
Uber's trucking aspirations are achievable and it continues to invest in both Uber Freight and its autonomous truck division, Uber Freight's Driegert said.
"They are two independent businesses and we are both charging forward at 100 miles per hour," he said.
AUTONOMOUS DRIVING DUEL
Still, the distancing of Uber Freight from Otto, two businesses Uber once saw as complementary, removes what trucking industry executives say was Uber's distinct advantage in the crowded logistics market: self-driving technology.
Otto's future could hinge on a lawsuit filed in February by Alphabet's self-driving car unit, Waymo, against Otto and Uber. The lawsuit claims Otto co-founder and former Waymo employee Anthony Levandowski stole more than 14,000 documents containing Waymo trade secrets before decamping to start Otto. When Uber purchased Otto in August, the most important asset was Levandowski, who is recognized as one of Silicon Valley's top experts in self-driving technology. He quickly was named head of the Advanced Technologies Group and reported to Kalanick.
Uber fired Levandowski last month after he refused to turn over the Waymo documents, which had been requested by the federal judge overseeing the case. A trial is scheduled for October.
Levandowski has asserted his constitutional right against self-incrimination. His attorneys did not respond to a request for comment. Uber has never denied that Levandowski took the files, which Waymo alleges include confidential designs. But Uber contends no information contained in those documents made its way into Uber's self-driving technology.
The suit is one of several controversies now dogging Uber.
The company last week fired 20 employees following an internal investigation into 215 claims of sexual harassment, discrimination, bullying and other employee concerns. Its executive ranks have been decimated after a wave of departures.
Uber also faces legal battles related to how it classifies and pays its drivers as well as a federal criminal probe relating to its use of technology to evade regulators.
Otto's autonomous driving efforts, meanwhile, appear to have downshifted.
After making a splash last year with test runs in Colorado, Ohio and Nevada - including a $500 deal to haul 52,000 cans of Budweiser in a self-driving truck for Anheuser-Busch <ABI.BR> - Otto has not done additional test runs in those states.
An Uber spokeswoman declined to offer an explanation, but said the company hoped to demonstrate the technology in action again soon.
Otto trucks continue to be tested in California, but not in fully autonomous mode, a separate Uber spokeswoman said. California regulators are investigating the company over whether it used self-driving technology without approval.
The North American trade association for independent truck drivers says it held talks with Otto as recently as a couple months ago, but any prospect of using the technology is premature. "From our side, it's been mostly a matter of educating Otto" about the truck industry, said Todd Spencer of the Owner-Operator Independent Drivers Association. "They realize there is a tremendously big market, if only they can find something that works."
(Additional reporting by Alexandria Sage in San Francisco; Editing by Jonathan Weber and Marla Dickerson)