Uber Jumps Into the Self-Driving Wars With a Ford Fusion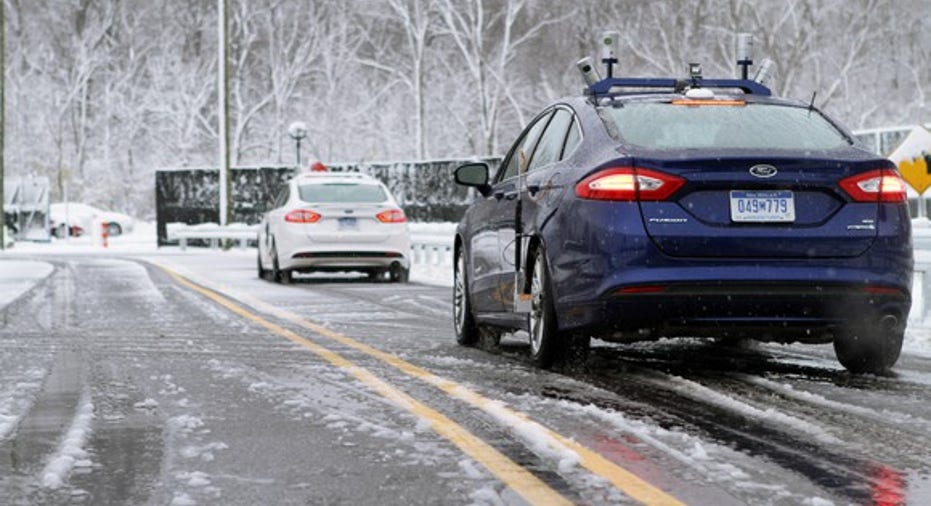 Uber's new self-driving test car is a hybrid Ford Fusion. It'll start testing on public roads in Pittsburgh, the ride-hailing company said this week. Image source: Uber
Ride-hailing giant Uber shared some details of a self-driving test car it has developed this past week, the Ford Fusion Hybrid you see above.
It's been known for a while that the most valuable of Silicon Valley's "unicorn" companies has been working on developing its own self-driving technology. But for the most part, the program has been shrouded in secrecy.
Here's what we know about a potential dark horse in the race to fully self-driving cars.
A visible sign of Uber's push toward self-driving technology
Here's the background: Last year, Uber announced the creation of what it called an "Advanced Technologies Center" (ATC) in Pittsburgh. The center, described as part of a "strategic partnership" with Carnegie Mellon University (CMU), was said at the time to be focused on "research and development, primarily in the areas of mapping and vehicle safety and autonomy technology." Uber chose to partner with CMU because of the latter's expertise with robotics and related technologies.
That joint expertise has now resulted in something visible, namely a Ford Fusion Hybrid decked out with sensors and cameras. It'll be tested on public roads in Pittsburgh over the next several weeks, Uber said in a statement.
But the car isn't just testing Uber's self-driving technology. It's also apparently going to be making highly detailed maps of the Pittsburgh area. "The Uber ATC car comes outfitted with a variety of sensors including radars, laser scanners, and high resolution cameras to map details of the environment," the company said in a statement. It "will be collecting mapping data as well as testing its self-driving capabilities."
As with other companies testing self-driving cars on public roads, Uber's Fusion retains its steering wheel and other controls, and it will have a "trained driver" in the car monitoring its performance as it moves around the city.
The city is fully on board with this effort. "We're excited that Uber has chosen the Steel City as they explore new technologies that can improve people's lives through increased road safety, less congestion, and more efficient and smarter cities," Pittsburgh mayor William Peduto said in a statement.
Where does this put Uber in the self-driving tech race?
It's hard to know for sure from the limited details we have, but it looks like Uber is far behind Silicon Valley giant Alphabet's self-driving efforts, and even behind those of automakers like Ford. (That may be why it approached Daimler about buying a fleet of self-driving Mercedes-Benz sedans, as was reported earlier this year.)
While companies like Google and General Motors have been working on self-driving technology for years, Uber's ATC was established just over a year ago. And it appears that Uber has just this one test car so far -- and simply judging from the size of the apparatus on its roof, it's not as refined as the latest efforts from some of the automakers. Compare its rooftop apparatus to that of Ford's own self-driving Fusion test cars, shown below.
The sensor arrays on Ford's own self-driving prototypes are smaller than Uber's, suggesting that Ford's program may be farther along. Image source: Ford Motor Company
Uber is arguably also playing catch-up to its much smaller (and much less well-funded) rival, Lyft. Lyft lacks Uber's deep pockets, but it has a self-driving trump card: GM is a big investor in Lyft, and Lyft executives said recently that it will begin operating self-driving (and incidentally, fully electric) Chevrolet Bolt taxis in a pilot program with GM within a year.
Incidentally, while Uber chose a Ford as its test car, the Blue Oval doesn't appear to be actively cooperating with Uber on this effort. Ford's own self-driving research and development effort kicked into high gear late last year, when the company expanded its fleet and released photos of its own self-driving Fusions undergoing testing in snowy Michigan. (Snowy roads present big challenges to self-driving systems.)
Whether Uber leads or not, ride-hailing is headed toward automation
A number of companies are moving to realize the vision of automated ride-hailing services that are likely to transform urban transportation within the next 10 or 15 years. Uber is by far the biggest player in the U.S., but as noted it may be playing catch-up at least on the technological front.
Lyft is much smaller than Uber, but it has some powerful friends: In addition to General Motors, Chinese ride-hailing giant Didi Chuxing has also invested in Lyft. (And Didi Chuxing just got a $1 billion vote of confidence from Google arch-rival Apple).
Google itself is thought to be contemplating a ride-hailing service, perhaps in cooperation with its new partner Fiat Chrysler Automobiles . There are reasons to think that the much-rumored Apple Car will turn out to be the basis of an Apple-branded car service. And there are signs that Ford and other automakers are at least toying with the idea of starting ride-hailing services of their own.
Long story short: The future of Uber involves self-driving cars, and this week the company took a big public step toward that future. What comes next? We'll be watching.
The article Uber Jumps Into the Self-Driving Wars With a Ford Fusion originally appeared on Fool.com.
Suzanne Frey, an executive at Alphabet, is a member of The Motley Fool's board of directors. John Rosevear owns shares of Apple, Ford, and General Motors. The Motley Fool owns shares of and recommends Alphabet (A shares), Alphabet (C shares), Apple, and Ford. The Motley Fool has the following options: long January 2018 $90 calls on Apple and short January 2018 $95 calls on Apple. The Motley Fool recommends General Motors. Try any of our Foolish newsletter services free for 30 days. We Fools may not all hold the same opinions, but we all believe that considering a diverse range of insights makes us better investors. The Motley Fool has a disclosure policy.
Copyright 1995 - 2016 The Motley Fool, LLC. All rights reserved. The Motley Fool has a disclosure policy.