Uber chief quits Trump business council amid boycott calls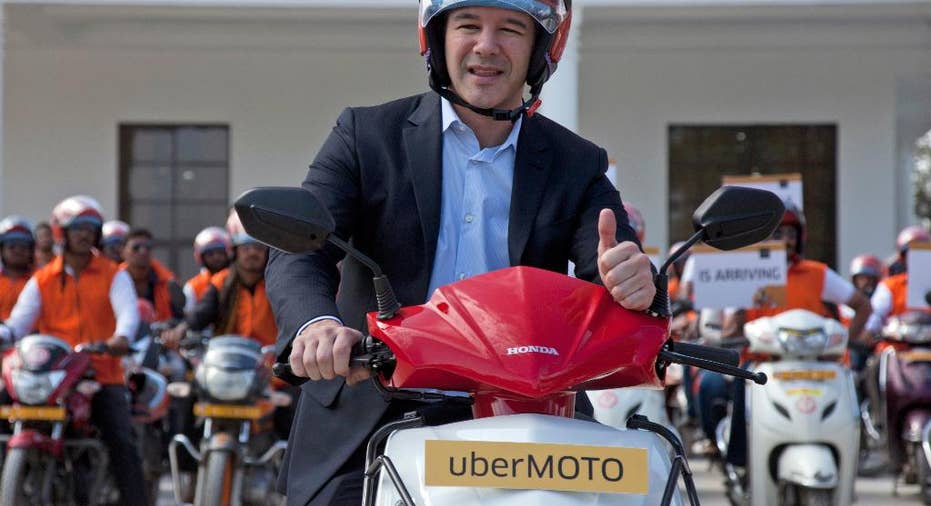 Uber CEO Travis Kalanick has quit President Donald Trump's council of business leaders, according to an internal memo obtained by The Associated Press.
Kalanick wrote to his employees that he'd spoken with Trump on Thursday to "let him know that I would not be able to participate on his economic council. Joining the group was not meant to be an endorsement of the president or his agenda but unfortunately it has been misinterpreted to be exactly that."
His departure came on the eve of the first meeting of the group at the White House, planned for Friday.
White House officials did not respond to requests for comment.
Led by Stephen Schwarzman, chairman and chief executive of the private equity group Blackstone, the council has about 15 members, including the leaders of Wal-Mart, Tesla, the Cleveland Clinic and Pepsi.
The council is "designed to provide direct input to the president from many of the best and brightest in the business world in a frank, non-bureaucratic, and nonpartisan manner," according to a Blackstone press release in December announcing its formation.
Yet public outcry about Trump — specifically his executive order suspending the country's refugee program and halting other aspects of immigration — has put some business leaders in an uncomfortable spot.
Uber, a ride-sharing company has been buffeted all week by boycott campaigns that began when people perceived it as trying to break a taxi strike to and from New York's John F. Kennedy Airport that was in response to the executive order on refugees.
Kalanick subsequently condemned the executive order and has contributed to relief groups, but calls for a boycott had continued. One woman urging boycotts for all companies tied to Trump said only total resignation from the Trump business forum would satisfy her.
"This is not a 'seat at the table' moment. This is a flip-the-table moment," said Shannon Coulter, one of the organizers of the anti-Trump social media campaign "Grab Your Wallet."
Other forum members said they'd keep their commitment.
General Motors Co. CEO Mary Barra remains a member of the advisory group and plans to attend the meeting on Friday, spokesman Patrick Morrissey said.
Tesla Inc. didn't immediately respond when asked whether CEO Elon Musk planned to remain on Trump's business and manufacturing councils. Earlier this week, Musk asked his Twitter followers to read the immigration order and send him specific amendments he could present to the president.
Musk has said that the refugee order "is not the best way to address the country's challenges."
__
Associated Press writers Tom Krisher and Dee-Ann Durbin in Detroit contributed to this report.