Uber chases GrabTaxi in Myanmar, expanding in Southeast Asia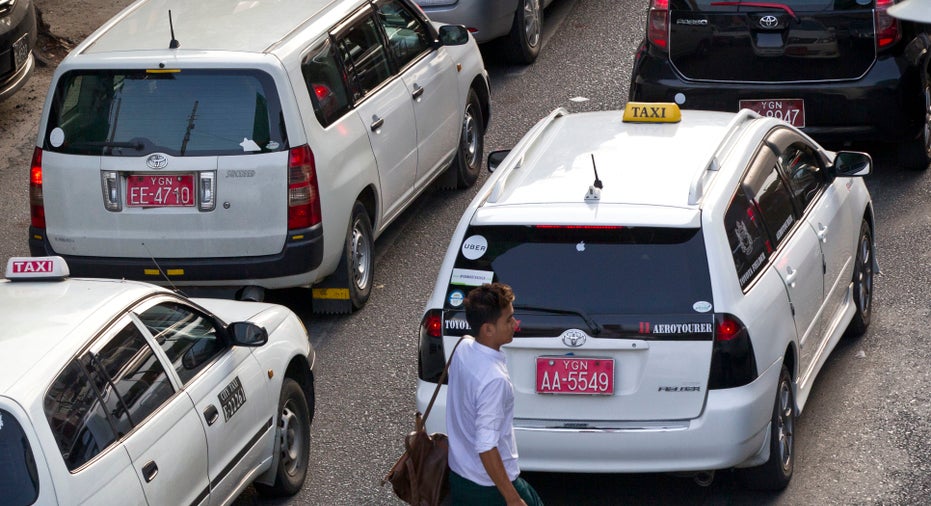 The private ride-hailing service Uber officially launched operations Thursday in Myanmar's main city Yangon, aiming to tap into one of the world's youngest and fastest-growing online markets.
The launch follows Singapore-based GrabTaxi's debut, which began a trial run in the Southeast Asian country about six weeks ago.
Uber is one of the world's largest on-demand transportation platforms. It is seeking an alliance with the government to smooth acceptance of the use of private vehicles for commercial transport.
A taxi ride in Myanmar usually involves negotiating prices, no use of meters and a lack of air conditioning or seat belts. Using a ride-hailing app is still a relatively new concept, though the practice has been gaining in popularity.
Local travel services start-up Oway and Hello Cabs, a rival service run by a construction and auto dealership tycoon, also provide ride-hailing services.
"I definitely want to try Uber," said Nyan Zay Htet, a company worker who was haggling with a driver over a fare on a downtown street in Yangon. "I welcome having international companies come in because it can be more convenient for us if we don't have to bargain over prices and can just hop in and go."
Some taxi drivers, however, expressed alarm about other companies edging onto their turf. "My car is my livelihood," said Tun Mya, who said he was already earning less because people were hailing fewer traditional taxis.
"I am a bit worried ... I don't know what will happen yet, but we are watching," he said.
More than two-thirds of Southeast Asians are younger than 40 and the number going online to buy goods and services is soaring. A recent research report by Google and the Singaporean investment arm Temasek put the potential ride-sharing market in six larger regional markets at $13 billion by 2025, up from $2.5 billion in 2015.
With more than 50 million people, Myanmar is growing fast and its public transport networks are not keeping up. Taxis are plentiful in Yangon, with local media reporting authorities estimate there are more than 50,000 on the city's jammed roads. The industry is something of a free-for-all, with non-licensed drivers turning their cars into taxis as they please. But the government has said it intends to crack down on that.
Incomes for most people are still low, so price competition may be key.
An online Uber fare estimator put the base fare in Yangon at 1,500 kyats (pronounced chuts) ($1.09) with a minimum charge of 1,800 kyats ($1.31).
Uber has faced trouble from regulators in various markets, including China, France, Spain and Mexico. But generally they target services transporting paying customers using private vehicles that are not registered for public transport, not ride-hailing that uses smartphone apps to call licensed taxis.
Phyo Min Thein, chief minister of Yangon Region, said the government was welcoming Uber and other ride-hailing companies into the market to improve transportation in the city.