U.S. warned Jared Kushner about Wendi Deng Murdoch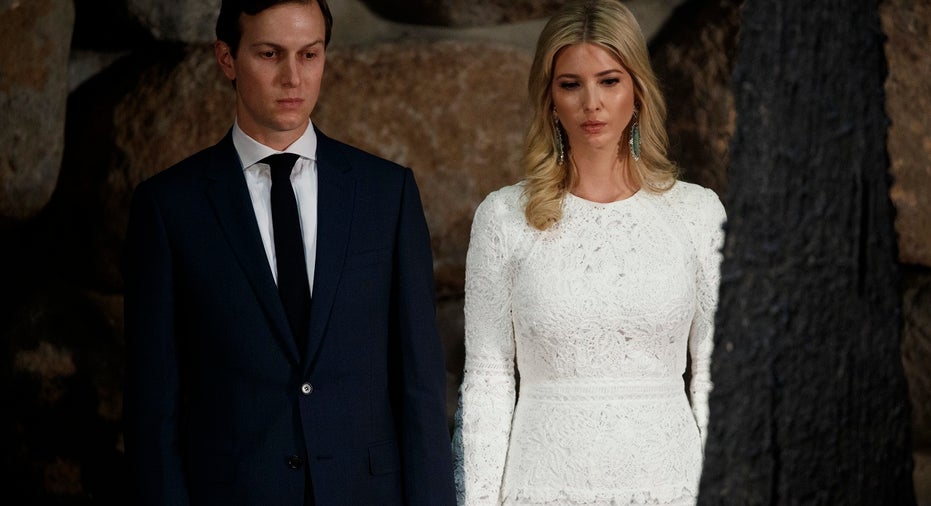 U.S. counterintelligence officials in early 2017 warned Jared Kushner, President Donald Trump's son-in-law and senior adviser, that Wendi Deng Murdoch, a prominent Chinese-American businesswoman, could be using her close friendship with Mr. Kushner and his wife, Ivanka Trump, to further the interests of the Chinese government, according to people familiar with the matter.
U.S. officials have also had concerns about a counterintelligence assessment that Ms. Murdoch was lobbying for a high-profile construction project funded by the Chinese government in Washington, D.C., one of these people said.
The project, a planned $100 million Chinese garden at the National Arboretum, was deemed a national-security risk because it included a 70-foot-tall white tower that could potentially be used for surveillance, according to people familiar with the intelligence community's deliberations over the garden. The garden was planned on one of the higher patches of land near downtown Washington, less than 5 miles from both the Capitol and the White House.
Ms. Murdoch in 1999 married Rupert Murdoch, who is the executive chairman of News Corp, which publishes The Wall Street Journal. Mr. Murdoch filed for divorce in 2013. Ms. Murdoch still uses her married name.
The counterintelligence officials didn't provide Mr. Kushner with details about their assessment of Ms. Murdoch, the people familiar with the interaction said. The warning was part of an effort by national-security officials to highlight to Mr. Kushner, who was new to government, the need to be careful in his dealings with people whose interests may not align with those of the U.S., the people added. Ms. Trump, who in late March announced she would take a formal White House role, wasn't present for the counterintelligence warning. Neither Ms. Murdoch, Mr. Kushner nor Ms. Trump has been accused of any wrongdoing.
It is common for counterintelligence officials to warn senior members of a new administration about interactions with people with foreign connections, and such briefings sometimes refer to specific people, according to people familiar with the protocols.
A spokesman for Ms. Murdoch said she "has no knowledge of any FBI concerns or other intelligence agency concerns relating to her or her associations." He added that she "has absolutely no knowledge of any garden projects funded by the Chinese government."
A representative for Mr. Kushner and Ms. Trump described Mr. Kushner's interaction with officials warning him about Ms. Murdoch as a "routine senior staff security briefing." He added that Mr. Kushner "has complied with all ethics and disclosure recommendations and has played a helpful role in strengthening the U.S.-China relationship so as to help bring about a better resolution to the many issues the countries have."
In response to questions from the Journal about Ms. Murdoch and the garden, a representative from China's Embassy in Washington called the Journal's information "full of groundless speculations."
U.S. officials have been concerned about Chinese government efforts to use people with close ties to the administration and with interests or family in China to try to influence policy. For example, Las Vegas casino magnate and Republican National Committee finance chairman Steve Wynn, whose Macau casinos can't operate without a license from the Chinese territory, last year delivered a letter to Mr. Trump from the Chinese government about an alleged fugitive Beijing wants the U.S. to return, the Journal has reported, citing people familiar with the matter. A representative for Mr. Wynn has denied the episode
Ms. Murdoch, who is a U.S. citizen, has been friends with Ms. Trump and Mr. Kushner for years.
Ms. Trump posted a photo on Instagram of her travels in Croatia with Ms. Murdoch in 2016. Ms. Murdoch posted a photo of Ms. Trump and Mr. Kushner at Mr. Kushner's birthday party in 2016, and one of her with Ms. Trump at an inauguration event last year with the caption "Congratulations @ivankatrump" followed by two hearts. Ms. Murdoch was photographed arriving at the couple's Washington home in February 2017.
Ms. Trump also previously served as a trustee for funds set aside for the children of Mr. Murdoch and Ms. Murdoch, according to people familiar with the matter. Ms. Trump stepped down from that role in December 2016, the people said.
The representative for Mr. Kushner and Ms. Trump said the two "have been friends with Rupert and Wendi Murdoch for a decade before coming to Washington and their relationship is neither political nor about China."
The Chinese garden project at the arboretum in Northeast Washington had been planned for more than a decade as a symbol of goodwill between the two countries, akin to Beijing's gift of pandas to the National Zoo in 1972.
The 12-acre project was to feature a lake and multiple gardens and structures that could be used to host cultural programs. In 2003, Jiang Zehui, a cousin of former Chinese President Jiang Zemin, signed a letter of intent with a U.S. Agriculture Department official to build the garden. In January 2011, then-President Hu Jintao traveled to the U.S. and was presented with a model of the project by Joe Biden and Hillary Clinton, then the vice president and secretary of state, respectively. In October 2016, following an agreement by then-President Barack Obama and Chinese President Xi Jinping, there was a groundbreaking ceremony.
The project has since been shelved because of the counterintelligence concerns, according to people familiar with the national-security issues.
Representatives for the USDA and the Chinese Embassy both said they continued to work on the project but declined to provide details of any developments since the groundbreaking. "The two sides are working closely preparing for the actual construction work," said the Chinese Embassy representative, without elaborating. Journal reporters who recently visited the arboretum couldn't locate any evidence of construction. An empty meadow sat at the planned site.
Mr. Kushner and Ms. Trump emerged in early 2017 as important points of contact for Beijing in the new White House after early tensions between the two countries, the Journal has reported. Ms. Trump attended a Lunar New Year party at Beijing's embassy in Washington last February and later posted a video of her daughter singing a New Year's song in Mandarin, which went viral in China. Mr. Kushner was instrumental in setting up the meeting last spring between Messrs. Trump and Xi at the president's Mar-a-Lago resort in Florida and accompanied him to Beijing in the fall.
The Kushner family real-estate company, Kushner Cos., also has pursued business in China, holding advanced talks with Anbang Insurance Group Co. for an investment of as much as $1.25 billion in a New York real-estate project. The talks broke off in March 2017. Mr. Kushner had earlier sold his stake in the project and other properties to family members.
Ms. Murdoch has previously surfaced on the radar of counterintelligence professionals, according to a person familiar with the issue.
After reports that she was romantically involved with former British Prime Minister Tony Blair while still married to Mr. Murdoch, British security officials discussed with U.S. counterparts whether the alleged relationship could be cause for concern, according to a person familiar with the matter. At the time, the Federal Bureau of Investigation said there was reason to be watchful about Ms. Murdoch, but that they hadn't looked into her in detail, the person said. Mr. Blair and Ms. Murdoch have denied any impropriety in their relationship. Representatives for Mr. Murdoch, Mr. Blair, Ms. Murdoch, the FBI and the U.K. Embassy in Washington declined to comment on the matter.
Generally, U.S. counterintelligence officials have been warning of potential attempts by the Chinese government to exploit ethnic Chinese living in the U.S. who have both access to power and family back in China, giving Beijing leverage.
Ms. Murdoch, the daughter of a factory director, came to the U.S. in 1988, studied at Yale University's business school and later landed a job at News Corp.'s Star TV in Hong Kong, where she met Mr. Murdoch. After marrying the media magnate, Ms. Murdoch helped arrange business deals for News Corp in China and met with top politicians including Jiang Zemin, the Journal previously reported.
Ms. Murdoch's spokesman said she occasionally traveled to China with Mr. Murdoch but played down her role in business dealings there.
Write to Kate O'Keeffe at kathryn.okeeffe@wsj.com and Aruna Viswanatha at Aruna.Viswanatha@wsj.com