U.S. Trade Gap Shrinks As Exports Rise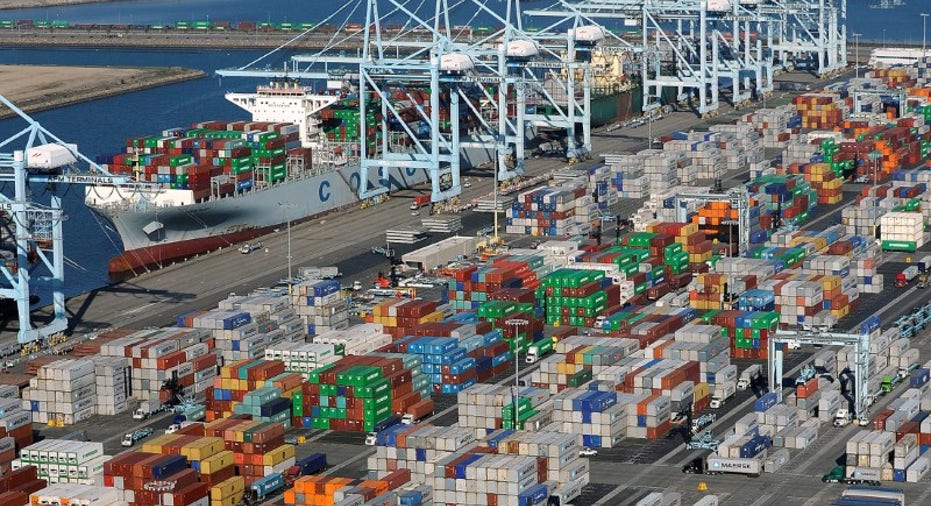 The U.S. trade deficit shrank sharply in February as overseas customers snapped up American products and services, the latest sign U.S. factories are benefiting from global economic stability.
The trade gap in goods and services fell 9.6% in February from a month earlier to a seasonally adjusted $43.56 billion, the Commerce Department said Tuesday. Imports fell 1.8% while exports grew 0.2%.
Economists surveyed by The Wall Street Journal had projected a $44.6 billion gap.
The smaller deficit suggests the economy may have grown at a slightly stronger pace than previously thought in the first quarter and is positioned for stronger growth this spring.
After accounting for inflation, exports of goods--products ranging from tractors to pharmaceutical supplies--reached the highest level on record in February. Exports of services also grew healthily.
Overall exports have risen 7.2% this year compared to the same period a year earlier.
The decline in imports in February reflected reduced purchases of consumer goods, such as cellphones, and automobiles.
Economic growth remained sluggish overall in the first three months of the year, in part due to the persistent trade deficit. Private-sector economists estimate the economy grew at about a 1% annual rate in the first quarter, down from the fourth quarter's 2.1% expansion.
But growth is expected to rebound in the second quarter in part due to the recent increase in exports, which is leading factories to ramp up hiring and production to meet higher demand.
Other reports suggest U.S. factories are registering a pickup in business. The Institute for Supply Management said Monday its closely watched index of manufacturing activity expanded in March for the seventh consecutive month. Export orders rose to the highest level since November 2013.
The U.S. economy runs a trade gap because Americans households and companies buy many goods and commodities--including cars, oil and beef--from other regions like Asia, Europe and South America.
The U.S. trade deficit has gained political significance over the past two years with the ascendance of Donald Trump to the presidency. President Trump made the nation's trade deficit with China a key theme of his presidential campaign, accusing the Asian nation of manipulating its currency at the expense of U.S. exporters.
President Trump and Chinese leader Xi Jinping are set to meet Thursday.
Tuesday's report showed the value of imports from China declined at a record pace in February. However, that figure is not adjusted for seasonal factors and may have been distorted by the Chinese New Year.
The U.S. trade gap with China has fallen 4.9% this year compared to the same period last year. Still, the U.S.'s deficit with China is larger than it is with any other country.
The Commerce Department report on trade can be found at http://www.census.gov/ft900.
By Josh Mitchell and Jeffrey Sparshott