U.S. Stocks Pare Losses After Ugly Jobs Report Hits Sentiment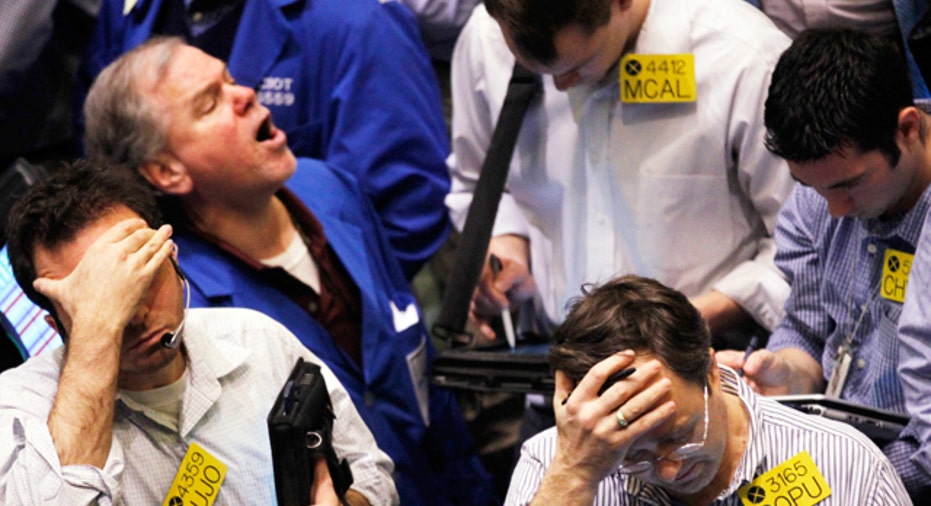 U.S. stocks came off session lows but were firmly in negative territory Friday after government data showed the economy created just 38,000 jobs last month, the weakest level of hiring in six years.
A pair of surveys released Friday show the services side of the U.S. economy slowed in May. The weak jobs report coupled with other data, pointing to relative weakness in the economy, is likely to prompt the Federal Reserve to delay rate increases this month, according to analysts.
The S&P 500 index retreated from its 7-month high notched on Wednesday. The index was down 9 points, or 0.4% at 2,095 and on track to finish the week marginally lower. Financial stocks fell sharply with the exchange-traded Financial Select Sector ETF (XLF) slumping 2%. Lower rates can impede banks' ability to generate profits.
Consumer-discretionary stocks were also sharply lower, with the sector trading down 1.7%. Meanwhile, utilities stocks, that tend to benefit from low interest rates soared 1.7%.
Dow Jones Industrial Average futures fell 49 points, or 0.3%, to 17,789, with J.P. Morgan Chase & Co (JPM) and Goldman Sachs Group Inc. (GS), leading losses with a 3% drop. The Nasdaq Composite Index declined 35 points, or 0.7%, to 4,935 but was still on track to gain over the week.
Meanwhile, U.S. Treasurys, which are also sensitive to shifts in rate-hike expectations, saw their prices soar, pushing yields sharply lower as doubts about the vigor of the economy and a possible delay in rate increases sparked buying appetite for the safety of government bonds. The benchmark 10-year Treasury yield fell 8 basis points to 1.70%.
"This jobs report is truly disappointing even after accounting for Verizon strikes. It gives a lot of ammunition for the Fed to wait longer before raising rate and certainly puts in doubt a rate hike in June," said Quincy Krosby, market strategist at Prudential Financial. Roughly 35,000 workers were classified as unemployed in May due to a strike at Verizon Communications Inc. (VZ), which recently ended. That strike wasn't factored in the earlier private-sector jobs report by Automatic Data Processing Inc. on Thursday.
"So far, the market is taking the bad news as bad news. More importantly we will see if Janet Yellen sees it as bad news," Krosby said.
Federal Reserve Chairwoman Janet Yellen is scheduled to give a speech to the World Affairs Council of Philadelphia on Monday.
Kristina Hooper, U.S. investment strategist for Allianz Global Investors, said she would not write off a June rate hike completely just yet.
"Odds of a June rate hike diminished but the Fed might still do something less conventional, like a smaller, 12.5 basis point increase," she said.
Wall Street is pricing in a 6% probability of a Fed rate hike in June compared with a 21% chance on Thursday, according to the CME Group's FedWatch tool. The market sees the chance of a rate-hike in July at 37% compared with almost 49% a day earlier.
The dollar fell after the jobs report while gold prices rallied.
Oil prices fell, with West Texas Intermediate crude oil trading on the New York Mercantile Exchange down 0.9% to $48.74 a barrel as investors weighed upbeat oil data from Thursday against the decision by the Organization of the Petroleum Exporting Countries not to impose a production ceiling.
European markets gave up earlier gains and were heading south. Asian markets saw moderate gains. The Shanghai Composite Index broke six-straight weeks of losses, gaining 4.2% on hopes mainland Chinese shares could get MSCI acceptance.
Nonfarm payrolls:The U.S. created just 38,000 new jobs in May and hiring in the prior two months was weaker than originally reported. The unemployment rate fell to 4.7% from 5% as 458,000 people left the labor force in May.
Separately, U.S. trade deficit climbed 5.3% in April to $37.4 billion.
Fed speakers: Speaking in London Friday, Chicago Federal Reserve President Charles Evans said there is a "reasonable case" for holding off increasing the federal-funds rate until core inflation gets above 2% on a sustainable basis.
Fed Gov. Lael Brainard will speak on economic outlook and monetary policy at the Council on Foreign Relations at 12:30 p.m. Eastern.
Stocks to watch:Talen Energy Corp.(TLN) soared 17% on news the independent power producer has agreed to be acquired by private investment company Riverstone Holdings, which will pay $14 a share for each one of Talen that it doesn't own.
Gap Inc. (GPS) said late Thursday that sales for May fell 5%, and same-store sales decreased 6%. Yet shares rose 4.9%.
Air carriers United Continental Holdings Inc.(UAL) and Delta Air Lines Inc.(DAL) are among those considering bids for Avianca Holdings SA, The Wall Street Journal reported, citing sources. Shares in both companies fell about 3%.
Twitter Inc.(TWTR) and Yahoo Inc.(YHOO) executives met to discuss a possible merger several weeks ago, the New York Post reported, citing sources. Shares of both companies fell 0.8%.
By Anora Mahmudova and Barbara Kollmeyer, MarketWatch