U.S. Preparing to Export Armed Military Drones to the World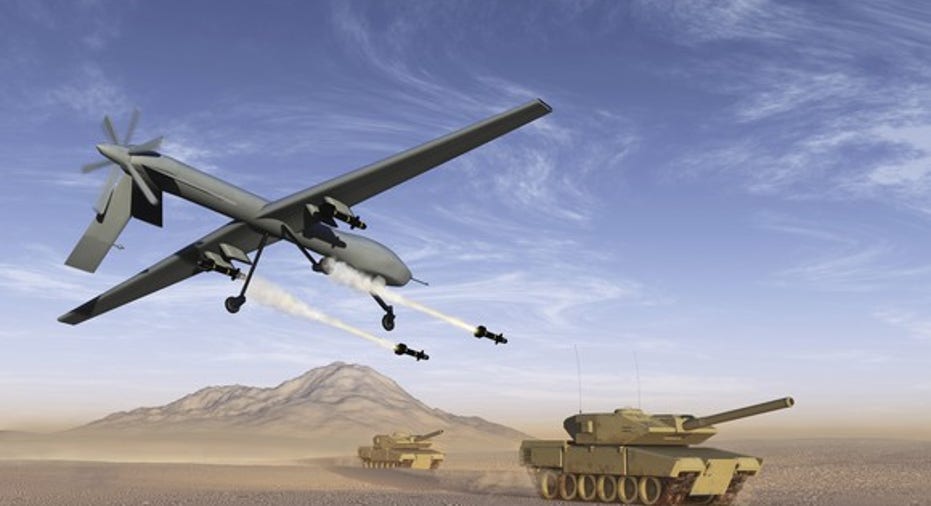 When drones attack. Image source: Getty Images.
For years, it seemed the U.S. had a near monopoly on military drones capable of launching missiles and dropping bombs from the air -- primarily, Predator and Reaper drones from General Atomics, supplemented by a few smaller Shadowsfrom Textron (NYSE: TXT). Lately, however, hunter-killer drones are popping up in the most surprising places.
Late last year, in a pair of groundbreaking announcements, we learned that:
The U.S. Pentagon has authorized the sale of hundreds of Hellfire missiles, laser guided bombs, and "JDAM" munitions specifically tailored to weaponize General Atomics MQ-9 Reaper drones to the Italian Air Force; and
Next door in Spain, the local military has also placed orders for four Reaper drones -- and plans to weaponize those as well.
Now, the U.S. State Department appears to be preparing to declare open season for armed military drone sales around the globe.
How markets get born
As reported last week by DefenseNews.com, "top agency officials" from the U.S. State Department have been meeting with delegates "from various nations" to try to agree on a set of global principles governing the sale and use of armed drones internationally. Among these, countries exporting armed military drones would be expected to apply existing arms control laws to the sale of armed drones, consider a recipient country's record as a responsible actor before approving a sale, and "ensure [that armed drones, once sold are] used responsibly by all States."
In essence, the "Proposed Joint Declaration of Principles for the Export and Subsequent Use of Armed or Strike-Enabled Unmanned Aerial Systems (UAS)" would commit signatories to abiding by the same guidelines the U.S. applies when weighing foreign sales of its own military weapons. In that regard, the State Department announced in February of 2015 a relaxation of America's own policy on military drone exports. If enough countries agree to the Proposed Joint Declaration, the U.S. government plans to open the document up for signing, perhaps at United Nations meetings on October 3.
Spreading democracy -- by drone
"As other nations begin to employ military UAS more regularly and as the nascent commercial UAS market emerges, the United States has a responsibility to ensure that sales, transfers and subsequent use of all US-origin UAS are responsible and consistent with US national security and foreign policy interests, including economic security, as well as with U.S. values and international standards."
-- U.S. State Department
That's the U.S. government's official position -- advocating the Proposed Joint Declaration in order to ensure the responsible use of drones by countries that were going to buy them anyway. But at the same time, America's efforts will help to grow the export market for armed military drones -- to the benefit of the U.S. defense contractors, who currently lead the world in their production. Most of the major defense contractors already maintain surveillance drone programs. In additionto Textron and General Atomics, mentioned above, Northrop Grumman (NYSE: NOC) and Lockheed Martin (NYSE: LMT) have offered to build armed drones for the U.S. military.
So why would America open up the market to sales outside its borders? The defense market experts at IHS Jane's estimate that in 2014, $6.4 billion worth of (mostly unarmed) drones were sold globally. In less than a decade, the global market for drones of all stripes will exceed $10 billion in value.
That's a market that U.S. defense contractors like Textron, Northrop, and Lockheed would dearly love to dominate. And in fact, the market for drones could be even bigger than Janes estimates. Consider, for example, just three high profile contracts reported in recent years:
Three Global Hawk drones sold to Japan in December 2015 ($1.2 billion)
Four more Global Hawks sold to Korea the year before ($1.2 billion more)
And 16 General Atomics Reaper drones ordered by France the year before that -- a $1.5 billion deal.
In each of these contracts, foreign governments dropped more than $1 billion on a single drone order -- no weapons included -- placed with an American defense contractor. Now extrapolate that across the dozens of countries around the world that might be in the market for drones, and multiply by the value of armed military drones with weapons. (When Italy armed its two Reapers, for example, it spent $130 million on the purchase -- more money than the Reapers themselves costto acquire).
Pretty soon, you've got yourself ... I'm honestly not sure how big of a market. It could be the $10 billion that Jane's estimates, the $11.4 billion recently floated by analysts at Teal Group-- or more. In any case, it's going to be bigger than today's, and perhaps a whole lot bigger.
Now all the State Department has to do is get some more countries to sign on, and create the market.
A secret billion-dollar stock opportunity The world's biggest tech company forgot to show you something, but a few Wall Street analysts and the Fool didn't miss a beat: There's a small company that's powering their brand-new gadgets and the coming revolution in technology. And we think its stock price has nearly unlimited room to run for early in-the-know investors! To be one of them, just click here.
Fool contributorRich Smithdoes not own shares of, nor is he short, any company named above. You can find him onMotley Fool CAPS, publicly pontificating under the handleTMFDitty, where he's currently ranked No. 295 out of more than 75,000 rated members.
The Motley Fool has no position in any of the stocks mentioned. Try any of our Foolish newsletter services free for 30 days. We Fools may not all hold the same opinions, but we all believe that considering a diverse range of insights makes us better investors. The Motley Fool has a disclosure policy.