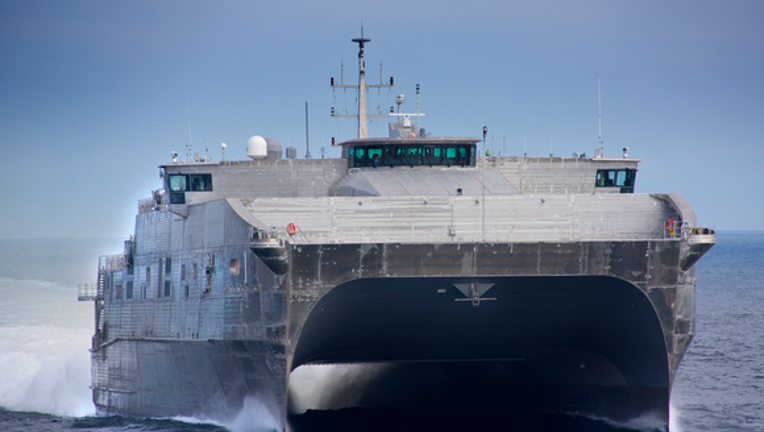 So long,Littoral Combat Ship. We hardly knew ye.
Lockheed Martin's USS Freedom (LCS 1) was the Navy's first littoral combat ship. New vessels of the same basic shape and size will henceforth be dubbed "frigates." Image source: Lockheed Martin.
Say goodbye to the "Mobile Landing Platform," the "Afloat Forward Staging Base," and the "Joint High Speed Vessel," as well. As of this year, the United States Navy has done away with all four of these clumsy, elongated, ad hoc ship classes, replaced each with a new name -- and introduced a new theme for U.S. war-planning in the process. Henceforth, LCSes will be christened as "frigates," while the other three classes morph into Expeditionary Transfer Docks, Expeditionary Mobile Bases, and Expeditionary Fast Transports, respectively.
So in a word, the U.S. Navy of the future is going to look a whole lot more "expeditionary." This has implications for U.S. foreign policymakers, for its warship-makers -- and for those of us who invest in them as well.
Rationalizing the fleetThe past 10 years have been a turbulent time for U.S. foreign policy -- and for its Navy. In 2005, General Dynamics was given the contract to begin construction of a new kind of ship, designated the "Mobile Landing Platform." Weighing in at 34,500 tons, the new USNS Montford Point is designed to serve as a semisubmersible, traveling seaport.
USNS Montford Point. Image source: Military Sealift Command.
Foxtrotalpha describes the Montford Point as a "deployable logistics node." Placed offshore in a troubled region, the ship can receive troops and supplies from larger cargo ships, load them aboard its own hovercraft, and then deliver them when and where needed. The Navy refers to this new warfare "concept" as Maritime Prepositioning. What it does, essentially, is give the Navy (and Marines) access to shores where they control no ports.
General Dynamics delivered the Montford Point to the Navy in 2013, which plans to put it into service with the Military Sealift Command this year. A second MLP, the John Glenn, is under construction.
In 2013, as it was christening the Montford Point, the Navy went a step further and hit upon the idea of converting the old 16,600-ton Landing Platform Dock USS Ponce into a smaller, closer-in support vessel to be called an Afloat Forward Staging Base. In this role, the Ponce would serve as a naval aviation "lily pad." Helicopters conducting operations in a region, such as minesweeping, could land briefly upon Ponce, refuel, and continue with their mission.
USNS Lewis B. Puller. Image source: Military Sealift Command.
So far, Ponce is the only such "AFSB." But the Navy likes how it's performing, and has contracted General Dynamics to build two new larger vessels to replace it -- the Lewis B. Puller (pictured above) and another vessel yet to be named. Semisubmersible like the Montford Point, but equipped with a flight deck as well for helicopters and V-22 Ospreys, these new vessels will be built on the hull design of an Alaska-class civilian oil supertanker. They, too, will serve as floating bases for conducting special ops missions on hostile shores.
Let's pause for a moment, and tally that up. As of today, and the Navy possesses, has built, or is in the process of building, five of these prepositioning vessels.
Fast transport -- really fastThe Navy also has a class of vessels in development, which it calls Joint High Speed Vessels. Wired.com describes the JHSV as a sort of oceangoing pickup truck -- "a thin aluminum shell wrapped around four diesel engines" and a vast 20,000 sq. ft. "empty space" for cargo, topped by "expansive flight deck" topside, for helicopters to land on and take off from.
USNS Spearhead. Image source: Military Sealift Command.
Austal USA has built six JHSV's for the U.S. Navy (technically, the Military Sealift Command). The lead ship of the class was appropriately christened "Spearhead," as it spearheads a Navy plan to build as many as 22of the vessels. Generally speaking, the Spearhead class will be used for shuttling supplies back and forth within a single wartime "theater." But like the MLP and the AFSB, the Spearheads are also being considered in a role as "fast, low-profile staging bases for secret raids" by special forces.
What's in a name?So that makes three classes of military vessel being considered for roles as offshore staging areas for military "expeditions." As understanding of how these missions might be run has coalesced, the Navy is rationalizing the list of ad hoc names cobbled together over the past 10 years, renaming each in a way that identifies the ships as belonging to the same expeditionary mission.
Henceforth, the Montford Point-class MLPs will be called "Expeditionary Transfer Docks," abbreviated "ESD." Ponce- and Puller-class Afloat Forward Staging Bases will be renamed "Expeditionary Mobile Bases," or ESB. And Spearhead-class JHSVs will be christened "Expeditionary Fast Transports" (EPF).
What it means to investorsAs these ships transition from naval experiments to standardized ship classes with established "expeditionary" missions, the door may open to building more of them. But who would win from such a development?
Well, we already know that General Dynamics builds the now-renamed ESD and ESB ship classes. Australian Austal has the contract to build the EPF. The fact that General Dynamics stock trades in the U.S., while Austal is foreign listed, already makes General Dynamics seem the better choice for investors looking to buy into this new trend in naval thinking.
What you may not know, though, is that General Dynamics is also a key subcontractoron Austal's EPF contract. General Dynamics Mission Systems, the defense giant's largest business unit according to data from S&P Capital IQ, and a partner to Austal on the Littoral Combat Ship -- er, the "frigate" class of warships -- serves as "ship mission system integrator" on the EPF class as well. As such, it's responsible for designing and integrating all of the navigation, communications, and weapons systems needed to turn an EPF hull into a fully functioning naval vessel.
In other words, as the Navy develops and expands three new ship classes for expeditionary missions (and a fourth as well, the frigate), General Dynamics plays either a leading or a supporting role in all four of these new ship classes. Buy this one stock, and you can own a piece of all four of these growing ship programs.
The article U.S. Navy Adds 4 New Ship Classes to Its Roster originally appeared on Fool.com.
Fool contributorRich Smithdoes not own shares of, nor is he short, any company named above. You can find him onMotley Fool CAPS, publicly pontificating under the handleTMFDitty, where he's currently ranked No. 308 out of more than 75,000 rated members.The Motley Fool has no position in any of the stocks mentioned. Try any of our Foolish newsletter services free for 30 days. We Fools may not all hold the same opinions, but we all believe that considering a diverse range of insights makes us better investors. The Motley Fool has a disclosure policy.
Copyright 1995 - 2015 The Motley Fool, LLC. All rights reserved. The Motley Fool has a disclosure policy.