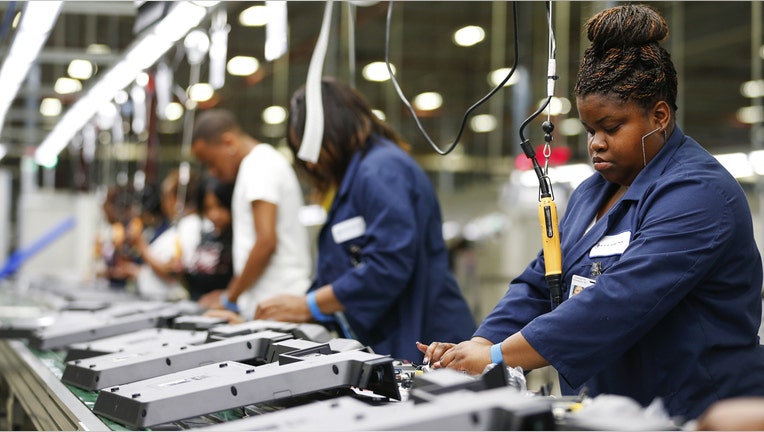 A closely watched gauge of U.S. factory activity fell last month in the wake of the U.K.'s vote to leave the European Union, but continued to signal growth across the American manufacturing sector.
The Institute for Supply Management on Monday said its index of manufacturing activity declined to 52.6 in July from 53.2 in June. A reading above 50 indicates that factory activity is growing while a reading under 50 signals contraction.
Economists surveyed by The Wall Street Journal had expected a July reading of 52.7.
The U.S. manufacturing sector has stumbled in the face of a strong dollar, which makes exports more expensive for foreign customers, and low oil prices that have squeezed domestic energy producers. The ISM gauge fell into contractionary territory last fall. But those pressures eased this spring as the dollar stabilized and oil prices moved higher, and factory activity appeared to stabilize. The ISM index moved back above the 50 threshold in March.
Total industrial production, including output from mines and power plants, rose 0.6% in June from the prior month but was down 0.7% from a year earlier, according to Federal Reserve data. The year-over-year decline largely reflected a sharp fall in mining output; manufacturing production was up 0.4% in June compared with a year earlier.
Broader U.S. economic growth remained tepid into the spring. The Commerce Department last week estimated that gross domestic product, the broadest measure of goods and services produced across the economy, expanded at a modest 1.2% annual rate, up from a 0.8% growth pace in the first quarter.
The U.K.'s June 23 referendum vote to leave the EU briefly rocked global financial markets and sent the dollar higher against other major currencies including the pound. The economic fallout for the U.S. remains uncertain for now, and some Federal Reserve officials have cited Brexit as a potential risk.
"Brexit amounts to a storm that has clouded the economic waters," Federal Reserve Bank of Atlanta President Dennis Lockhart said in a mid-July speech. "For the very near term, I see little choice but to exercise some patience and let the picture clarify."
The direct impact of Brexit on the U.S. could turn out to be muted. An ISM survey in late June found few U.S. manufacturers or service-sector firms expected significant effects on their businesses.
Write to Ben Leubsdorf at ben.leubsdorf@wsj.com