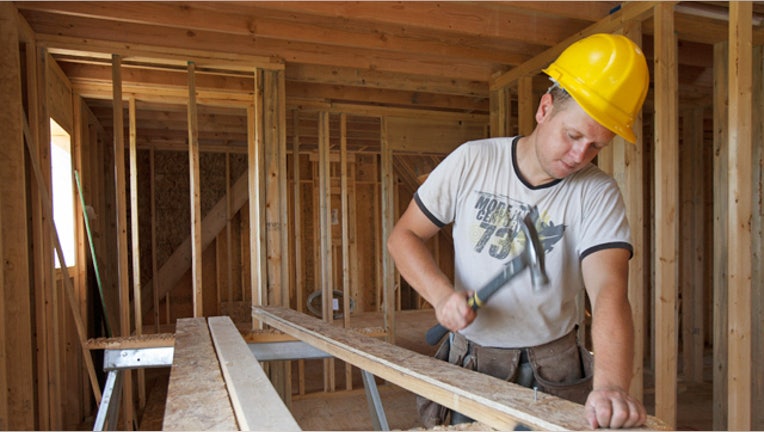 U.S. home builders said they lost a bit of confidence in July due largely to uncertainty over how the housing market will perform in the next six months, though they maintained a positive outlook overall as sales strengthen.
The National Association of Home Builders said Monday its monthly index of builder confidence in the market for single-family homes slipped one point to 59 in July. Economists surveyed by The Wall Street Journal expected a reading of 60.
Economists look at builder confidence because when builders are more optimistic, they are more likely to start construction on projects. That helps the economy grow because it creates jobs and boosts sales of a range of items from lumber to furniture.
Confidence rose to the highest level since January in June. And despite July's slip, optimism remains relatively high, though it hasn't hit the postrecession high of 65 last October. The housing market has strengthened this year, with sales of previously owned homes -- the bulk of the market -- rising to the highest level in nine years in May, the National Association of Realtors reported last month.
"The economic fundamentals are in place for continued slow, steady growth in the housing market," NAHB's chief economist, Robert Dietz, said in a statement. "Job creation is solid, mortgage rates are at historic lows and household formations are rising. These factors should help to bring more buyers into the market as the year progresses."
But while home construction has steadily risen since the economy emerged from recession in 2009, it is still historically weak.
NAHB's chairman, Ed Brady, a home builder and developer from Bloomington, Ill., said that while demand for housing is rising, other factors are preventing a stronger pickup in construction. "We are still hearing reports from our members of scattered softness in some markets, due largely to regulatory constraints and shortages of lots and labor," he said.
Monday's report showed that a measure of builder confidence in the present market fell one point to 63. Their confidence in the market over the next six months fell three points to 66. And a measure of traffic of prospective buyers fell a point to 45.
Write to Josh Mitchell at joshua.mitchell@wsj.com