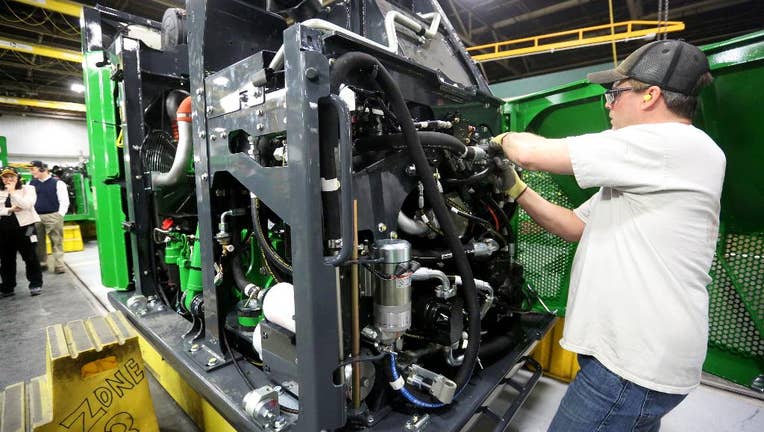 New orders for U.S. factory goods fell in February and business spending on capital goods was much weaker than initially thought, the latest indications that economic growth remained sluggish in the first quarter.
The Commerce Department said on Monday new orders for manufactured goods declined 1.7 percent as demand fell broadly, reversing January's downwardly revised 1.2 percent increase.
Orders have declined in 14 of the last 19 months.
February's drop in factory orders was in line with economists' expectations. Orders were previously reported to have increased 1.6 percent in January.
The report added to weak consumer spending and trade data in suggesting economic growth failed to pick up at the turn of the year after slowing to a 1.4 percent annualized pace in the fourth quarter.
Manufacturing, which accounts for about 12 percent of the economy, has been pressured by a strong dollar and weak global demand, which have undermined exports of factory goods, and efforts by businesses to reduce an inventory overhang.
The sector has also been slammed by investment cuts by energy firms as they adjust to reduced profits from cheap oil.
But the worst of the factory slump appears to be over, with a survey last week showing manufacturing activity expanded in March for the first time in six months.
After gaining about 20 percent versus the currencies of the United States' main trading partners between June 2014 and December 2015, the greenback is flat on a trade-weighted basis so far this year. In addition, the slide in oil prices has slowed.
In February, factory orders fell broadly, with orders for transportation equipment tumbling 6.2 percent. Orders for machinery dropped 3.4 percent and bookings for electrical equipment, appliances and components decreased 3.6 percent.
The Commerce Department also said orders for non-defense capital goods excluding aircraft - seen as a measure of business confidence and spending plans – fell by a steeper 2.5 percent in February instead of the 1.8 percent drop reported last month.
Shipments of these so-called core capital goods, which are used to calculate business equipment spending in the gross domestic product report, fell 1.7 percent in February and not 1.1 percent as previously reported.
Inventories of factory goods dropped for an eighth straight month, suggesting factories were making progress in reducing the inventory glut. While that could support future manufacturing production, it suggests inventories will again be a drag on economic growth in the first quarter.
(Reporting by Lucia Mutikani; Editing by Paul Simao)